Tiger cubs enjoy mock fights at Jamshedpur zoo
Visitors fall in love with Dona's daughters, who have become stars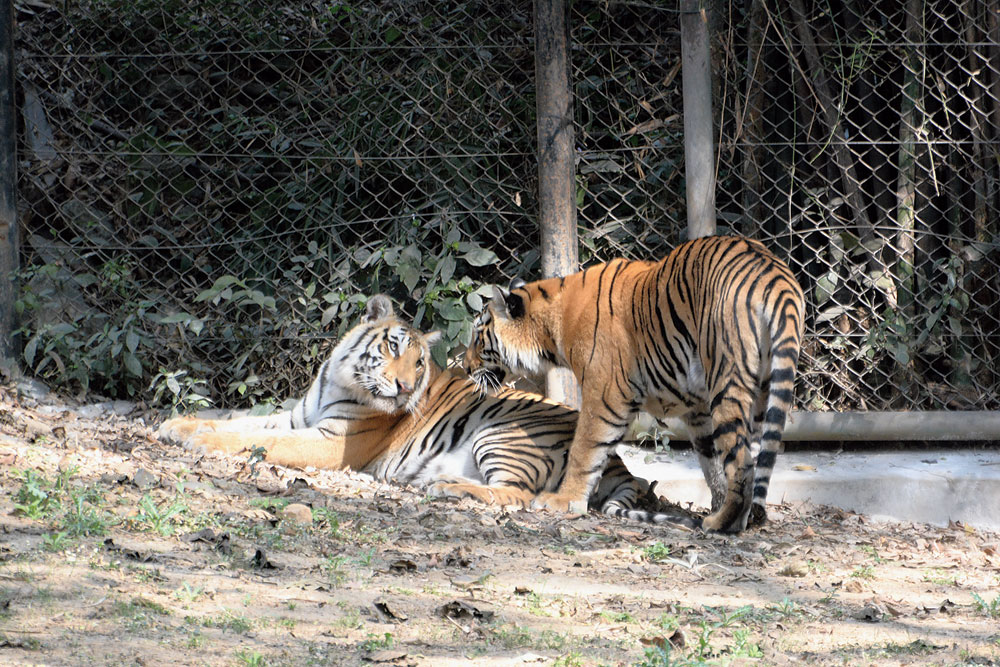 Just two cute: Sunaina (sitting) and Saloni at Tata zoo (below) in Jamshedpur on Tuesday.
Picture by Bhola Prasad
---
Jamshedpur
|
Published 30.01.19, 06:53 PM
|
---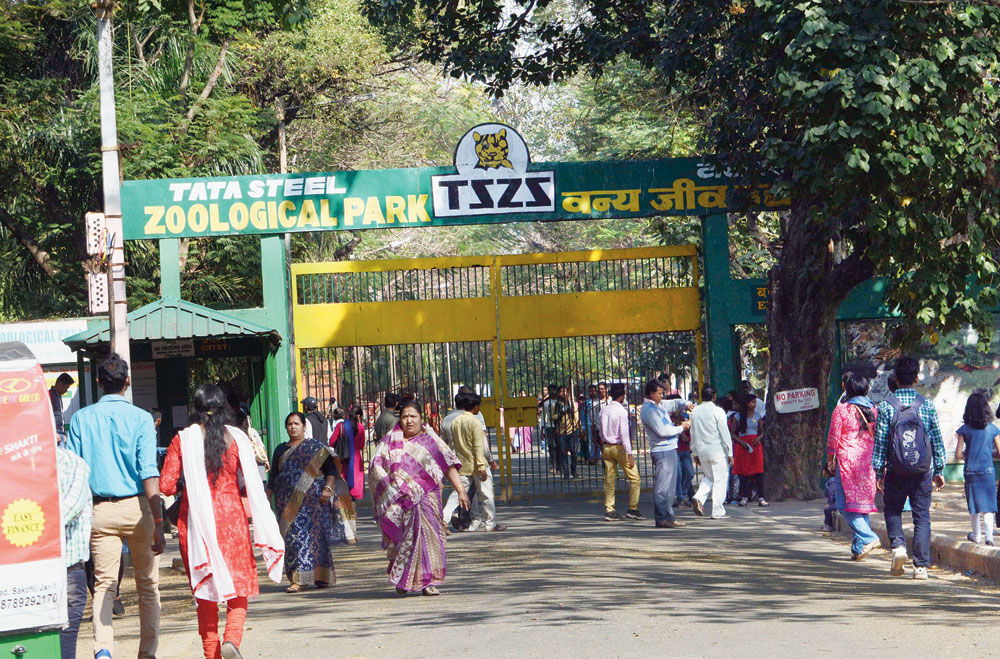 Want to feel good about life? Head to Tata Steel Zoological Park, inside Jubilee Park, to watch the antics of 16-month-old royal Bengal tiger cubs Saloni and Sunaina.
Born to royal Bengal tiger Dona and white tiger Kailash on August 23, 2017, sisters Saloni and Sunaina are at their playful best in winter, sunning themselves, chasing each other's tails and engaging in mock fights or prodding their mother with their paws. At times, they try to climb the trees inside their enclosure but trip and fall.
If the fight between the girls gets too intense, mother Dona whacks them with her paws to put them in their place.
Zoo keepers release the cubs and Dona in the open for three hours from 9.30am to 12.30pm after breakfast comprising a mix of mutton and pork. The cubs love to come out of their cells and sometimes roar as if asking they be released.
Tata zoo deputy director and vet Manik Palit said the cubs were in the pink of their health in winter. "They remain cosy at night with heaters inside their cells and come out in the morning to play in the sun. Saloni and Sunaina are a treat to watch. On Sunday, I'd say footfall is more just because of them," he added.
A zookeeper said their appetite was healthy. "Mutton and pork weighing 5kg are served to each of the cubs, twice a day, in the mornings and evenings," he said.
According to him, eight-and-half-year-old Kailash, who was brought here from Sri Venkateswara Zoological Park in 2014, is released at the enclosure after six-and-half-year-old Dona and cubs Saloni and Sunaina are taken back to their cells. "Letting out all the tigers at once may complicate matters. Dona may not like the presence of the male (Kailash) since she is very close to her daughters," the zookeeper added.
Visitors love them. "I come often to the zoo to just watch these beautiful cubs. Their playful and friendly fights are a treat to watch," said Sakchi resident Subhash Jha. Agreed Sonari resident Ritika Devi, whose daughter and husband are equally fond of the cubs, "If we visit Jubilee Park, we have to visit the zoo and see Saloni and Sunaina. They look so beautiful and sometimes naughty," she said.
Dona's cubs got their names — Saloni means beautiful and Sunaina the beautiful-eyed one — on International Tiger Day on July 29 last year. The names were chosen from citizen submissions through a draw of lots before visitors, including schoolchildren, on zoo premises.
The third of the litter, still unnamed, had died when seven months old on March 2018 of an unconfirmed ailment.