Three migrant workers from Jharkhand found dead in Kerala; NDRF team continues searching for body
STATE DIGEST: Sindri researcher killed in the US; seven shops sealed in Dhanbad; two police stations sealed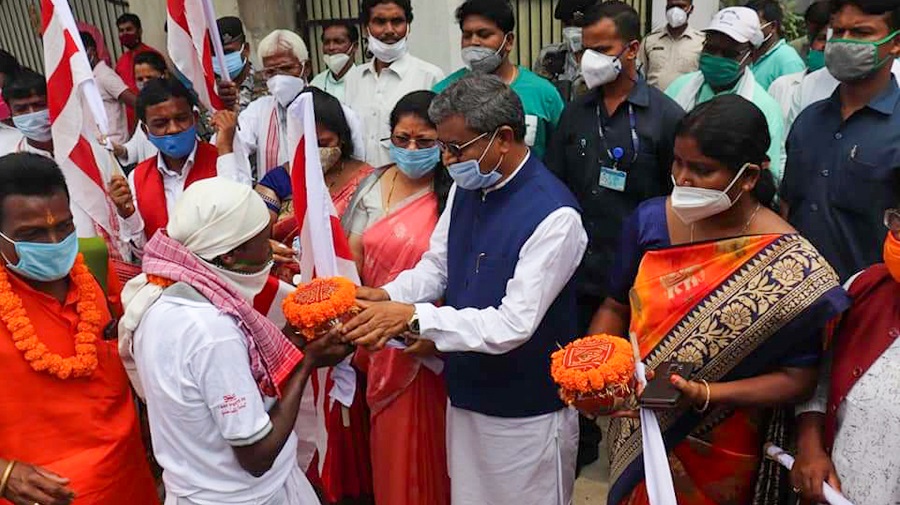 Picture Caption: Soil collected by pilgrims from the Sarna site of Jharkhand being taken to Ayodhya to construct the Ram Mandir. BJP leader Babulal Marandi along with Ranchi mayor Asha Lakra and Ranchi MP Sanjay Seth flagged them and sent them to Dharmanagri.
Manob Chowdhary
---
Published 05.08.20, 10:09 AM
|
---
Three migrant workers from Jharkhand were found dead near the railway track at Kanjikode, Kerala on Monday night between 9 to 10 pm, in a suspected case of train runover.
The incident occurred between Kanjikode and Palakkad stations.
The deceased are contract workers engaged in the construction work of the IIT campus at Kanjikode.
Palakkad district Collector D Balamurli said the three were missing since Sunday afternoon.
Enraged over the incident, a few other workers refused to hand over one of the bodies to the police and shifted the remains to the campus, demanding compensation. They are also accused of rioting.
"The workers refused to hand over one of the bodies, damaged a private vehicle and also caused minor injuries to a policeman," Palakkad SP G Siva Vikram said.
It was only on Tuesday morning after the district labour officer, other officials and police held talks with the protesting workers, did they allow the body to be shifted to hospital.
The exact cause of death will be known only after the post-mortem report arrives, the SP said.
Railway sources from Palakkad said the railway control room had not informed of any runover deaths last night.
NDRF team continues searching for body in Amanat river
It has been eight days but there is still no breakthrough in the recovery of the body of 22-year-old Shaurya Tiwary, who got washed away in the high rains of river Amanat on the night of July 28.
Sources said secretary state disaster management, government of Jharkhand Amitabh Kaushal sent this NDRF team on Sunday, August 2.
SDPO Sadar Sandip Kumar Gupta said a 15-member team of NDRF arrived in Palamau on Sunday evening and started searching the body from Monday.
Officer in charge of Satbarwa police station Rupesh Kumar Dubey said, "We and the NDRF team are out searching this young man's body but in vain. We entered the river on foot but now we are using a boat, too."
Locals fear wild animals including jackals and hyenas might have devoured the body but police maintain wild animals do not eat clothes, and this man was wearing shirt and jeans pants.
Satbarwa police have however found his friend's body identified as Abhinav Tiwary on July 30 itself, and the bike which they rode together was also found.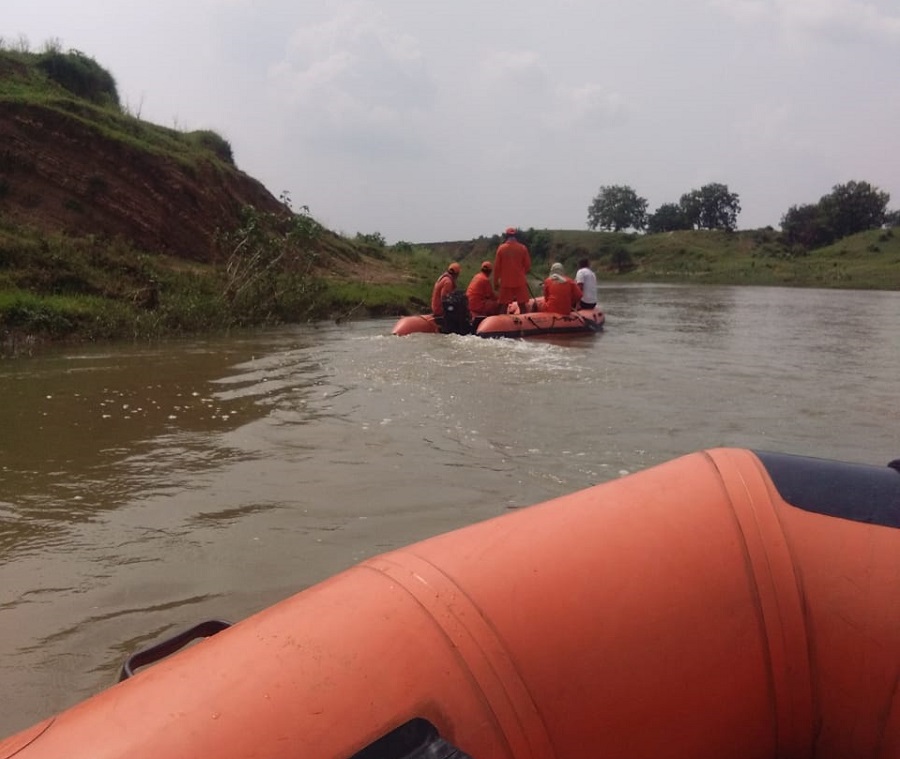 Forty-three-year-old Sindri researcher killed in the US
Forty-three-year-old Sharmishtha Sen, an alumni of De Nobili School Sindri, who worked as a researcher in Plano City of Texas in the US was killed on Friday, August 1 while she was jogging near her house. She is survived by her husband Arvind, 12-year-old son Neel and six-year-old son Reyan.
Sindri residents are in complete shock.
Ajanta Jha, former councillor of ward number 54, who was also Sen's dance teacher said that she was very good in dance and music, and was equally good in academics.
A former employee of Fertilizer Corporation of India Limited, SD Chattaraj, who is also general secretary of Rabindra Parishad Sindri, used to be a neighbour of the Sen family in Sindri. A visibly saddened Chattaraj said, "I am deeply shocked over the news. Her father Deenbandhu Sen was a chemical researcher in PDIL Sindri but the family left Sindri more than a decade ago."
Police has lodged a homicide case and arrested one person for interrogation.
Seven shops sealed
Dhanbad district administration sealed five shops after the drive conducted in Hirapur locality of Dhanbad under the leadership of Dhanbad sub-divisional officer Raj Maheshwaram on Tuesday evening.
The shops were sealed for lockdown violation including non-wearing of masks by shopkeepers and customers, non-observance of social distancing norms due to congregation of large number of people inside shops and other offences.
Similar drives were conducted on July 24 and July 30 during which seven and four shops respectively were sealed for similar violation of lockdown norms.
Two police stations sealed
Dhanbad district administration on Tuesday sealed two police stations including Jharia and Jorapokhar after a few policemen in these two places tested positive for coronavirus. While seven cops tested positive in Jharia, two policemen were detected positive in Jorapokhar.
They were found infected after a special intensive drive was conducted in Dhanbad on Monday whereby antibody test was done on people.