Three feared dead as roof collapses during illegal mining in Dhanbad
The family members of the deceased fled away from the site along with the dead bodies fearing legal action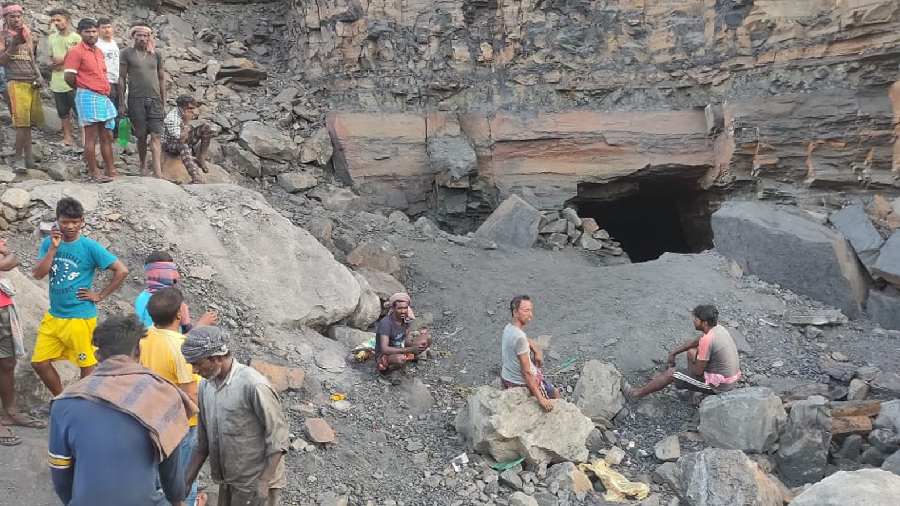 People gathered at Kapasara outsourcing project of ECL Mugma area in Nirsa
Gautam Dey
---
Dhanbad
|
Published 10.05.22, 08:53 PM
|
---
Three persons were feared dead and several others injured when a mine roof collapsed at an illegal mining site of Kaparsa Colliery of Eastern Coalfields Limited in Nirsa block of Dhanbad on Monday night.
The deceased was from a village in Nalhati town in the Birbhum district of Bengal. The family members of the deceased fled away from the site along with the dead bodies fearing legal action.
However, the police, local administration and Eastern Coalfields Limited (ECL) management, which owns the mining site, have denied any such incident. Local residents led by former Nirsa MLA, Arup Chatterjee entered the ill-fated mines late Monday night and identified one of the deceased persons as Abu Sheikh, a resident of Nalhati in Birbhum and also sent the video of the deceased person's body lying at the mining site to local police officials.
Talking to The Telegraph Online, Chatterjee said, "We went deep inside the mines up to 500 feet below the surface last night after getting information about the incident and from the local residents help we found one dead body, the video of which has been provided to the administration but the administration is in denial mode."
"We don't know when the administration would believe the incident. Maybe only after handing over the body of the deceased to them by us," said Chatterjee and added that rampant illegal mining is going on in different areas across Nirsa in which several local residents, as well as labourers of neighbouring Bengal, are engaged in coal excavation.
"The incident is a glaring example of the illegal mining going on in different parts of Nirsa and police and administration trying to be oblivious of the fact," charged Chatterjee and added that they have also received a video from the family members of deceased Abu Sheikh in which they confirmed the incident.
He also said that a large number of baskets full of coal, sacks, and spades were found last night at the site, and the video which has been made by him clearly proves the incident.
Meanwhile, a team of district administration, police and ECL management jointly led by Amrita Kumari, Circle Officer of Egarkund; Pitambar Singh, Sub Divisional Police officer of Nirsa and  Samir Kumar, Assistant Manager of Kapasa Colliery Area of ECL carried out a joint inspection of the incident site.
The circle officer of Egarkund and Nirsa SDPO instructed the colliery management to carry out deputation of appropriate security forces at such sites which are operational to prevent the entry of unauthorized persons and close down the opening of other sites to prevent illegal mining.
The district administration also sought a detailed report from the ECL management in this regard.
On February 1, a tragic mines mishap also took place in Gopinathpur colliery of Nirsa during the course of illegal mining in which altogether five persons were killed when a huge coal layer caved in during illegal mining.