Three businessmen feted for snapping ties with foreign firms after Sino-Indian clashes
Singhbhum Chamber of Commerce and Industry holds felicitation function, lauds initiative to develop mobile Covid-testing lab with local materials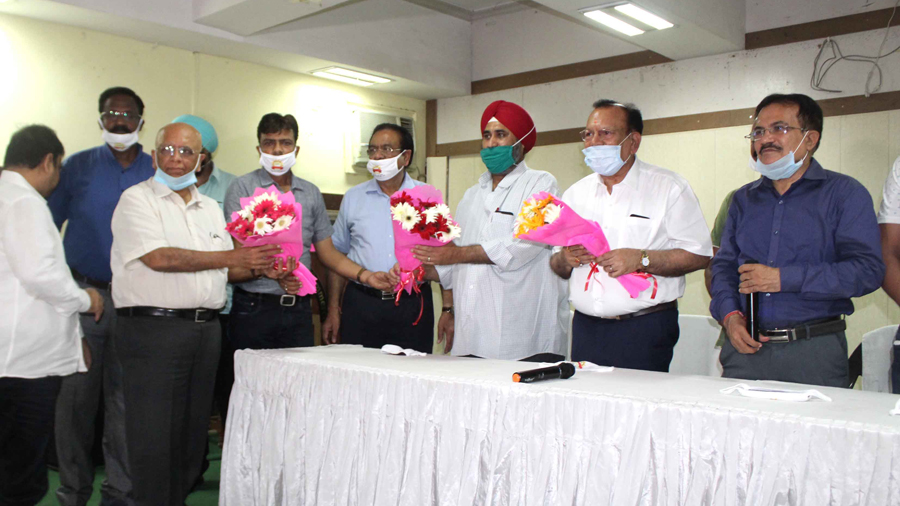 ---
---
The Singhbhum Chamber of Commerce and Industry (SCCI) on Monday felicitated businessmen Harjeet Singh, Bipin Adesra and Gajanand Bhalotia for snapping ties with Chinese firms. 
Bhalotia was also honoured for developing a Covid-19 testing van with the help of indigenous technology and materials.
The function was organised at the Chamber Bhawan in Bistupur on Sunday evening.  The national secretary of the Confederation of All India Traders (CAIT), Suresh Sonthalia, the vice-president of SCCI, Bharat Vasani, and other senior functionaries of the trade group were present on the occasion.
Gajanand Bhalotia, the owner of Bebbco Motors, an Adityapur-based body building company, was felicitated for developing the mobile Covid-19 testing lab with locally-sourced materials.
The lab, measuring 15 feet by six feet, costs Rs 55 lakh, and is equipped with fully automated sanitisation and thermal-scanning facilities. 
"We are happy that we could develop the mobile Covid-testing lab without using any technology or equipment from China. We will promote indigenous technology," said Bhalotia after the function.
Entrepreneur Harjeet Singh, the owner of Adityapur-based Suraj Automobiles, was coming up with a four-star category hotel at Adityapur. He had placed orders worth Rs 5 crore with a Chinese firm.
However, after the Sino-Indian border clashes in Ladakh and the death of 20 army personnel at Galwan Valley earlier this month, he cancelled the orders,
"We took this step as a part of the confederation's call to boycott Chinese products in the wake of the killings at the border. We had already paid Rs 70 lakh in advance to the Chinese firm after signing the contract last year. We have no regrets. We will now use local materials to complete the hotel project," said Singh.
Bipin Adesra, a leading jeweller, has decided not to procure any furniture from China for his bungalow in the posh Circuit House Area.
"We had decided to bring furniture worth over Rs 50 lakh from China. Our architect had also visited China. But in the wake of the killing of innocent jawans at the border and India's relations with China, we decided to get the furniture from local suppliers," Adesra told The Telegraph Online.
Confederation national secretary Suresh Sonthalia said, "The three businessman have shown us the way. It should be an eye opener for others. We have set a deadline of July 15 for all traders and businessmen to clear stocks of Chinese materials," he said.