Think local, act global, Rajnath tells IIM-Ranchi
'Take inspiration from our glorious past… Before Isaac Newton, Brahmagupta had confirmed the law of gravitation'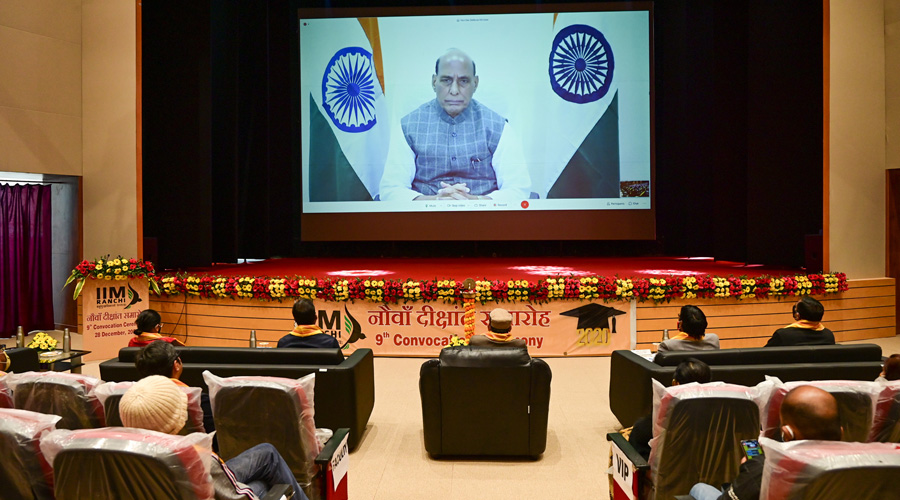 ---
---
Union defence minister Rajnath Singh on Monday appealed to the youth to help promote and strengthen local entrepreneurship with the help of technology so that India's growth story can benefit the grassroots.
Addressing the 9th convocation of IIM-Ranchi virtually, the Union minister asked the future business leaders to focus on problem solving methods to help the country become a superpower.
The future of any country was dependent on its youth, he explained, and mentioned eminent personalities such as Nelson Mandela, Steve Jobs, Swami Vivekananda, Aryabhata, among others.
"Youth is the source of innovation, invention and ideas and India being a country with the maximum young population has the potential to become a very powerful country in future. Young talents from IIM-Ranchi should help in promoting and strengthening local entrepreneurship with a 'think local, act global' approach. Apart from education we should also focus on developing research and problem-solving methods," he said, according to a media release issued by IIM-Ranchi.
Stressing on the responsibilities of future leaders, he said, "Businesses should contribute voluntarily to the development of society. And as business leaders, you should work towards ensuring that the benefits of India's growth story reach villages.
"Today, Covid 19 has confined our physical connection, and technology has helped us stay connected, thanks to innovation. Take inspiration and use your imagination. IIM-Ranchi has followed its core values of humility, hard work, and honesty for 11 years now. The students here have been achieving outstanding excellence, which shows the institutional excellence of IIM-Ranchi. Always remember that no success is final, and no failure is fatal."
Singh also asked students to maintain a balance between their personal and professional lives. "In times of confusion one should go through the golden pages of history. It has answers to all questions and it is full of knowledge," he said.
During the convocation, degrees were conferred virtually on 272 students _ 3 PhDs, 182 from MBA and 66 from HRM disciplines. The ICSI Signature Award – Gold Medal was awarded to Jasmeet Singh Bindra in the MBA Programme.
The Prof. Ashish Hajela Memorial Award was awarded to Alok Raj for securing the highest GPA in the Strategic Management Area in the MBA Programme.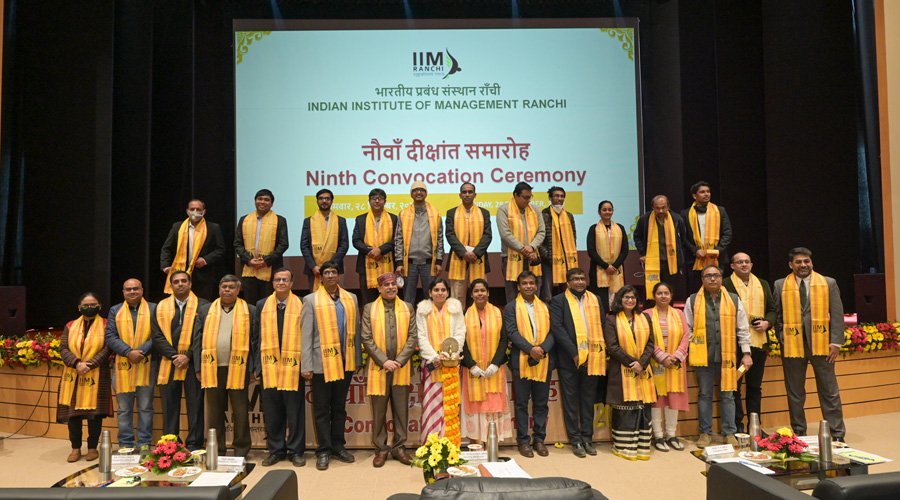 Prof. Shailendra Singh, Director, IIM-Ranchi, presented a progress report of the institute in his welcome speech. "The institute has performed outstanding and the students have brought many laurels to the institute. We have signed 9 MOU's for the exchange program, including the institutes from Greece, USA, Canada, China, and many more."
Singh, PTI reported from Delhi, told his audience at IIM-Ranchi that modern education should not deter them from taking inspiration from the country's glorious history as it set new standards of knowledge and discovery for centuries in the fields of physics, social science, spiritual knowledge and economics.
"Modern education should not be a hurdle in taking inspiration from your glorious past. Just like studying science does not mean that you do not believe in God," Singh said.
He also mentioned mathematician Ramanujan and added: "He said 'an equation is meaningless to me unless it expresses a thought of God'".
Urging students to work towards nation-building, the defence minister said, "India has been a witness to a long tradition of scientists from Aryabhata, Varahamihir, Brahmagupta, Bodhayan, Charak, Sushruta, Nagarjuna to Sawai Jai Singh.," said Singh.
"Before Isaac Newton, Brahmagupta had confirmed the law of gravitational force. It is a different matter that Western scientists got credit for all these discoveries for some reason," Singh said, adding he is talking about it as he himself was a student of physics.
He said ancient Indian scientist Baudhayan discovered the "Pythagoras theorem" years before Pythagoras did.
The defence minister said according to a famous Russian historian, India had mastered plastic surgery before Christ was born and that it was the first country to set up a hospital.
Singh also mentioned a specific contribution to astronomy by 12th-century scientist Bhaskaracharya and suggested that he rehearsed one of the theories relating to orbital periods of the planets that was discovered by German scientist Kepler.
"Secondly, he gave birth to the theory of gravitation about 500 years before Isaac Newton who was born in the 17th century," said Singh.
The defence minister said the list of India's achievements in science is very long, at the same time added that the country was not behind in other fields like economics, history, political science and public administration.