There's a lot brewing at cafés
Open Mic, book readings, live music & more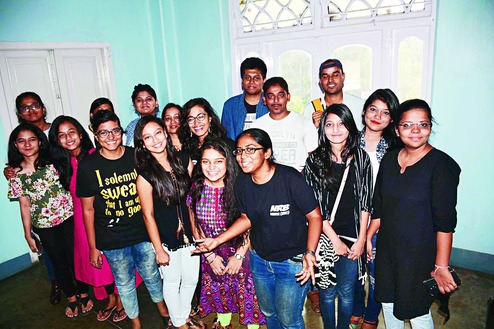 ---
Jamshedpur
|
Published 20.06.18, 12:00 AM
|
---
Jamshedpur: A journalist born and brought up in the steel city but staying in Delhi for some years now was pleasantly surprised after spending an evening at Café Regal in Bistupur recently. "Hey, I didn't know there were places like this to chill at in Jamshedpur," he told other NRJs (non-resident Jamshedpureans).
Bistupur's Café Regal and CH Area's La Gravitea are changing the concept of an evening out for steel city youth and young-at-heart that normally went to clubs, restaurants or a long drive.
It's not too hard to see why the two are the preferred hangouts. Be it book reading, art exhibitions, book launches, live music, open mic sessions or lively social awareness campaigns, the two have it all. And, some nice coffee, tea and finger food as well.
At Café Regal, live music sessions give a platform to young talents every week. Not only this, the place organises book launches, poetry sessions, open mic sessions, painting exhibitions and even skill training. The owner of the café Varun Gazder feels the society needs its share of art and culture. "Also coffee houses are viable places for youngsters to share their talent. They're cosy and you get a ready audience," he said.
"In a small way, we are creating a platform to showcase various forms of talent and giving a space for those to grow. Visitors really appreciate the music and other creative sessions, which encourage performers. It's like a live audience. We help create a culture that makes our society much richer," Gazder added, admitting he was passionate about his venture.
At La Gravitea, the city's first tea parlour at CH Area, open discussions and mic sessions are common. Visitors can grab a mic to recite anything, from Tagore's Kabuliwala to a joke doing the rounds. "We keep it real extempore," owner and tea enthusiast Avinash Dugar said. "It's all about implementing an idea to entertain, amuse and engage your visitors," he said, adding that last week they organised a book reading session.
In fact, places as these were excellent to take up social causes without going all preachy, said Dugar. "We launched a campaign called Honk Free Jamshedpur wherein we request or customers to put a sticker on their vehicle and pledge not to honk unnecessarily to create noise pollution. I think these activities create a positive impact on people. We have events on healthy food and cooking and even awareness on menstrual hygiene."
Pocket book author Ajitabha Bose who launched his latest book It's My Love Story at Café Regal a couple of months ago, said such places had changed the ethos of entertainment.
"I think more such coffee and tea parlours should come up as you get a very young crowd there. Activities like music, book reading and art exhibitions make the city more lively. It's great for Jamshedpur."
Share your experience at Café Regal with us at ttkhand@abpmail.com