Their husbands were lynched, now they want Hemant to enact law against mob violence
Sahista Perveen, Tabassum Perveen launch indefinete dharna near Raj Bhavan in Ranchi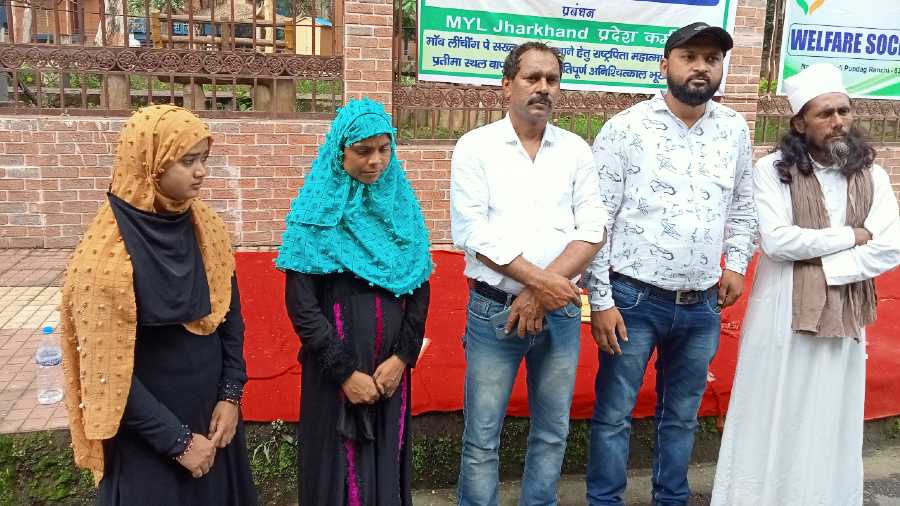 Widows of victims of mob lynching (from left) Sahista and Tabassum, along with others, near Raj Bhavan in Ranchi on Saturday.
Telegraph picture
---
Ranchi
|
Published 04.09.21, 07:46 PM
|
---
Two young widows of victims of lynching began an indefinite sit-in near Raj Bhavan here on Saturday to press for a strong legislation against such crimes, accusing the state government of being apathetic to their needs of compensation and rehabilitation despite several representations over the last year.  
Sahista Perveen (21), widow of 2019 Seraikela lynch victim Tabrez Ansari, and Tabassum Perveen (35), wife of Mubarak Khan, who was killed by a mob in Ranchi earlier this year, began their dharna under the banner of Mob Lynch Vidhwa Sangharsh Samiti which is being supported by a few Muslim social outfits, namely Indian Union Muslim League and Muslim Youth League.
From Sunday, more widows are expected to join them, the two women said. 
Sahista said that her protest was to ensure the government woke up from its slumber.  "My husband was brutally killed by a mob calling him a thief. He won't come back anymore. But I am still to get justice," she said, adding that several political parties, including those now in power, promised help but that nothing had been done so far. She also claimed she had met chief minister Hemant Soren several times.
Tabassum, who has a 2-year- old son, lives with her parents in Seraikela. "Somehow I am surviving. But I am staring at an uncertain future. I wasn't given any compensation despite promises. I want the government to provide me a job, take care of my child's education. But most important, we need a strong law to curb such incidents," she said.
On 17 June, 2019, Sahista's husband Tabrez Ansari (22), who was returning with two of his friends on a bike, was attacked by mob on the suspicion of having stolen a vehicle at Dhatkidih village in Kadamdih in Seraikela-Kharsawan. While his friends escaped, he was caught, tied to a tree, mercilessly beaten and forced to chant Jai Shri Ram. The matter came to light after a video went viral two days later leading to a nationwide uproar. He died in  hospital four days later.
As many as 13 people were named accused in the case and arrested. But, subsequently a majority of them got bail after police converted the charges against them in September 2019 to culpable homicide not amounting to murder.
On the night of March 14 this year, Mubarak Khan was killed on the outskirts of Sirka village in Angara block of Ranchi by a mob that accused him of stealing tyres of bikes. As many as 17 people were arrested.
More than a dozen incidents of mob lynching/attacks occurred in Jharkhand during the tenure of the BJP government of Raghubar Das between 2014 and 19. After the JMM-Congress-RJD coalition government of Hemant Soren came to power in December 2019, two incidents of lynching have been reported in Jharkhand.
Md Sajid Alam, state president of Indian Union Muslim League, said that they would support the widows and help them sustain their protest till their demands were met. "One of the major poll planks of the state governmwent was to enact a law against lynching. There have been four Assembly sessions since the new government was sworn in. But there is no law against lynching yet. We want the state government to commit to such a law during the ongoing monsoon session," he said.
State rural development minister Alamgir Alam had said last week that his party (the Congress) was in favour of legislation to curb lynching and would coordinate with the state government to come up with one. JMM, which is also part of the government, has spoken in its favour too.