The tale of the wounded tusker has a happy end
Cured by officials and vets, young Dalma elephant reunites with herd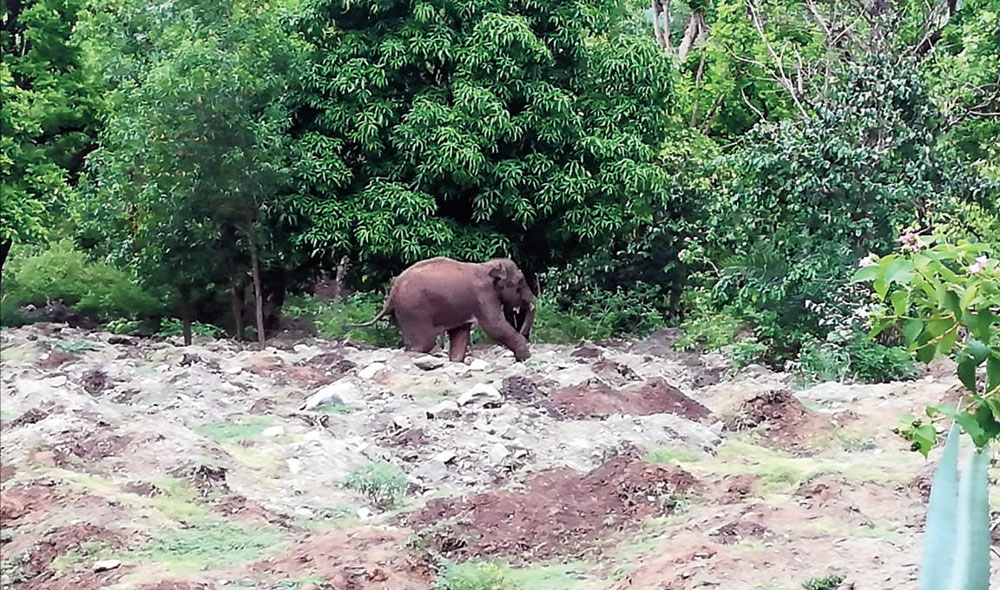 The tusker inside Dalma Wildlife Sanctuary earlier this week.
Picture by Bhola Prasad
---
Jamshedpur
|
Published 22.05.20, 08:30 PM
|
---
The wild elephant in Dalma that underwent treatment for a wound has finally reunited with a herd.
The 10-year-old elephant was separated from a herd and was spotted limping near Kashjobi watering hole in the core area of the Dalma Wildlife Sanctuary last week.
The Telegraph had reported how foresters and veterinarians treated him the wound on the right front limb at great risk to their own life and limb.
The wound healed after treatment in the care of vets from Ranchi and Jamshedpur but the tusker went missing since Sunday.
It was finally traced to Bota, the largest jungle inside the 192 sq km sanctuary, on Tuesday.
The tusker had regained its health and also ran and chased foresters and trackers (village youth recruited on daily wages for keeping tab on animals).
Assistant conservator  of forest R.P. Singh confirmed that the elephant has reunited with a herd.
"The tusker has left Dalma with the herd. The animal remained in an angry mood because of the wound, which has since healed," he added.
According to him, the elephant herd may have moved to the jungles in adjoining Seraikela-Kharsawan district.
"We are sure that the herd is not in Dalma sanctuary. We have scanned almost the whole sanctuary but the herd was not spotted. It's good that the elephant has finally reunited with a herd," Singh added.
A forester said the elephant may again move into the sanctuary with the herd.
"The herd might be back again at the sanctuary after some time as elephants have not migrated to the jungles of West Midnapore and Bankura in neighbouring Bengal. Herds migrate to Bengal in August-September," he added.
Dalma elephants move around. Sometime they are found in the Chandil forest range or in the jungles of Seraikela-Kharsawan.
"Elephants are moody and love to move around for food and water," a forester said on condition of anonymity.