The daily battle for food
2 years on, not much has changed for 'hunger death' victim's family in Jharia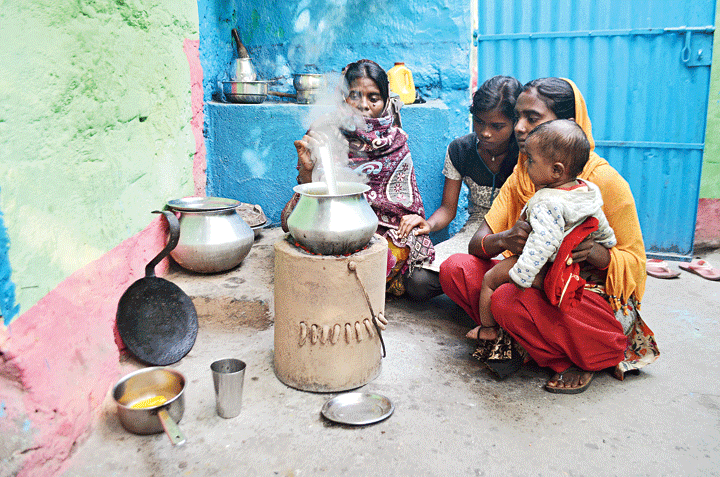 ---
|
Dhanbad
|
Published 19.11.19, 08:08 PM
---
Baijnath Ravidas, a Dalit rickshaw-puller, was around 45 years old when he died allegedly of hunger in Tarabagan, Jharia, on October 21, 2017. His wife Parvati said the family chullah had not been lit for two days and her husband starved to death. The state said food was cooked at Ravidas's house the day he died, and blamed tuberculosis.
Two years later, nothing much has changed for the family of six — Parvati, now 45, her sons Ravi, 22, Suraj, 17, Niraj, 12, daughter Sulekha, 10, Ravi's wife Pratima, 20, and a one-year-old grandson. Except that the family now receives 30kg of rice per month from the nearby public distribution system shop.
The government admitted that the below-poverty-line family did not have a ration card and quickly got one made for them after Ravidas died.
Yet, they continue to live from hand to mouth. Procuring milk for the grandson is a daily battle, sometimes won, sometimes lost, Parvati, who works as a domestic help, said from her Tarabagan hutment, 9km from Dhanbad.
If her married daughter Suman, 19, visits them with her husband, Parvati runs into debt. "For one good meal for my son-in-law with sabzi and papad, I have to borrow money from my employer or neighbour," she said.
"We are so poor that we could never enrol any of the boys or Suman to school. They're all illiterate. Who will give my sons a job? Now, Sulekha is going to a government school."
Her eldest son, Ravi, went to Mumbai last week with a local contractor to work as a labourer.
"Let's see if he sends money home," Parvati said. "My next son, Suraj, has also started working at construction sites near our home. But there's not much work here. He manages to find work maybe 10 days a month. I will try and enrol my daughter-in-law in a tailoring self-help group (SHG) as well."
Her six-member family survives on a cumulative income of less than Rs 3,000 a month.
"We have to somehow earn more money," she said.
Anita Devi, a neighbour of Parvati Devi, who is associated with the recently formed women's self-help group Jagad Janani, said Parvati's family was among the poorest in the neighbourhood.
"The family really needs money. We're trying to link Pratima (Parvati's daughter-in-law) with a new SHG. Seven women have evinced interest. The group needs 10," Anita said.
T.N. Pandey, a Jharia community organiser of the city mission management unit of Dhanbad Municipal Corporation, responsible for mobilising women to form self-help groups, said two such groups of 10 women were running and plans were afoot for a third.
"Here, we'll rope in Parvati Devi's daughter-in-law," he said.
But Dhanbad-based social activist Ankit Rajgarhia said more needed to be done for Ravidas's family. "The government should have arranged a job for at least one family member. The way they are surviving, there's always the risk of malnutrition or some major ailment."
Rajgarhia was one of the few social activists who insisted that Ravidas died of hunger. He pointed out that the ailing Ravidas, then the family's sole bread-earner, could not ply his rickshaw for days owing to which his family faced food scarcity.
Parvati has learnt to live with low expectations.
She told The Telegraph that when her husband's death made it to newspapers and TV channels, many "big people" came to their house.
"I don't remember their names, but they were netas and bada babus (politicians and bureaucrats). Some promised a job for Ravi. Nothing happened," she said.
Does she know elections are coming?
"Yes," she replied. "We don't trust leaders anymore; they only come during election season and forget us after winning. This time, when they visit us seeking votes, we will ask them: What happened to your tall promises?"