Tech push for Ranchi Main Road
Smart lights, app-based parking on menu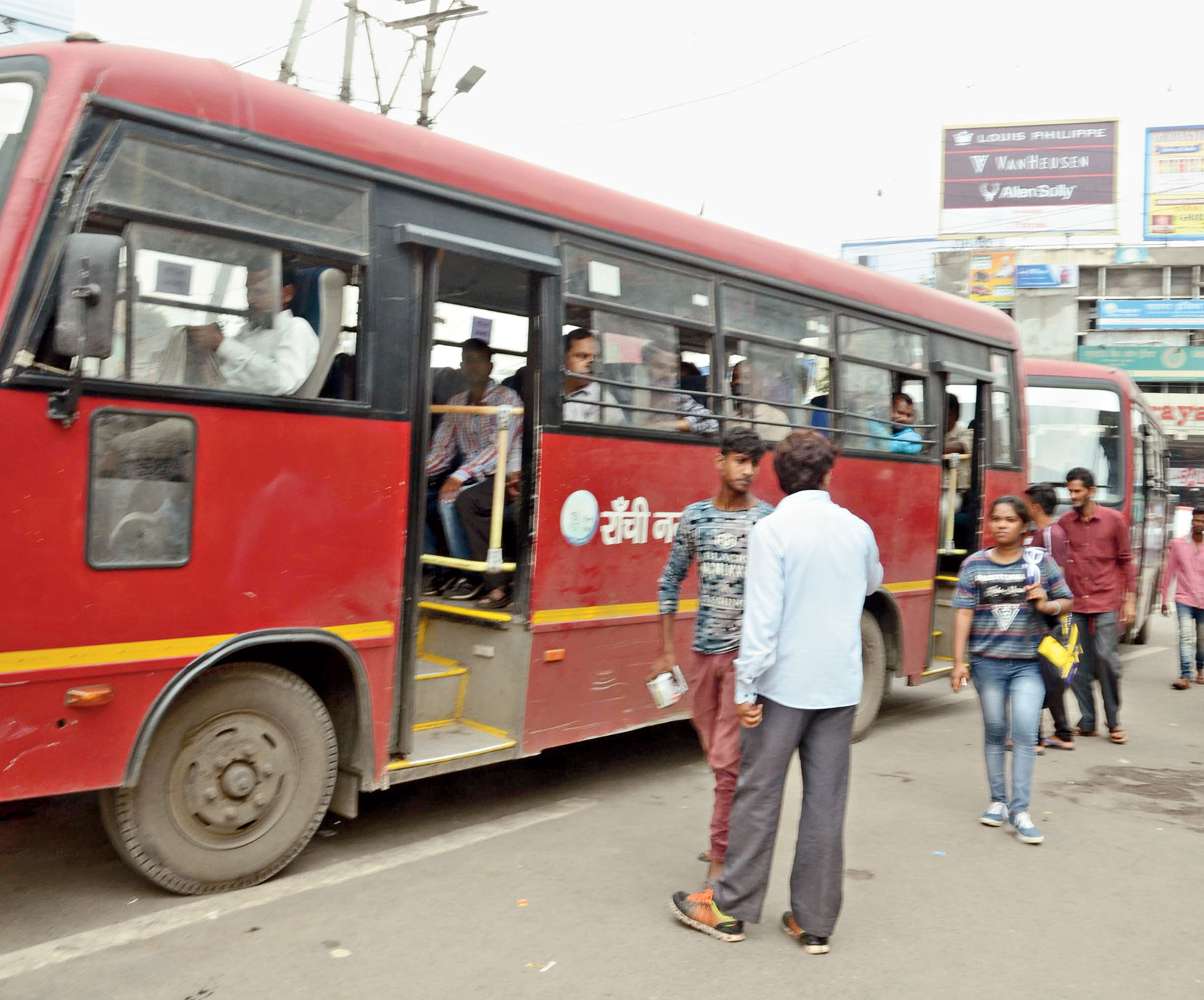 A city bus on Albert Ekka Chowk in Ranchi on Monday.
Picture by Prashant Mitra
---
Ranchi
|
Published 02.09.19, 07:36 PM
|
---
A state-of-the-art traffic management system awaits Main Road where authorities are desperately trying to streamline traffic, having cleared the thoroughfare of vendors and banned e-rickshaws from plying on what is perhaps the busiest stretch of the state capital.
Ranchi traffic superintendent of police (SP) Ajit Peter Dungdung said that they have decided, in conjunction with Ranchi Municipal Corporation (RMC), to install adaptive traffic control lights (ATCL) that work on the principle of traffic density, and a smart parking system according to which availability of slots will be known via a mobile app.
"ATCL will be installed on the stretch between Albert Ekka Chowk to Sujata Cinema. As many as six places will have ATCLs — Albert Ekka Chowk, Sarjana Chowk, Wool House, GEL Church Complex, Udru Library and Sujata Chowk," SP Dungdung told The Telegraph.
He explained that as opposed to normal traffic lights that operate on the basis of fixed time periods, the adaptive lights work according to traffic density.
"It changes the signal timer based on the density of traffic at a given point of time. A high-definition camera is used to capture images of the traffic and calculate density. On the basis of this, the signal timing is automatically adjusted," Dungdung said.
The SP said adaptive lights, already in use in Bangalore, and the smart parking system would be launched in Ranchi latest by the end of October.
The RMC, he said, has identified 14 locations to set up parking zones where automatic barriers would be installed.
"From now on, parking will not be allowed at any spot other than at designated spaces. According to the smart parking system we will launch, a mobile application is being developed by which a user can know about vacant parking spaces. They can book the parking slot online on a payment," he said.
The parking slots would have boom barriers to restrict unauthorised entry.
"The slots will either have sensors or there will be parking staff with a hand-held barcode reader," he added.
District transport officer Sanjeev Kumar said that Ranchi has 9.30 lakh vehicles including buses and trucks.
A traffic policeman who mostly remains deployed on Main Road said vehicular flow on Main Road has increased after e-rickshaws were banned.
"On an average around 400 e-rickshaws were operating from Albert Ekka to Rajendra Chowk. E-rickshaws move in slow speed. Vehicles trailing e-rickshaws on a narrow stretch had no space to overtake these slow-motion vehicles," said the constable.
He said that except Kanke and a certain stretch of Harmu bypass, all important thoroughfares of the city capital have huge traffic density.
Another constable said that unauthorised parking on the road by e-rickshaws was one of the reasons behind traffic congestion.
Deepak Lohia, a resident of Upper Bazaar, said the situation has improved on Main Road after roadside vendors were shifted to the Atal Smriti market.
"Now pedestrians have some free space at least in the stretch around Albert Ekka Chowk. Main Road needs to be widened, otherwise these cosmetic arrangements are not going to work for too long. There is still a problem of left lane not free that one can see at Sujata Chowk," he said.