Teaming up to end child trafficking in Jamshedpur
Campaign will be supported by district child protection officer and state labour department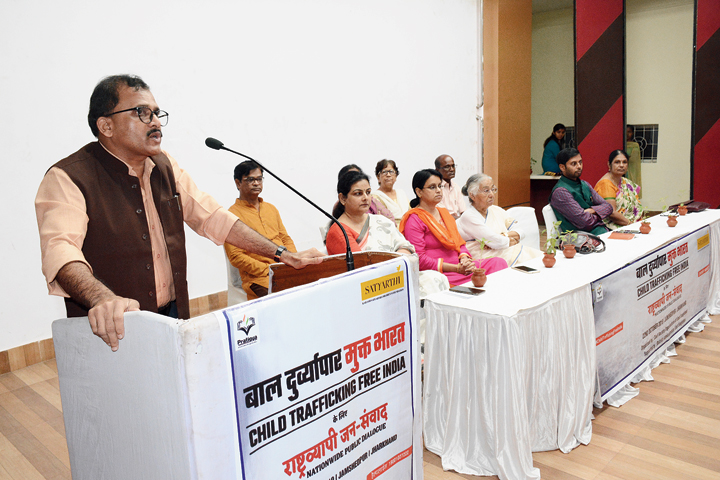 Director of Kailash Satyarthi Children's Foundation, Omprakash, speaks at the event
Bhola Prasad
---
Jamshedpur
|
Published 22.10.19, 07:00 PM
|
---
East Singhbhum district is all set to become safer for children, thanks to various nonprofit organisations that have teamed up to eradicate human trafficking and child labour.
At an event hosted by the Kailash Satyarthi Children's Foundation at Michael John Auditorium in Bistupur on Tuesday, five nonprofit organisations of Jamshedpur agreed to work together to make the district child-friendly by identifying vulnerable pockets.
Kailash Satyarthi Children's Foundation director Omprakash was the keynote speaker at the event held on the lines of a public interaction with villagers from blocks of East Singhbhum district.
Over 400 people attended the event that held discussions on child trafficking and the challenges to combat it.
The five organisations were Kalamandir — the Celluloid Chapter Art Foundation; Shramjeevi Mahila Samiti; Adarsh Seva Sansthan; Mahila Kalyan; and Sanskriti under the banner of Civil Societies of Jamshedpur.
All speakers, including Omprakash, spoke on how vital community engagement was in preventing a child from being trafficked.
According to Omprakash, an estimated 25,000 girls and boys from Jharkhand are trafficked every year, a whopping 80 per cent of them being girls. Minors are trafficked for various purposes that include sex slavery, domestic labour and cheap industrial labour in factories.
Omprakash said that the Kailash Satyarthi Children's Foundation, which has already etched its presence in Koderma and Giridih districts, would support all the organisations working to prevent child trafficking with technical help, capacity building programmes for social workers, legal aid for survivors and help in their rehabilitation.
The organisations have decided to make a web portal with a new helpline number, literature and awareness materials on child and human trafficking and on crimes against children. The organisations will also involve schools and the community at large, it was decided.
"Initially, organisations can adopt vulnerable pockets to identify child labourers and their employers followed by an awareness campaign and then take matters to the local police station, depending on the emergency, but everything has to be done with a target in mind and a stipulated time frame," said Omprakash.
The campaign will be supported by district child protection officer Chanchal Kumari and the state labour department, he added.
Representatives of other outfits sounded happy.
"This is for the first time that so many organisations have come forward to fight for a common cause. Crimes like child labour and trafficking or crime against children are increasing everyday and we need to work together to curb them. Various government schemes require better outreach and we will together plan to make the entire district child friendly," said Purabi Paul from Shramjeevi Mahila Samiti.