Taxmen in car with BJP sticker raid Congress MLA
Move prompts JMM chief minister Hemant Soren to accuse the BJP of misusing 'constitutional bodies' to try and destabilise his government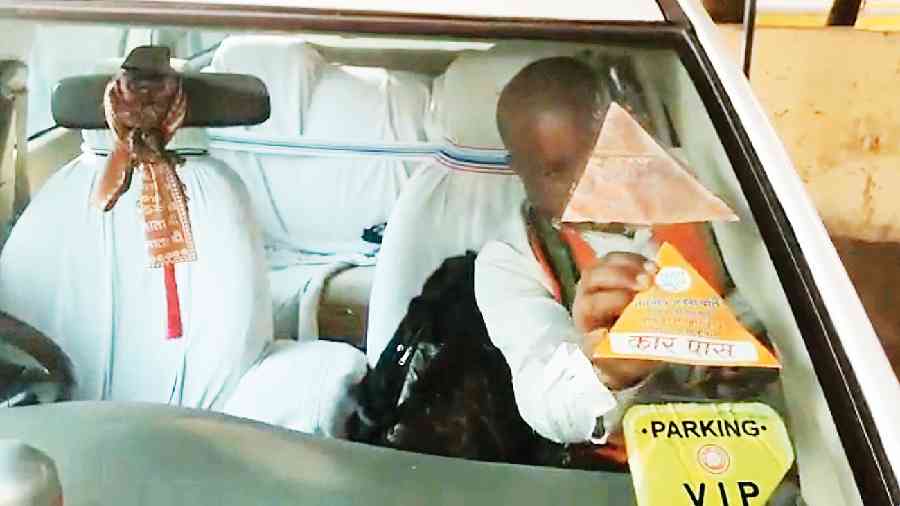 The SUV's windshield with BJP sticker near the the Congress MLA's house at Bermo in Jharkhand on Friday.
Shabbir Hussain
---
Jamshedpur
|
Published 05.11.22, 01:54 AM
|
---
Income-tax officials searching properties of Jharkhand Congress MLA Kumar Jaimangal Singh arrived in an SUV with a BJP sticker on its windshield, prompting JMM chief minister Hemant Soren to accuse the BJP of misusing "constitutional bodies" to try and destabilise his government.
"Income-tax officials come to carry out raids in Jharkhand using cars and SUVs owned by the BJP. It's a shameful demonstration of the misuse of constitutional bodies to disturb democratically elected governments," Soren, who heads a JMM-Congress-RJD government, said at an event.
The Narendra Modi government has been repeatedly accused of using central agencies such as the CBI, Enforcement Directorate and the income-tax department to target the BJP's political opponents and critics.
Income-tax teams raided properties linked to Congress MLAs Kumar Jaimangal and Pradip Yadav in Ranchi, Bermo, Godda and Patna on Friday morning, sources said. The raids were continuing late into the night.
Jaimangal had earlier filed a complaint against the three Congress legislators arrested in Bengal with cash in July and accused of trying to topple the Soren government in collusion with the BJP.
Jaimangal on Friday said he was cooperating with the search team.
"The searches are being carried out under BJP pressure. Those who are against the BJP will have to face such action. It doesn't scare me," he told reporters at Bermo.
State Congress spokesperson Rajiv Ranjan alleged the searches were part of an operation to destabilise governments in non-BJP-ruled states.
"The income-tax department is a constitutional body, we respect that. But the timing raises questions. The use of an SUV with a BJP sticker too raises questions about their intentions," he said.
The SUV, JH01L-5626, that had the BJP sticker is registered in the name of Dinesh Mahato.
As Congress supporters gathered outside Jaimangal's house and protested the raid, the tax officials hurriedly got the sticker removed from the windshield. But a video of the SUV and the sticker had already begun circulating on social media.
State BJP spokesperson Pratul Shahdeo said the raids were being "given a political colour to divert people's attention from the act (of tax evasion)".