Tatas back Dhanbad's Covid fight with 10 ventilators
Efforts on to increase number of beds to 700, says DC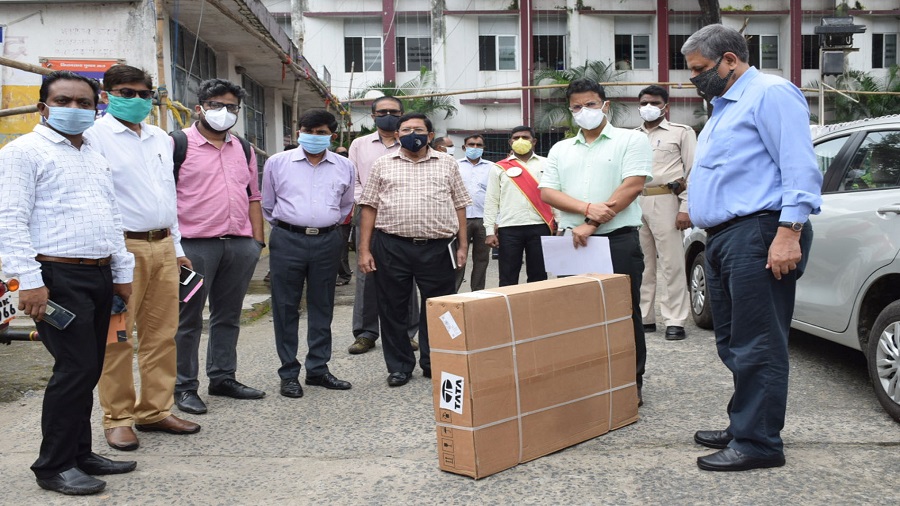 GM of Tata Steel (Jharia Division) Sanjay Rajoria (right) handing over ventilators to deputy commissioner Uma Shankar Singh (second from right) in Dhanbad on Thursday
Gautam Dey
---
Dhanbad
|
Published 13.08.20, 05:09 PM
|
---
Dhanbad district administration's effort to beef up Covid treatment facilities by adding new treatment centres with adequate infrastructure received a boost on Thursday with Tata Sons supporting the efforts of deputy commissioner Uma Shankar Singh.
GM of Tata Steel Jharia Division Sanjay Rajoria presented 10 ventilators to the district administration on behalf of Tata Sons at the district collectorate in the presence of, among others, Tata Steel Jharia Division Head (administration) Gopal Nath Jha.
Singh said they received 18 ventilators from the state government earlier, while Tata Sons provided 10 more on Thursday.
"These ventilators would be used to treat Covid patients. These would be installed at the Dedicated Covid Hospital at Jagjivan Nagar, the Dedicated Covid Health Centre at PMCH Cath Lab, the Dedicated Covid Health Centre at Sadar Hospital, besides the Dedicate Covid Health Centre at Tata Central Hospital in Jamadoba," he said.
Singh said the district administration was trying to increase the number of beds for Covid patients to 1,000, but that the immediate target was 700. "We have sufficient workforce as per the requirement of treatment centres so there is no need to panic," he said.
Tata Steel GM of Jharia Division Rajoria said they had provided 3,500 face shields for the policemen working on the frontlines to SSP Akhilesh B Verior on August 6.
Dhanbad district witnessed a sea change in Covid treatment facilities over the last month when there was only the 100-bed dedicated hospital at Jagjivan Nagar.
Since then, five other dedicated Covid health centres (DCHC), meant for treatment of asymptomatic patients, have been established at PMCH Cath Lab (100 beds), Sadar Hospital (50 beds), Tata Central Hospital (25 beds), Nirsa Polytechnic (100 beds) and Bhuli Regional Hospital (50) beds.
Efforts are underway to set up another Covid health centre at Zonal Railway Training Institute. A dialysis centre meant exclusively for Covid patients was inaugurated on Wednesday.
The deputy commissioner has also augmented the workforce so that Covid testing can be ramped up significantly, from 500-600 per day to about 1,000.