Tatanagar station to hoist 'hanging garden'
Private agency handling 'eco-friendly' revenue generating project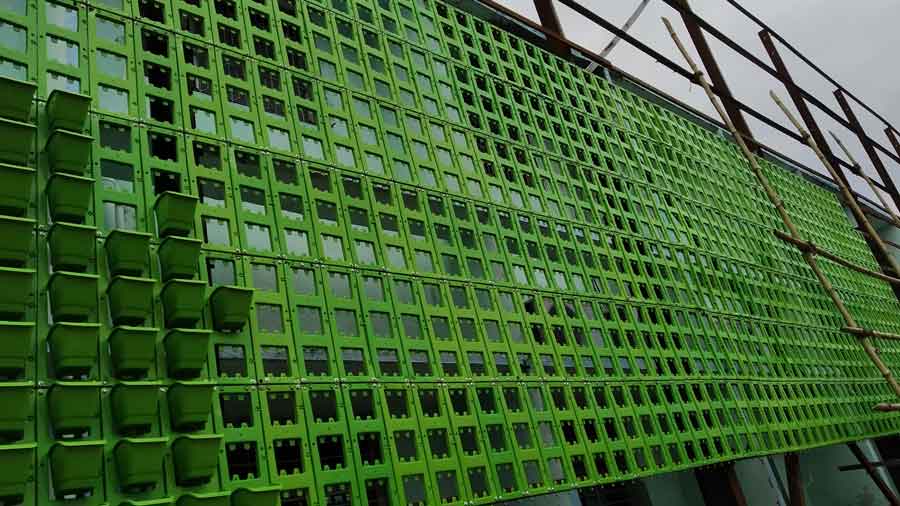 ---
---
The A1-category Tatanagar railway station will soon ensure a breath of fresh air for passengers with the help of a "hanging garden".
The Chakradharpur railway division of South Eastern Railway has roped in a private firm that has started work on installing the hanging garden _ a large contraption that holds tubs with plants _ outside the main station building. It will be spread over an area of 1,688 sq ft.
"Apart from the two wings of the main station building, places have been earmarked at the two foot-overbridges which will also display plants. Beautification it is an environment friendly initiative and Tatanagar will be the first railway station under Chakradharpur division to get a hanging garden," said area manager Vikas Kumar.
He said that the new project is a part of generating non-fare revenue (NFR). "Apart from developing the hanging garden, the agency (M/s. Mohan Enterprise) would also generate revenue through advertisements," he said.
The agency is paying an annual licence fee for undertaking the project.
Station director H.K. Balmuchu said the private firm would take care of installation as well as maintenance of the hanging garden. "After five years, the project will become railway property as per the terms and conditions of the agreement, " he said.
The initiative, he added, would help maintain greenery in and around the railway station, now made mandatory as per a new guidelines of National Green Tribunal (NGT).
Arun Tiwari, general secretary of Chhotanagpur Passenger Association, welcomed the project. "This is a new initiative of the Chakradharpur division which other stations should also follow. The railways has always been concerned with operations and passenger safety. Now, there's a change in mindset to create an environment friendly ambience for passengers," he said.