Tata Steel Foundation's tribal conclave Samvaad begins
The theme of its eighth edition is 'Reimagine' that expects a 'deeper, patient and representative exploration of what reimagination mean for the tribal communities'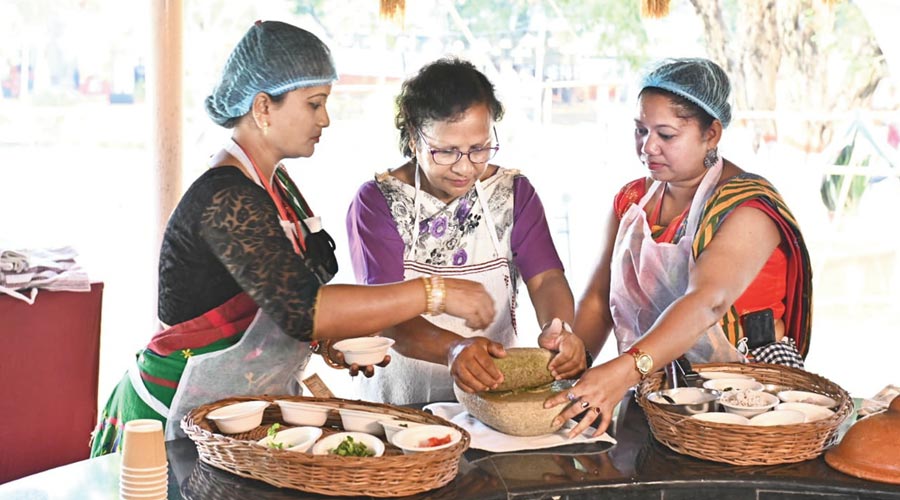 Participants prepare various dishes to present tribal cuisine during the Samvaad in Jamshedpur on Tuesday.
Picture by Bhola Prasad
---
Ranchi
|
Published 17.11.21, 12:54 AM
|
---
Samvaad, a five-day pan-India tribal conclave organised by Tata Steel Foundation, is more than just dance and music.
The theme of its eighth edition that began in Jamshedpur on Monday is "Reimagine" that expects a "deeper, patient and representative exploration of what reimagination mean for the tribal communities", as the organisers said in a note.
Accordingly, representatives of 87 tribal communities, numbering over 4,000, from 25 states and five Union Territories got themselves associated with the conclave, either coming to Jamshedpur personally or through digital platform, to reinvent themselves though interactions on various aspects of life — from cuisine to culture and heritage to healing practices. 
Though only 187 selected artists and chefs have come to Jamshedpur for presenting their culture personally, the organisers expected that the event would "witness cross-pollination of ideas among tribal women and men who will join online and celebrate the vibrant culture of the different tribes". 
About 180 tribal healers representing 21 tribes residing in 11 states are also interacting among themselves online for ascertaining position of tribal healing practices in the public health space with an aim to explore the possibility of forming a national tribal healers' collective.
On another platform, another group was found to be engaged in ascertaining the tradition of storytelling in cultural heritage of the tribal communities. 
In yet another platform, a group of 25 visual artists belonging to 8 different tribes residing in 7 states were active in showcasing a dozen art forms they practice. 
But any discussion on the tribes is incomplete without mention of their food and music and Samvaad has given due consideration to that too.
If Mercy Manjula of Ranchi made chokhor chai using earthen pots, Maya Soren of Jamshedpur presented hau, a tangy chutney made of red ants. 
"I prepared narzioma, a Boro dish made with dry jute leaves mixed with garlic, ginger and green chilli," Mainao Gayary of Assam said about her preparation. 
"I presented tokaka kshisarkai, a chicken preparation in Rava style that has ginger and chilli with salt added to it in suitable quantity but it is almost oil free," Tapashree Hadu of Meghalaya informed about her preparation at the event. 
Similarly, there were various dance forms — from firkal practised by the Bhumijs of Jharkhand to Chhau in Mayurbhanj (Odisha) style — presented on the occasion and, of course, music of the Baigas of Madhya Pradesh, the Gujjars of Kashmir and the Nocte of Arunachal Pradesh.
Musical bands like Da-Shugs from Ladakh, Sofiyum from Sikkim and Purple Fusion from Nagaland are also to perform during the event. 
"Over the years, at least 30,000 belonging to over 150 tribes from across India and 17 other countries came to know one another, interacted among themselves on various topics and eventually ran tribal leadership programmes successfully," Saurav Roy, chief of corporate social responsibility of Tata Steel, said when asked about the impact of the last seven editions. A collective of tribal musicians was already formed while another of tribal healing practitioners was in the offing, he added.