Tata Steel foundation trains mountaineers for Olympics
The special camp in steel city has a select number of national climbers preparing for upcoming events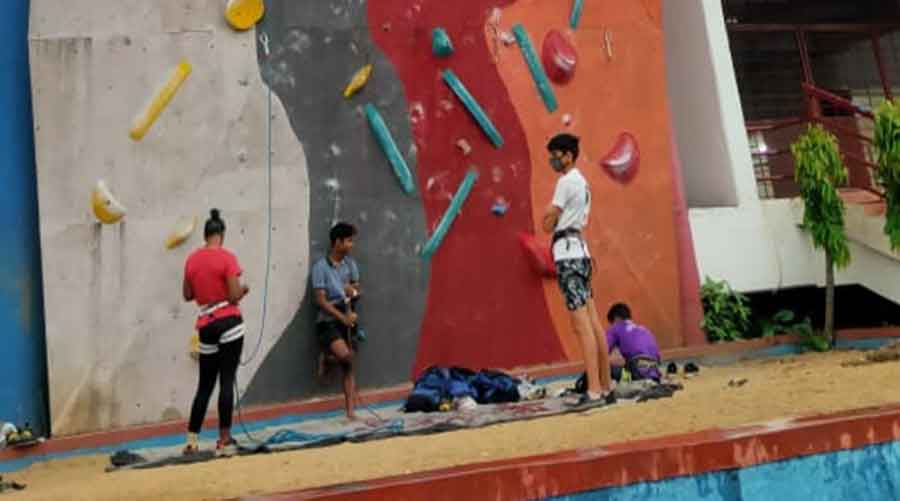 Sport climbing camp in progress in Jamshedpur on Thursday.
Bhola Prasad
---
Jamshedpur
|
Published 01.07.21, 09:30 PM
|
---
A select group of young climbers are sweating out to iron out flaws under experienced hands at a special camp organised by Tata Steel Adventure Foundation (TSAF).
The 10-odd climbers, including an 11-year-old village boy, are training in the mornings and afternoons for nearly a month now at a cradle run by TSAF at the JRD Tata Sports Complex as the elite Jamshedpur-based adventure wants to prepare them for the state, zonal and national competitions.
The climbers at the camp, among others, include siblings Aman and Anisha Verma who have donned India colours in international competitions. Others have claimed medals in zonal and national events.
The sport climbing events will start getting on the tracks since the second wave of pandemic is waning and things are opening up.
The TSAF has given accommodation to the campers inside the JRD Tata Sports Complex and also provided them with the required diet.
"The camp is aimed at keeping our climbers prepared for the events ahead. We want them to be in fine fettle and fully fit to sustain the load of competitions. The camp is going on very well," said Hemant Gupta, head of TSAF.
The camp is being supervised by Bibhas Roy, a Calcutta-based route setter and assisted by two senior climbers.The campers are getting trained in the three separate categories of sport climbing – bouldering, speed and lead.
With sport climbing included as one of the disciplines for next month's Olympic Games in Tokyo, JapanTSAF is serious about backing its climbers to the hit by providing them adequate training and exposure front.
The training is being imparted by keeping future Olympics in mind. "Olympic is a big event. We want to adequately train and provide exposure to climbers so that they can represent the country in the Olympics in future," a TSAF official said.
The adventure outfit, which boasts the only sport climbing in Jharkhand, sends its climbers to zonal and national competitions and also trains them under experienced hands. The climbers have proved their mettle in both zonal and national competitions and won all round applause for their skills.
The TSAF has also planned a residential academy for sport climbing on the lines of archery and football cradles run by Tata Steel in Jamshedpur. The spadework for the academy had started but things got stuck in view of the Covid-19 pandemic.
Sport climbing has gained popularity in the steel city. School kids are showing interest in the event and a good number of them have joined the cradle run by the TSAF.