Tata Archery Academy celebrates 25 glorious years
Till date 170-plus cadets have been nurtured and trained at this cradle in Jamshedpur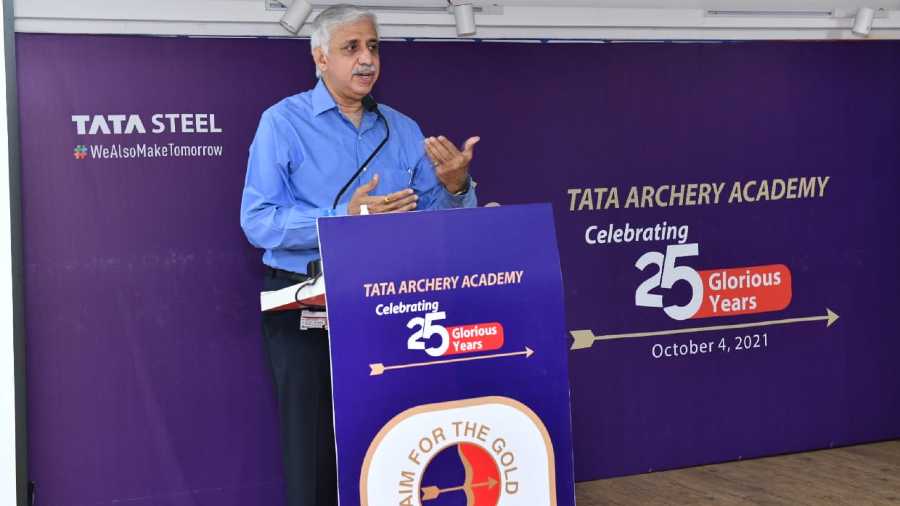 Chanakya Chaudhary addresses a gathering in Jamshedpur on Monday.
Bhola Prasad
---
Published 04.10.21, 08:44 PM
|
---
Tata Archery Academy (TAA) on Monday celebrated its silver jubilee. To celebrate the academy's journey so far, former Tata Sons director Dr. J.J.Irani, Tata Steel vice-president (Corporate Services) Chanakya Chaudhary, officials of Tata Steel sports young international archers and cadets of the TAA Komalika Bari and Ankita Bhakat, coach Purnima Mahto, trainees and coaches were present at a function hosted at JFC Media entre at JRD Tata Sports Complex.
The elite cradle was set up to encourage the indigenous talent of local youth. Since 1996, the cradle has successfully nurtured and trained talented youngsters to contribute to the greater glory of the country.
"Jharkhand has a legacy of archery and this academy has done its bit to produce many prominent archers like Deepika Kumari, Komalika Bari and Ankita Bhakat who are the examples who have recently  made all proud in the World Cup and Youth World Championships. The academy will continue to produce more international archers for the country," said Chaudhary.
Irani, former MD of Tata Steel, wished the academy his best wishes and said that the cradle has reached a milestone with its silver jubilee.
For the uninitiated, the trainees stay at the Sports Hostel and are served a nutritious diet. The cadets also spend time in the gym and swim to build strength and stamina. They also pay stress on education. Training is conducted at a nearby ground. 
A sports psychologist has also been appointed at the academy and training is imparted in a professional manner by experienced coaches and support staff.
A total of 170-plus cadets have so far trained and graduated from the cradle. The TAA-trained cadets have claimed 213 international medals and 875 national medals. Seven have donned country's jerseys in Olympic Games,  4 in World Championship, 3 in  Asian Games, 7 in Asian Championship, 7 in Commonwealth Games and 14 in World Youth Championship.
Three mentors from the cradle -- Sanjeeva Kumar Singh, Purnima Mahto and Dharmendra Tiwari have been bestowed with the Dronacharya Award, 2 -- Deepika Kumari and Limba Ram -- are Padma Shri awardees and 7 -- Sanjeeva Kumar Singh, Deepika Kumari, Limba Ram, Jayanta Talukdar, Rahul Banerjee, Dola Banerjee and Atanu Das are Arjuna awardees.