Tapas Sahu elected as new chairman of CII Jharkhand State Council
43-year old CEO of the Highco Engineers Pvt Ltd becomes the youngest chairman of the industry outfit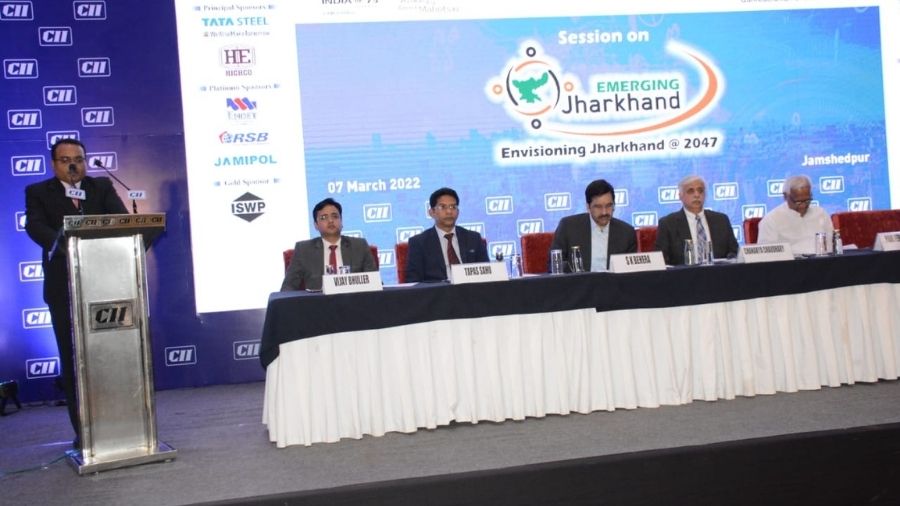 The participants attending the CII session on Emerging Jharkhand : Envisioning Jharkhand @ 2047 at The Alcor Hotel on Monday.
Bhola Prasad
---
Jamshedpur
|
Published 07.03.22, 06:01 PM
|
---
Tapas Sahu, managing director and CEO of  Adityapur- based Highco Engineers Pvt Ltd was on Monday elected as the new chairman of Confederation of Indian Industry's  (CII) Jharkhand State Council for the year 2022-23.
His name was announced at the first annual meeting of the reconstituted CII Jharkhand State Council held at The Alcor Hotel in Jamshedpur today. 
At 43, he is the youngest chairman of the industry outfit.
Sahu is a B.E. and MBA and has over 20 years of experience in light to heavy fabrication job development and execution and press shop technology. He was the vice-chairman of the CII Jharkhand State Council and continues to be an elected member of the CII Jharkhand State Council.
He has also served as the chairman of the CII Jamshedpur Zonal Council and chairman, the Young Indians Jharkhand Chapter. 
He is also a regional council member of the Automotive Component Manufacturers Association (ACMA) and eastern region executive committee member for the National HR Council. 
He was awarded the Rashtriya Nirman Ratan Award from the Economic Growth Society of India, New Delhi. 
He is also a visiting faculty to various engineering and graduate Colleges. 
Plant head of Tata Motors, Vishal Badshah,  has been elected as the vice-chairman of CII Jharkhand State Council for the year 2022-23.
Vishal Badshah has rich, diverse experience spanning almost three decades in the field of manufacturing and business management in automotive, engineering, and construction equipment organizations across geographies. Having joined Tata Motors, India's largest automobile company, as a fresh engineering graduate,  Badshah has grown and currently heading the Jamshedpur plant. 
His core competencies and areas of interest are strategic business planning, supply chain management, change management, new product introduction, lean manufacturing, etc. 
Apart from the annual meeting  CII Jharkhand also organized a session on Emerging Jharkhand: Envisioning Jharkhand @ 2047 at the same venue.
The session saw the participation of senior industry leaders from different sectors who deliberated on the opportunities, current challenges, and promoting industrial development in Jharkhand.