Sunday morning face-off
The two warring candidates, accompanied by scores of their followers, were on the ground barely 50 metres apart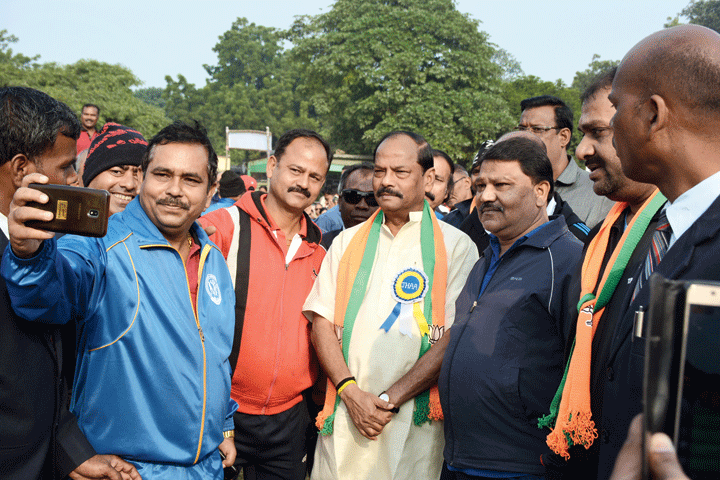 Raghubar Das poses for a groupfie at Agrico Maidan in Sidhgora, Jamshedpur, on Sunday
Picture by Bhola Prasad
---
Jamshedpur
|
Published 01.12.19, 08:29 PM
|
---
Later in the day, Das went over to Bahragora and Dumaria to campaign for the BJP's Baharagora and Ghatshila candidates Kunal Sarangi and Lakhan Mardi before coming to Potka to ask votes for Menka Sardar. Das finally took out another padyatra in Sonari, Jamshedpur West constituency, in the evening.
Some supporters of Roy were also seen walking with Das's aides in the padyatras.
Roy campaigned in TRF area, Kumharpara, Sitaramdera, New Sitaramdera, East Plant Bustee, Number 10 bustee, Birsanagar, Jahartola, Nanak Nagar in Tinplate, Bara Flat area, NML Colony and Telco on Sunday.
A political observer called the Jamshedpur East campaign the most intense he had seen in his lifetime.
"It seems Das is shedding more sweat his time as he is pitted against the formidable Roy. Das also has to divide his time between other constituencies to campaign for the BJP, Roy has no such claims on his time," he said.
Roy also wrote to Modi, who is set to campaign for Das in Jamshedpur on Tuesday, not to make the latter the CM again as he failed to keep his promise to give malikana haq or land ownership rights to the residents of 86 slums in Jamshedpur. Roy also demanded Modi announce at his rally that 86 slums in Jamshedpur would get regularised on the lines of over 1,797 slums in Delhi.
Chief minister and BJP candidate for Jamshedpur East Raghubar Das and his estranged colleague, Independent candidate Saryu Roy, almost had a face-off at Agrico Maidan on Sunday, the same day the latter wrote to Prime Minister Narendra Modi asking Das not be made chief minister of Jharkhand for a second term.
The two warring candidates, accompanied by scores of their followers, were on the ground barely 50 metres apart, at a walking contest organised by local Jamshedpur Health Awareness Association. Das, as patron of the outfit, had come by 7.10am to interact with around 500 morning walkers and give away prizes. A little later, Roy walked in with some 20 of his supporters to interact with morning walkers near the first-aid enclosure. An eyewitness said some persons with Roy slipped away when they saw Das.
What followed was a tense 20 minutes with neither Das nor Roy acknowledging each other, though they were within shouting distance. Roy left first, Das continued to do the honours as the chief guest of the event.
After the morning walkers' contest wound up, the CM left the ground with a padyatra in nearby Golmuri and Sidhgora for the next couple of hours.
Then, Das went over to Nagadungri in Baridih and Birsanagar where he met more residents in a padyatra.