Students turn maths ninja
DBMS English School hosted the second inter-school maths quiz, Number Ninjas, on Thursday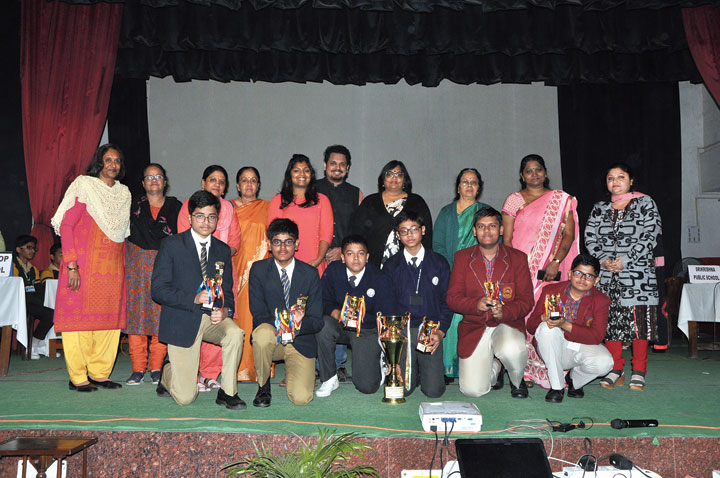 The team of DBMS English School in Kadma, Jamshedpur, the winners of Number Ninjas at their school on Thursday.
Picture by Bhola Prasad
---
Jamshedpur
|
Published 16.01.20, 06:32 PM
|
---
What is the best way to overcome the fear of maths? Flex your grey cells and become a number ninja!
DBMS English School on Thursday hosted the second inter-school maths quiz, Number Ninjas, on Thursday. After a tough fight, the hosts also won the quiz, launched at the initiative of school chairperson Bhanumathi Neelakantan.
Number Ninja was conducted under the aegis of Oxford University Press with quizmaster Vinay Mudaliar.
Students from Classes VII and VIII of 17 schools took part in the preliminary round where their maths skills were tested over a wide spectrum. Finally, six teams — Hill Top School, Loyola School, DAV Public School (Bistupur), Kerala Public School (Kadma), Srikrishna Public School and host DBMS English School — made it to the final.
At the end of the day, host DBMS won the quiz with 70 points, followed by Loyola School with 60 and DAV Public School with 35 points.
Principal of DBMS English School Rajani Shekhar said the maths quiz was "truly fun" for kids. "It was an interactive and engaging quiz that participants and the audience enjoyed. It is about logical and lateral thinking. You have to understand maths concepts and have fun," she said.
In another event for schoolchildren, painting and essay-writing contests were held by the Indian National Trust for Art and Cultural Heritage and the Tata Steel Zoological Society on the latter's premises on Thursday. As many as 128 school students took part in painting and essay-writing on the topic "Gandhi, the epitome of change" as both organisers celebrated the 15th birth anniversary of the Father of the Nation.
With this, Tata Steel Zoological Park also celebrated its Foundation Day with Dhalbhum SDO Chandan Kumar as the chief guest. Names of winners will be announced in March.