Students outline the Mahatma
Calendar on Bapu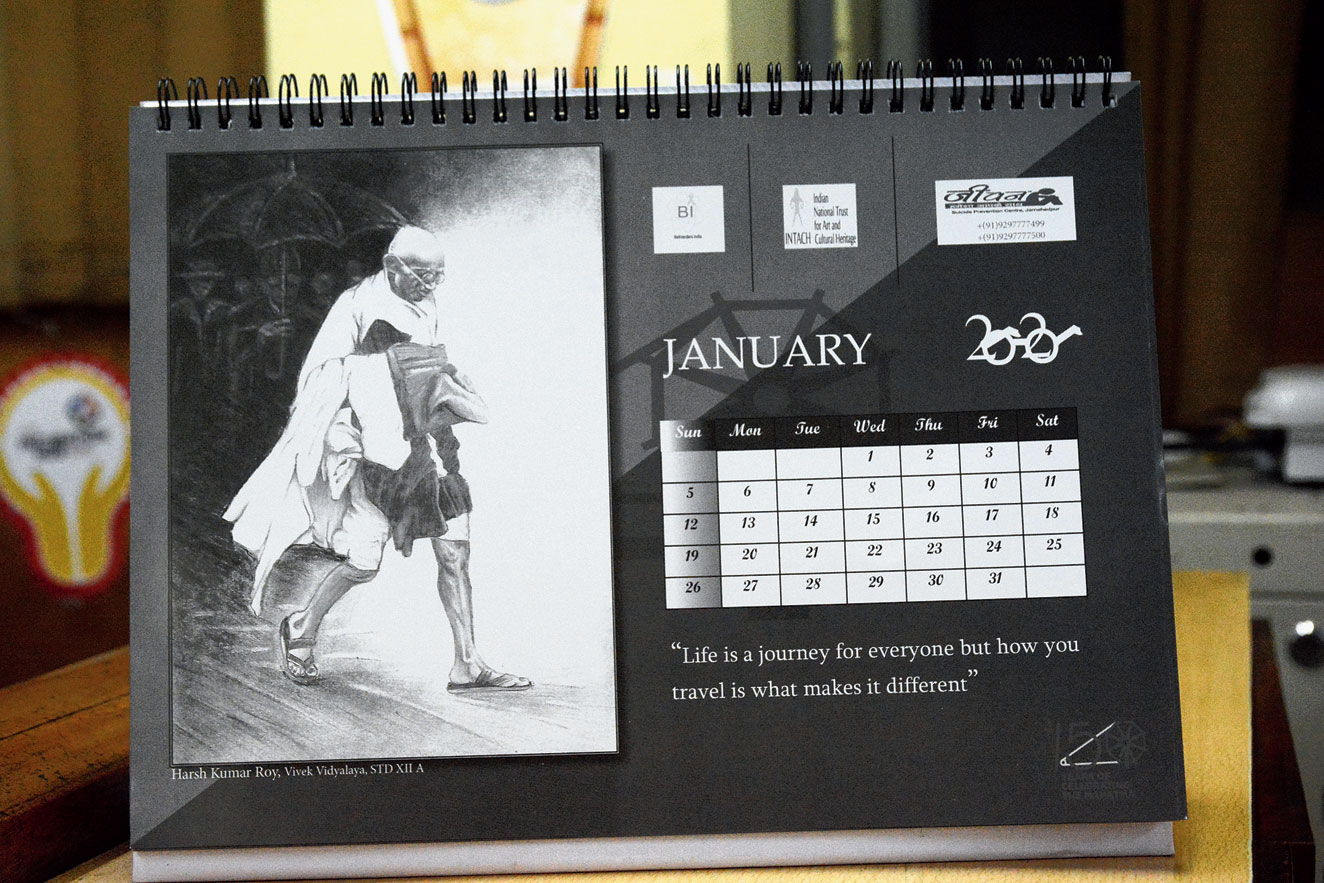 ---
---
Non-violence, peace, love and unity — the values that Mahatma Gandhi stood for — have found their way into a table calendar in the form of paintings and sketches by school students.
The New Year calendar brought out by Indian
National Trust for Art and Cultural Heritage (Intach) features 12 sketches on Mahatma Gandhi and two paintings (on the front and back covers) made by the students of schools in and around Jamshedpur.
"The schools have already celebrated Mahatma Gandhi's birthday in various ways. We came out with a calendar to make it a bit more impactful. This is not just about celebrating Gandhi's birth anniversary, but also giving talented students a platform to showcase their creativity," co-convenor of Intach (Jharkhand) Amitava Ghosh said.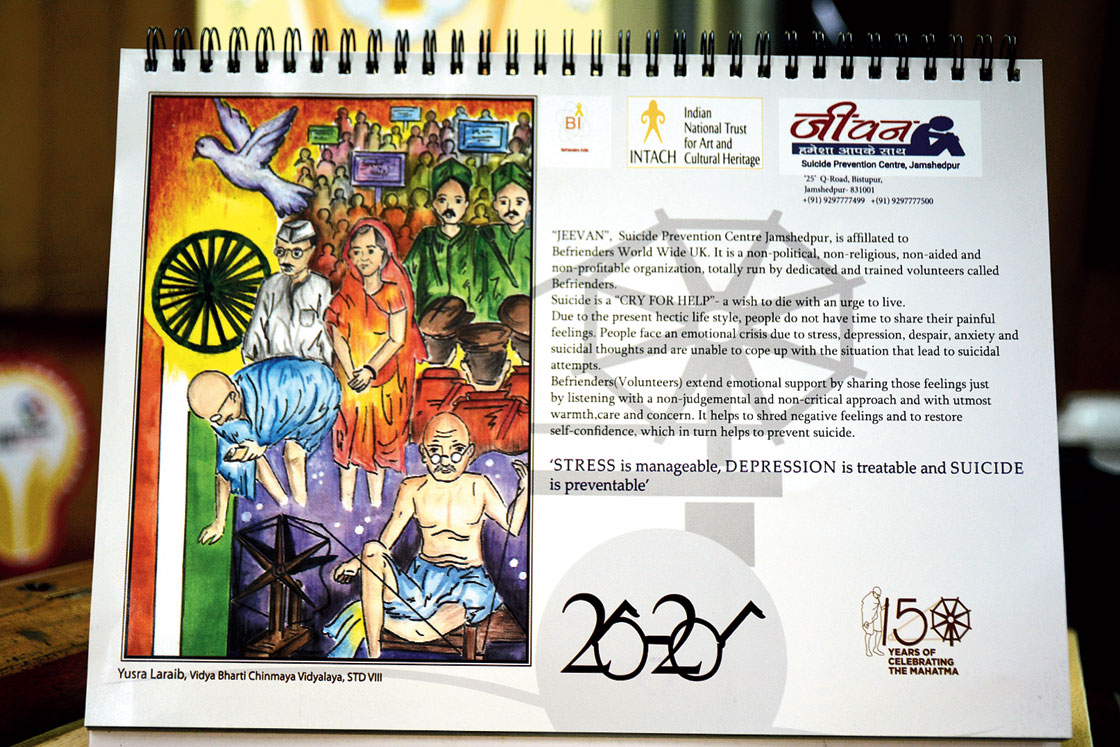 Students from Vivek Vidyalaya, Jusco School Kadma, JH Tarapore School, RMS High School, Kerala Samajam Model School, Bharat Sevashram Children Pranav Children World, DAV Public School, Adityapur and Vidya Bharati Chinmaya Vidyalaya have contributed to the calendar.
Jeevan, the suicide prevention centre, has supported the initiative with its helpline numbers printed on the calendar.
A logo of Befrienders India, the nodal body that coordinates the activities of national helplines or member centres working towards suicide prevention, has found a prominent place on the calendar.
Befrienders India had asked schools to let their students submit the sketches.
The best ones were used for the calendar that also has one-line inspirational quotes by Gandhi on every page.
At present, 1,000 copies of the calendars have been printed.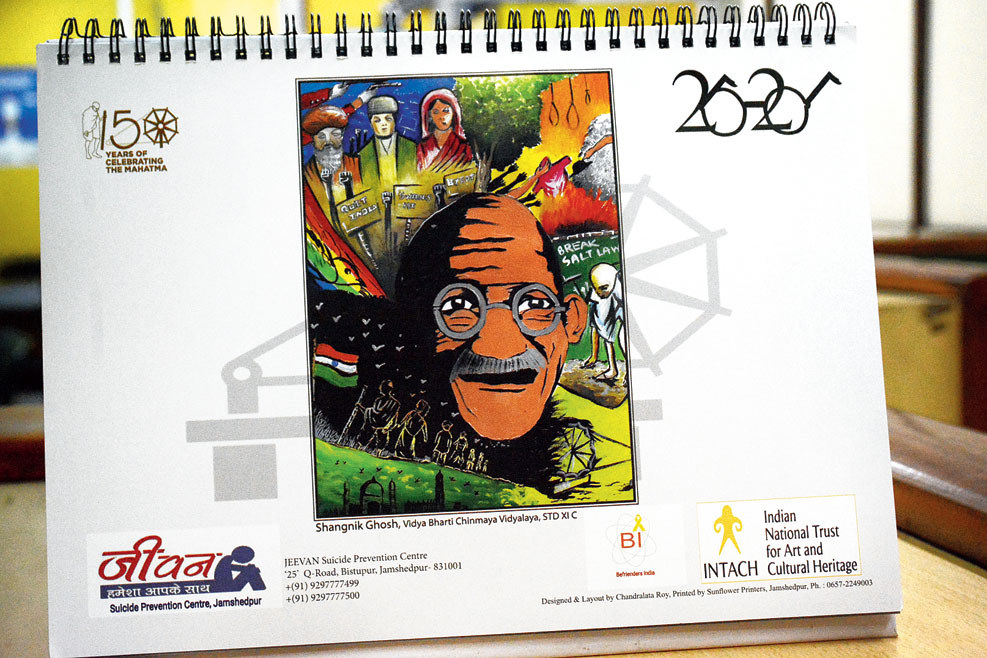 "I feel very honoured that my sketch made it to the calendar. This is an appreciation of my work. I am glad I found a platform to showcase my art," said Harsh Kumar Roy, a Class XII student of Vivek Vidyalaya.
Harsh Kumar Roy from Vivek Vidyalaya had sketched Gandhi a walking Gandhi.
Priyanshu Bose, Harsh Varsdhan Singh and Arijit Das from Jusco School Kadma and Asmita from JH Tarapore School made a collage of Dandi march and Swadeshi movement and wove it into the ideas of non-violence and humanity.
JH Tarapore student Garima Jain's sketch shows Gandhi breaking the salt law at Dandi while Ishan Saha of RMS School has kept it simple by portraying the Mahatma working at his charkha.
Anubhav Shaw of Kerala Samajam Model School has sketched the meeting between Gandhi and Rabindranath Tagore.
Shubham Mahato of DAV Public School, Adityapur, showcased Gandhi with its three wise monkeys.
Paintings by Shagnik Ghosh and Yusra Laraib from Vidya Bharati Chinmaya Vidyalaya were put on the covers.
"We are proud of these budding artists. The brilliant representation of the Mahatma and his impact is highly laudable," principal of Jusco School, Kadma, Jhumjhumi Nandi, said.