Students of Ranchi Xavier's College collect medicines for poor
The students also pick up the medicines from the houses of donors who don't want to travel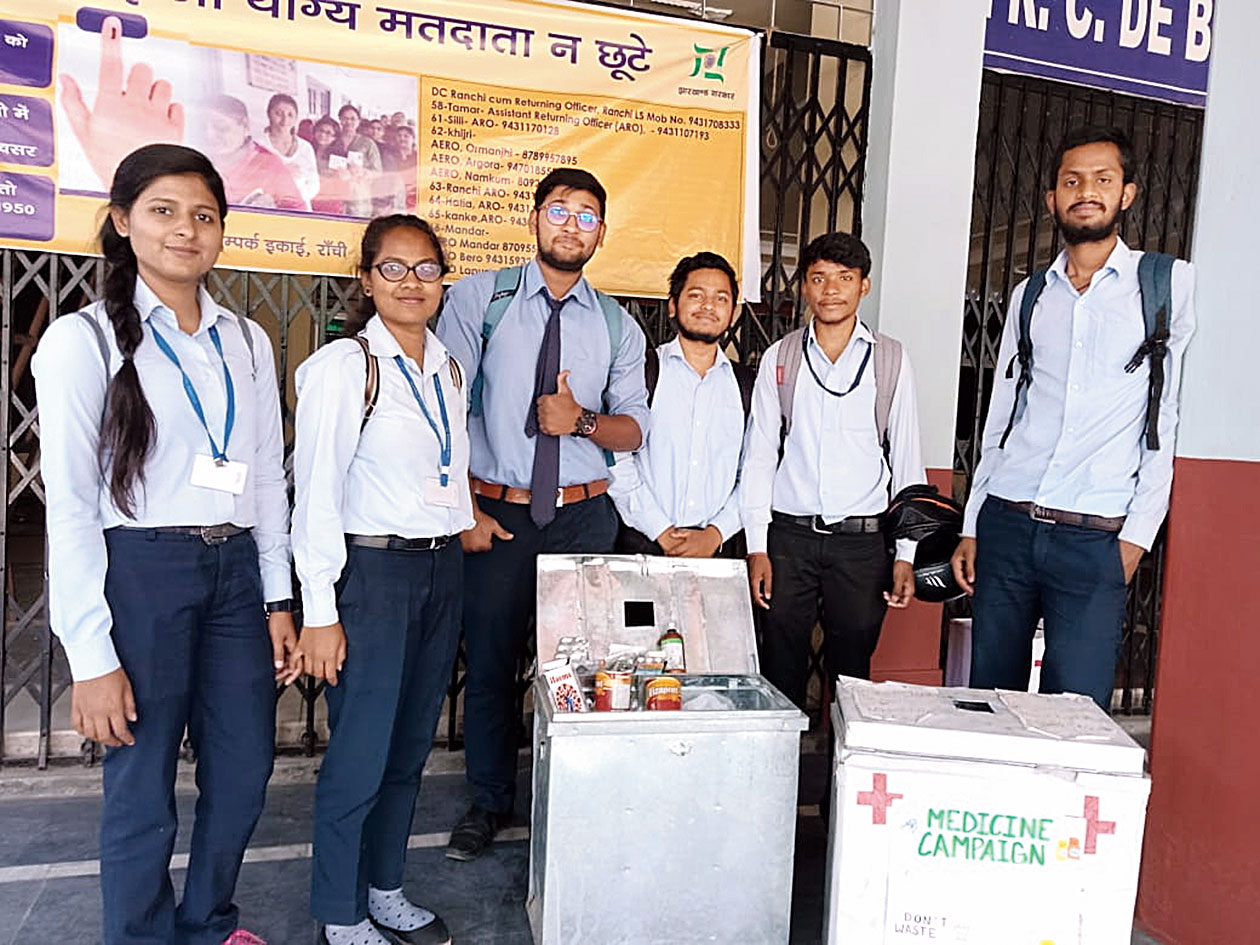 Students of St Xavier's College in Ranchi with their medicine boxes.
Telegraph picture
---
Ranchi/Jamshedpur
|
Published 13.06.19, 06:37 PM
|
---
Students of St Xavier's College in Ranchi have come together for the poor and the needy who can't afford to buy costly medicines.
In the last one year, the college's Rotaract Club has collected 150kg of medicines and donated them to Niramaya Hospital in Kokar.
Motivated by businessman and philanthropist Prakash Tekriwal, a team of 45 students have installed medicine boxes across 15 schools in Ranchi.
The medicines are collected once every month and donated to the hospital.
"Last year, Prakashji approached us with the idea and we thought it was a great initiative. After one year, the response is very positive and there are many people who call us and donate medicines. So far, we have collected 150kg of medicines and distributed them for free. The project has gained momentum," said Ashbah Jawed, a student of St Xavier's College and the co-ordinator of the project.
The students also pick up the medicines from the houses of donors who don't want to travel.
Once the medicine boxes are placed in schools, the members of Rotaract Club address the school assembly to inform students about the campaign.
Posters are also pasted on school walls to better promotion.
After the medicines are collected from the boxes and deposited at Niramaya Hospital, the hospital staff discard tablets and tonics that have crossed their expiry dates.
"According to the hospital, 80 per cent of the medicines collected have been used. The hospital does not use disease-specific medicines. It only uses generic and branded medicines that are collected," Ashbah said.
Rotaract Club plans to expand its activities so that more people can benefit from the initiative.
"The entire project is supported by Prakashji. He pays for our conveyance and have always been an encouragement for us," said Kumari Madhu, another student of St Xavier's College.