Students express apprehension over Binod Bihari varsity exams
Examinees cite health risk due to virus, lack of public transport to travel to examination centres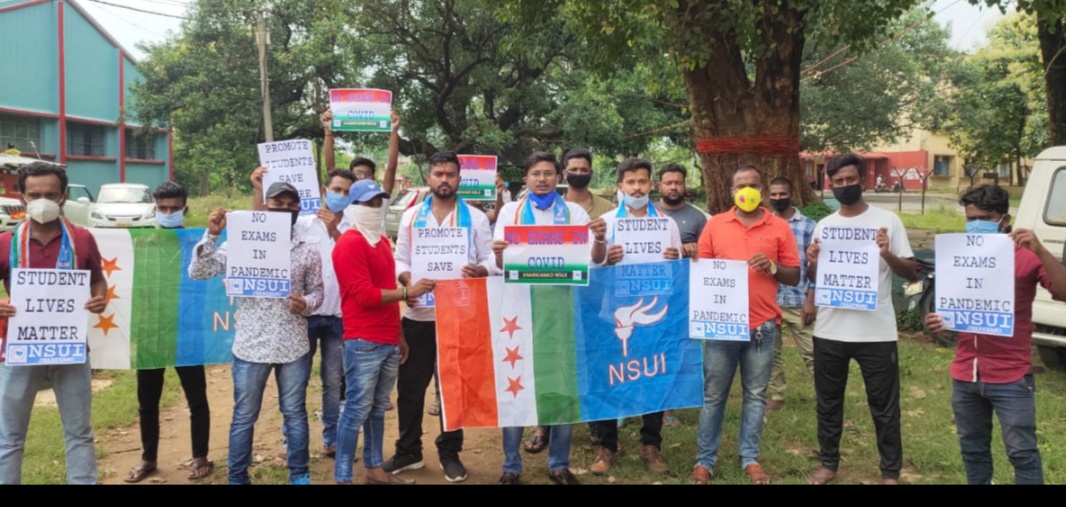 Students hold a demonstration near the BBMKU administrative building in Dhanbad on Wednesday to protest against the exam schedule
Gautam Dey
---
Dhanbad
|
Published 23.07.20, 06:00 PM
|
---
Students of Binod Bihari Mahto Koylanchal University (BBMKU) are unhappy over varsity exams being conducted from August and have cited risk to their health due to the Covid-19 pandemic.
The students have also cited other constraints such as lack of public transport for appearing for the exams. The announcement to hold the exams for various professional as well as undergraduate and postgraduate courses was announced by BBMKU on Wednesday.
Notably, the examination schedule meant for UG semester I and II exams, pending papers for PG semester I and LLB semester II and VI exams will begin from August 4. This will be followed by MBBS part III exam and one pending paper for B. Ed from August 5 and MBBS part I and part II exams from August 11.
Talking to The Telegraph Online on Thursday, a post-graduate semester I examinee of Mass Communication department, who lives at Lalpania in Bokaron around 110 km away from the examination center at PK Roy Memorial College, said, "At a time when no buses and trains are operational, I will have to come travel on somebody else's bike or hire a private car, which I can't afford. Furthermore, there is always a risk of Covid-19 infection during travelling to the examination centre."
"We can't understand the rigidity of the university in holding the exams, risking the well being of the students and causing unnecessary inconvenience to them, especially the female students who reside in distant areas," said the student requesting anonymity.
Another PG semester I examinee said, "though the university has claimed that the there will be proper sanitisation of the examination hall, social distance guidelines will be strictly implemented and CCTV cameras will be installed, there are other areas like toilets and urinals, which will be used by several persons and there are chances of infection."
Biru Anand Singh, district president of student wing of Marxwadi Samanya Samiti, said "At a time when much older universities like Ranchi University and Kolhan University have already cancelled their exams and promoted the students to the next semester as well as the Central Board of Secondary Examination and Council of Indian School Certificate Examination have been cancelled  exams and results published by putting average marking, then the earnestness of the BBMKU to hold the exam risking the safety of students is incomprehensible and raises doubts"
When contacted, vice-chancellor of BBMKU Anjani Kumar Srivastava said, "We have taken all necessary precautions. Admit cards provided to the students will act as lockdown passes for them and they will not face any difficulty during travelling. Furthermore, those who can't appear for the exams due to some valid reason like ill health will be provided another opportunity."
"We have plans to complete the examination by the first week of September and publish results during the month of October," said Srivastava, adding that though home centre arrangement has been made for some examinees, at many colleges like BSK College Maithon, where a quarantine center has been set up by district administration, other arrangements have been made at other centres.