Stuck IITian comes up with smart village plan in Jharkhand
The first phase of the greenfield project will have a 4km-long piped water supply, LED streetlights and plantation of fruit-bearing trees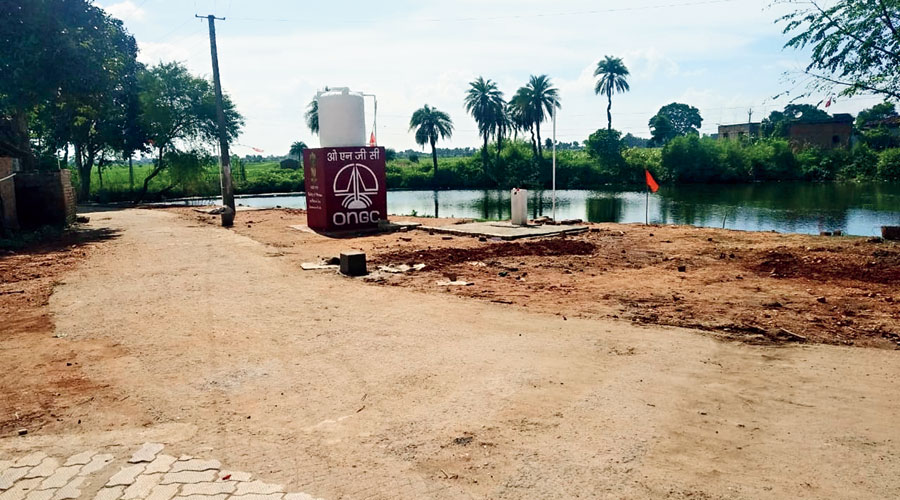 ---
---
An IIT Mumbai alumnus stuck in Jharkhand because of the lockdown has conceived a project to transform his native place into the state's first greenfield smart village.
Amitesh Kumar, 27, who completed his MTech in power system and power electronics from IIT Bombay in 2019 and landed a job as an executive engineer at ONGC, had arrived at his native village Daiher in Chouparan block of Hazaribagh district to celebrate Holi in March. He was scheduled to return to Mumbai in the last week of March. But destiny had other things in mind.
"I had to cancel my flight tickets due to the lockdown. During my stay, thoughts of doing something to solve the vexed problems of my village came to my mind. I had been to Dholera in Gujarat, which is one of India's greenfield smart cities. I incorporated the ideas in making a project for my village and approached ONGC Foundation, Ola Foundation and Tata Power Foundation when I reached Mumbai in July.
"My persuasive skills while arranging sponsors for IIT Mumbai Mood Indigo (considered Asia's largest college cultural fest), helped me in arranging sponsors for the project. The ONGC Foundation also approached Union petroleum minister Dharmendra Pradhan who consented to lay the foundation stone online from Delhi on August 15 (Saturday)," said Amitesh, who completed his schooling and intermediate from Hazaribagh.
However, the project could not be launched on Independence Day as Pradhan had to attend a medical check-up as part of Covid-19 protocols.
The minister had tested positive for the coronavirus on August 4.
"The Union minister's office intimated that due to medical check up for Covid, the online launch could not be held today. They have assured to fix a date later this month once the minister tests negative," said Amitesh.
The first phase of the greenfield smart village project will have a 4km-long piped water supply, LED streetlights and plantation of fruit bearing trees and Wi-Fi enabled CCTV cameras at strategic locations across Daiher panchayat, which has over 500 households. The project is scheduled to be completed in four months.
"I have hired a project in charge and two engineers who will be monitoring the execution of the first phase of the project. I would be coming to Daiher every month to inspect its progress during my off days as I work in an off-shore project of the ONGC. We have already set up a submersible boring pump and overhead reservoir of 1,000 litres capacity and laying of pipes has already begun. Drinking water was one of the biggest problems of the villagers as more than 3,000 people depended on a handful of hand pumps. Installation of CCTV cameras and streetlights will also commence this month. Tree plantation was scheduled to start from today," said Amitesh, who also has a BTech from Meerut.
The second phase of the project envisages construction of concrete houses for the needy, with each unit costing around Rs 3 lakh, a 25MW solar power plant to be set up by Tata Power and bituminous roads with a completion timeline of nearly three years.
"We have estimated a cost of nearly Rs 15 crore under the greenfield smart village project. We will be also approaching the district administration for necessary logistic support," said Amitesh, whose father Naresh Prajapati works in a private company in Jaipur, Rajasthan.
The second phase also has plans for a 50-bed hospital in the village.
Daiher is around 116km north of Ranchi.