Stricter watch on air quality in Jamshedpur
3 advanced samplers in industry hub to measure tiny dust particles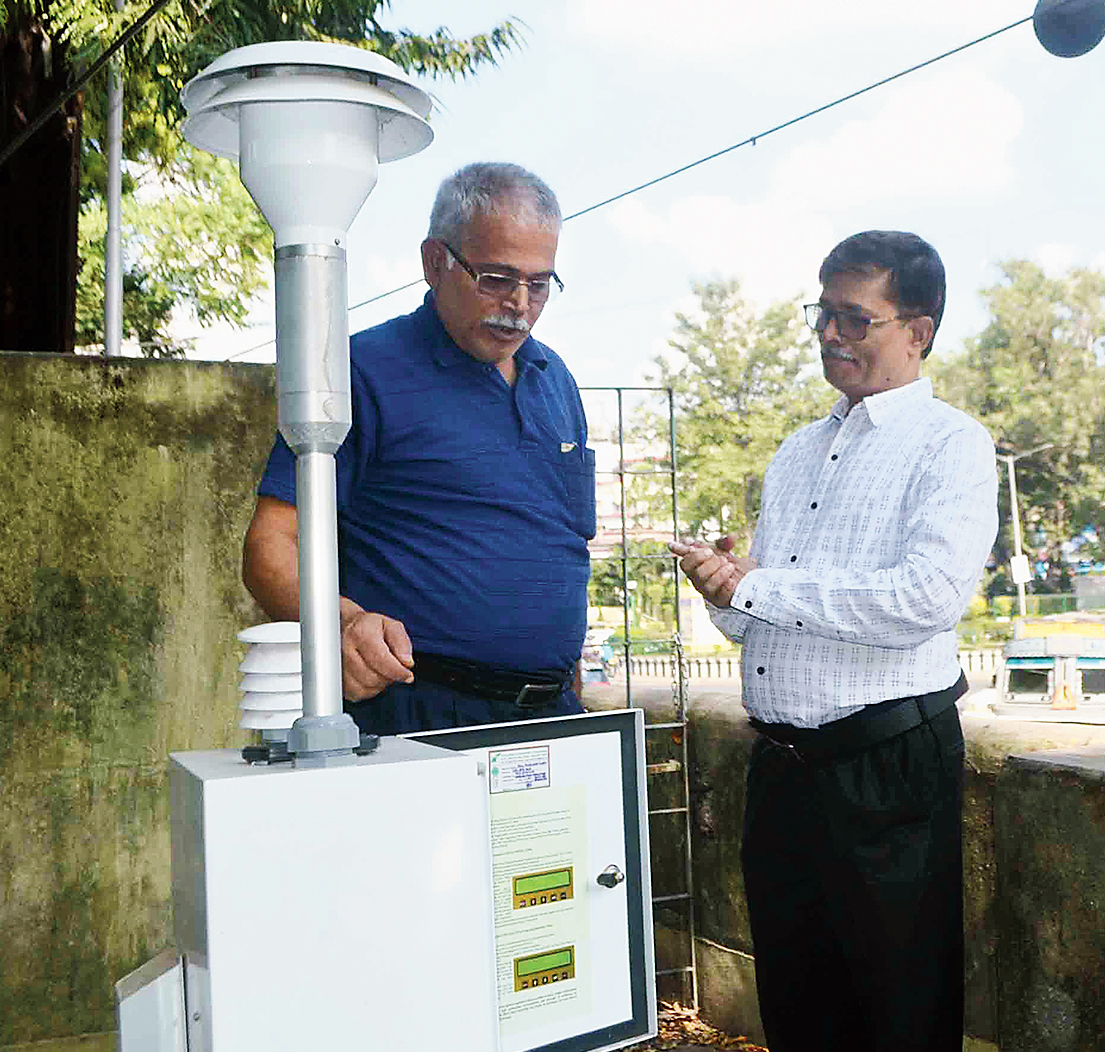 JSPCB's Suresh Paswan (right) takes a look at a new PM2.5 sampler in Jamshedpur on Friday.
(Animesh Sengupta)
---
Jamshedpur
|
Published 02.11.18, 06:36 PM
|
---
The steel city and its neighbouring Adityapur, in Seraikela–Kharsawan, can now look forward to continuous monitoring of ambient air quality through PM2.5 dust sampler, an advanced machine that can measure particulate matter up to 2.5 microns.
Particulate matter (PM) is a mixture of solid particles and liquid droplets in the air. It is emitted primarily by smoke-belching diesel vehicles and power plants that reduce visibility and cause the air to become hazy.
The Adityapur-based regional office of Jharkhand State Pollution Control Board (JSPCB) got three PM2.5 advanced samplers from its Ranchi headquarters.
The installation of the samplers was completed at the three existing real-time ambient air quality monitoring stations of the pollution control board near Gopal Maidan in Bistupur, near Circus Maidan in Golmuri and the regional office of JSPCB at Adityapur on October 31.
Confirming this development, regional officer of JSPCB Suresh Paswan said the PM2.5 samplers had been installed following a directive from the Central Pollution Control Board (CPCB) and the National Green Tribunal (NGT).
"The dust samplers will monitor the ambient air quality 24/7. A special directive was also issued by both CPCB and NGT this year for monitoring the air pollution level for 14 days from November 1, before and after Diwali, which will be celebrated on November 7," Paswan said.
According to Paswan, the three monitoring stations are already equipped with PM10 dust samplers, which measure particulate matter up to 10 microns.
He said so far, the board used to calculate the air quality index (AQI) on the basis of the PM10 sampler. But the PM2.5 samplers will enable them to measure tiny particles in the air.
Scientific officer of JSPCB Satya Prakash said particulate matter of less than 2.5 microns were more harmful.
"Such fine particles are so light that they tend to stay longer in the air than heavier ones. Continuous exposure may lead to heart attack and chronic diseases such as asthma, bronchitis and other respiratory problems," he said.