Steel city's best Pal to bid goodbye, head to Dehradun
First Indian woman Everester Bachendri's 35-year-old stint with Tata Steel ends on May 31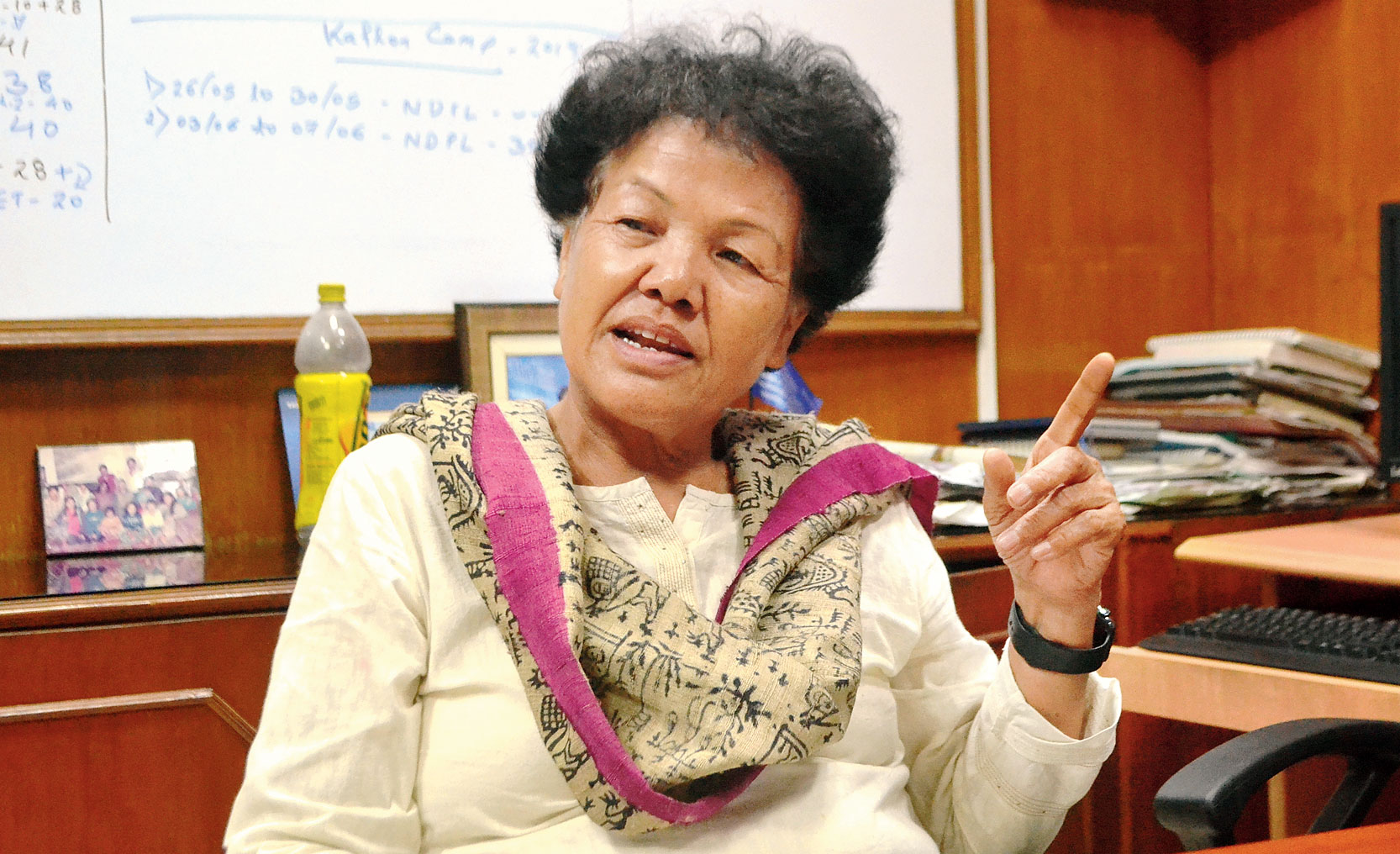 Bachendri Pal at Tata Steel Adventure Foundation's office in Bistupur, Jamshedpur, on Friday.
(Animesh Sengupta)
---
Jamshedpur
|
Published 25.05.19, 06:56 PM
|
---
Bachendri Pal may bid goodbye to Jamshedpur and her employer Tata Steel after retirement, but will continue to strive for women empowerment.
The legendary mountaineer, whose five-year extension at the company ends on May 31, will be off to Dehradun in a couple of months.
"Women have to come out of their imaginary thoughts. They should have inner belief that nothing is impossible. I think Arunima Sinha (amputee and Everester) and I are examples who fought male domination with steely resolve. I had to struggle all along to stay afloat in my career as a mountaineer," the 65-year-old Padma Bhushan awardee told The Telegraph at her plush chamber at Tata Steel Adventure Foundation.
"The 1993 Indo-Nepal all-women Everest expedition team was ridiculed at the annual general meeting of the Indian Mountaineering Foundation (IMF) in New Delhi. Some men even termed Everest as 'Evesresting' for women. They demoralised and isolated us. I came out of the meeting with tears in my eyes," Bachendri said.
IMF even formed a monitoring panel to keep a watch on members of the expedition team. "Men did not have any faith on us and continued to ridicule us," she recalled, asking why women have to always prove themselves. "This mindset has to change and it is gradually changing."
The climber said women should realise they wouldn't get anything readymade and will have to strive for success with self-confidence. "I will be continuing my effort to empower women in any capacity. I will also like to help Tata Steel Adventure Foundation prepare more
Everesters," the first Indian woman to conquer Everest on May 23, 1984 said.
She also fondly remembered her Everest expedition and how she encountered male egos. "Male members were not helpful and even tried to pacify me to abandon the summit push," she said.
The first Indian successful expedition to the world's highest peak was in 1965 before Bachendri, the first Indian woman, scaled the peak 19 years later in 1984.
"It was a long gap, which means nothing was done on the mountaineering front. There was also no attempt to encourage and promote women climbers. Such kind of leg-pulling tendency by the men folk was very disgusting. I have endured these things, but am happy to have helped 10 mountaineers, including five women (Premlata Agarwal, Binita Soren, Arunima Sinha,
Poonam Rana and Swarnalata Dalai) to reach the world's tallest peak," Bachendri said.
Bachendri, who joined Tata Steel on December 22, 1983, said 35 years spent in Jamshedpur was cherishing. "The adventure activities started in Dalma hills. I introduced mountain walking and cycling. Several men and women used to participate. I remember deploying volunteers along the route for safety of women. Parents started allowing girls to venture out of their homes because they (parents) had confidence in me. It was such a satisfying moment," the chief of Tata Steel adventure programme said.
Bachendri thanked Tata Steel for extending support and helping her realise her dreams.
Any regrets? "I could not make a documentation of my achievements as a mountaineer," Bachendri said.
What's next? "I want to travel for motivating women," the Everester signed off.