Steel city witnesses widespread lockdown violations
Markets crowded with people wearing masks below noses, yet police not taking strict action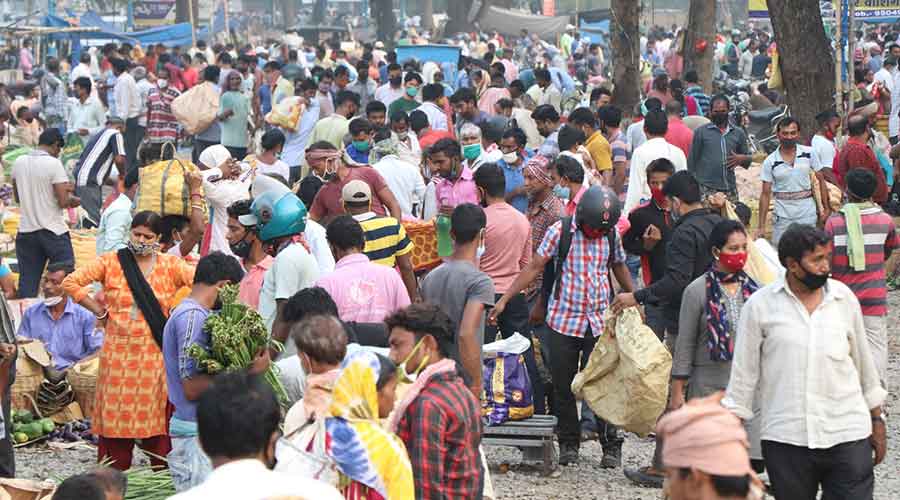 The Sakchi market in Jamshedpur earlier this week.
Bhola Prasad
---
Jamshedpur
|
Published 13.05.21, 09:56 PM
|
---
Steel city residents are flouting Covid protocols including social distancing by turning up in large numbers at local markets, sometimes, even without masks.
The Sakchi market remains crowded after 9 am till well past noon while the vegetable market at Ganesh Puja ground in Kadma bears a similar picture, especially on Sundays. Same is the scenario at other markets of the city.
Most of the people are usually wearing masks well below their noses while some hang it from their neck. Social distancing has apparently taken a backseat with people seemingly in a hurry to hit the market to buy essentials when the lockdown is relaxed from 6 am to 3 pm.
There are no takers for the public announcements by East Singhbhum district administration stressing on the importance of maintaining social distance and wearing masks. Police are also keeping regular watch on the markets but the gathering of people in large numbers refuse to thin.
"People are taking Covid-19 infection very lightly. They seem least concerned about the seriousness of the situation. The chain of the virus cannot break if people show least concern about the guidelines," said Abhiskek Mitra, a resident of New Baradwari in Sakchi who had come to buy medicines.
Three youths who had come to the Kadma vegetable market on a bike sans masks came up with an irresponsible comment. "There is no coronavirus as such. We never wear masks and maintain social distancing," one of them argued.
Some of the vegetable sellers were also seen not wearing masks. Asked about the same, one of them said: "Mask kabhi kabhi neeche utar aata hain. Kya Karen. Dhanda karna hai (Mask comes down sometime. What to do. I have to do business)," he said.
Police are inspecting the markets to ensure shops are not open but very few constables are active when it comes to taking people to task for flouting the Covid guidelines.
"Though the district police have levied fines on people not wearing masks but same seriousness should be shown in making people follow the Covid guidelines in markets," said Purshottam Singh, a resident of Bistupur who had come to Kadma vegetable market.
ADM (Law and Order) N.K. Lal when contacted said they were showing strictness but people seem bent on flouting the guidelines. "We are aware about the problem but people should also co-operate with us in adhering to Covid protocols. We are doing our best. We will be more strict from May 16 onwards," he added.