Steel city to Lucknow a green corridor for oxygen transport
594.34 tonne O2 dispatched by South Eastern Railway through 13 trains so far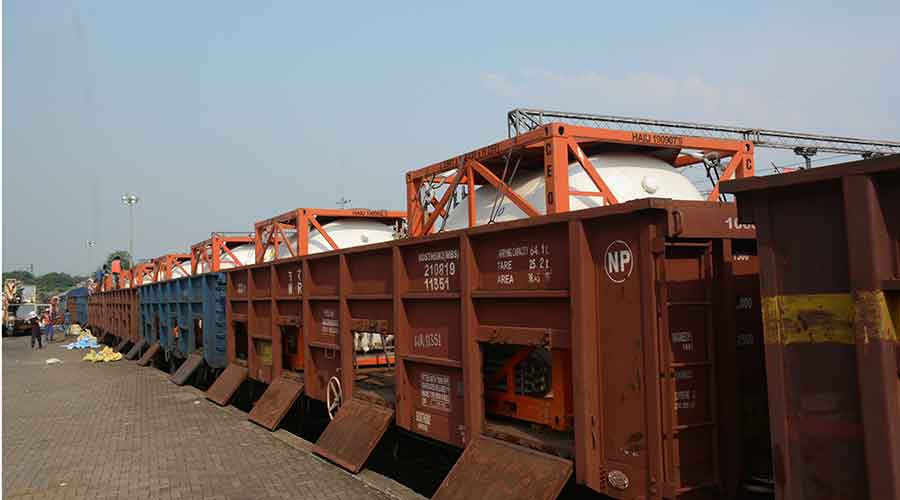 ---
---
An Oxygen Express train carrying 85 tonnes of liquid medical oxygen for Covid-19 patients left Tatanagar railway station for Lucknow.
The nearly 1,000 km distance between the two destinations- Tatanagar and Lucknow was converted into a green corridor so that the train could reach Lucknow with the consignment of liquid oxygen supplied by Linde India's Jamshedpur plant as early as possible.
"The liquid oxygen loaded in 10 containers were transported in seven wagons of an Oxygen Express train provided by South Eastern Railway, "said H.K. Balmuchu, station director of Tatanagar adding that a green corridor was made so that the train will not stop anywhere between the two destinations.
On April 27, following a request made by Delhi government, Jharkhand had sent four tankers of liquid medical oxygen by road from the Jamshedpur plant of Linde India, a leading manufacturer of industrial gases, to the national capital.
During the second wave of the pandemic and surge in Covid positive cases, South Eastern Railway is continuously running Oxygen Express Trains from its jurisdiction to transport liquid medical oxygen to meet the medical emergencies.
Running of Oxygen Express trains by South Eastern Railway started from April 23 and a total of 594.34 tonnes of liquid medical oxygen has been dispatched by South Eastern Railway through 13 Oxygen Express trains run so far.
From Bokaro, total of nine trains have gone to Lucknow and three trains towards Bhopal, Sagar and Jabalpur in Madhya Pradesh. Apart from this, one train has been run from Rourkela towards Faridabad in Haryana.