Steel city to build disaster-ready hospital
Coming up on the Sakchi premises of MGM Hospital, the unit uses inflatable structures made of fire retardant PVC tarpaulin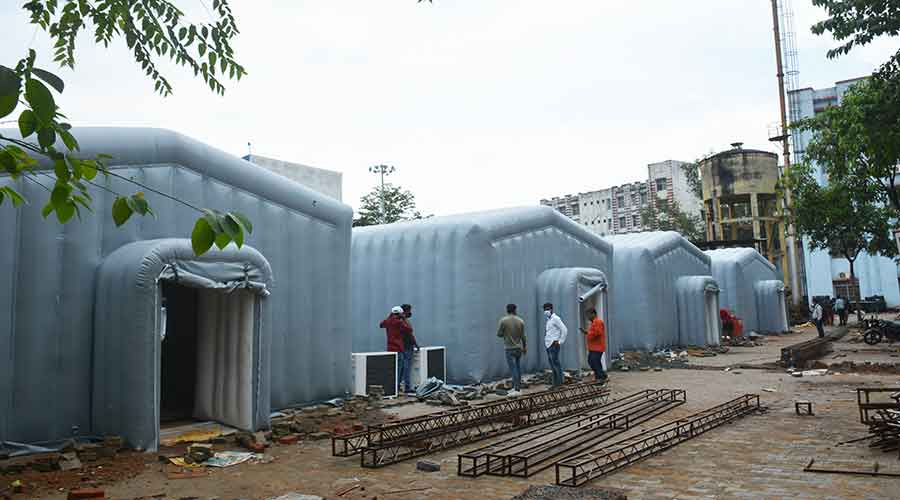 The inflatable Covid-19 field hospital coming up on the premises of MGM Hospital at Sakchi in Jamshedpur on Sunday.
Bhola Prasad
---
Jamshedpur
|
Published 29.08.21, 08:33 PM
|
---
The steel city will soon have a field hospital made with inflatable structures and ergonomically designed beds with facilities to admit 100 patients as a backup measure to tackle a possible third wave of coronavirus infections.
A Delhi-based firm - PT Medical Solutions - has started erecting the inflatable structures made of fire retardant PVC tarpaulin on the premises of the Sakchi-based MGM Medical College and Hospital.
"In all there will be four units. Each of the units will have 25 semi fowler beds (ergonomically designed beds with backrest functions and ... collapsible side rails to ensure patient safety). The 100- bed hospital which will entail an investment of around Rs 3.5crore would be ready in another three days. The inflatable field hospital has a life of 25 years. It can be shifted anywhere as and when required," said Sushil Chaudhary, CEO of PT Medical Solutions talking to The Telegraph Online over phone from New Delhi.
If fact the state health department had entrusted the job of coming up with such a unique inflatable hospital to American India Foundation (AIF) which roped in the Delhi-based firm for the hospital project.
Spread in around 12,000 sq ft area, the  inflatable field hospital will have 16 ICU beds with ventilator facility, 30 oxygen ready bed and 54 general ward bed which can be converted into paediatric and ICU bed instantly, in case of a possible third wave.
It will also have high flow nasal cannula (HFNC) oxygen delivery system required for patients on ventilators and Manifold Gas Pipeline System (MGPS) which will ensure oxygen supply in every bed.
A team of a dozen workers engaged by the firm is working at the site for completing the inflatable field hospital project which will be inaugurated in the first week of September.
The high-grade PVC material used for the inflatable structures are fire retardant and weatherproof too. 
The CEO of the Delhi firm Chaudhary said, such inflatable field hospital proves boon during health crisis or natural disasters.
"We're ready to serve for the possible third wave or during other disasters like earthquakes, cyclones, floods, or any medical crisis. If there is a situation that needs rapidly deployable medical facilities, we are up to the challenge," he added.