Steel city: River ghats and other water bodies ready for Chhath
Danger zones have been demarcated by red flags and ropes near Subarnarekha's Jai Prakash Narayan Setu or Mango bridge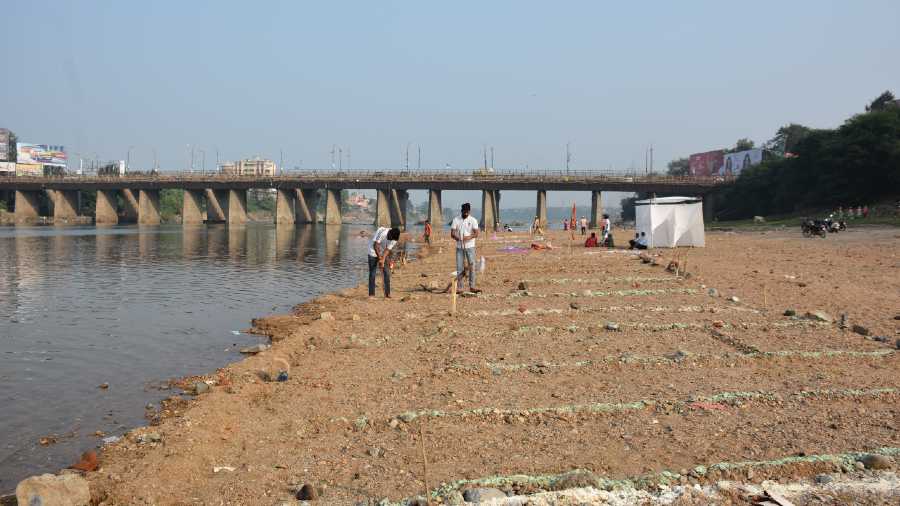 Spruced up Subernarekha Ghat at Sakchi in Jamshedpur on Wednesday.
Bhola Prasad
---
Jamshedpur
|
Published 09.11.21, 08:02 PM
|
---
All roads will lead to the rivers for hundreds of devotees who will be thronging riverbanks and manmade water bodies to offer prayers to the setting and the rising sun for the Chhath celebration on November 10 and 11 (Wednesday and Thursday).
Local civic body - Jamshedpur Notified Area Committee (JNAC), Tata Steel Utilities and Infrastructure Services Limited (TSUISL, formerly Jusco), a Tata Teel subsidiary and Mango Notified Area Committee (MNAC) have prepared the river ghats and other artificial water bodies for Chhath.
All major ghats in the city including Subernarekha ghat at Sakchi, Kapali in Mango, Domuhani in Sonari, Pandey in Bhuiyandih, Bhuiyandih ghat, Sati in Sonari, Substation ghat at Kadma, Bodhanwala in Bistupur and Baroda ghat at Bagbera draws a huge number of devotees during the festival.
Besides cleaning, JNAC and Jusco have also completed levelling work at as many as 15 ghats in Jamshedpur.
JNAC official, Ravi Bharti, said "Streetlights and halogen lights will be set up at the river banks to make things convenient for the devotees."
The Subernarekha ghat at Sakchi and Bodhanwala ghat at Bistupur on both days of Chhath celebration attract the largest number of devotees, every year.
Two artificial water ponds inside the sprawling premises of Surya Mandir at Sidhgora, have been cleaned and water was released into the ponds on Monday.
TSUISL have installed halogen lights at the Bodhanwala Ghat on the banks of Kharkai and also on the approach roads.
Rescue team with paddle boats and lifesaving gear have been deployed at Subernarekha ghat at Sakchi and Domuhani, the meeting point of rivers Subernarekha and Kharkai on both the days - November 10 and 11.
Danger zones have been demarcated with red flags and ropes in river Subernarekha near Jai Prakash Narayan Setu or Mango bridge.
Dhalbhum SDO Sandeep Kumar Meena said, "The purpose of security, steel city has been divided into 13 zones."
"Additional deployment of police and civil defence personnel will also be made to prevent any untoward incidents," he said.
More than 700 jawans of Jharkhand Armed Police and district police have been deployed near the ghats.
Cops in civil clothes will also be deployed. Security will be supervised by a magistrate and an inspector-rank officer. To make things smoother, entry of heavy vehicles, including long-distance buses, will be prohibited between 6 am on Wednesday (November 10) and 3pm on Thursday (November 11).
Long distance buses will be allowed to drop passengers near Tatanagar station, Pardih roundabout and Dimna Chowk on NH- 33 in Mango.
Meanwhile, several NGOs today distributed free puja items at various parts of the steel city.
State health minister and local legislator Banna Gupta and Jamshedpur MP Bidyut Baran Mahto also distributed puja items at Mango and other places.