Steel city NGO feeds stray dogs amid lockdown
Red Paws volunteers prepare home cooked meals and distribute between 5pm to 10pm daily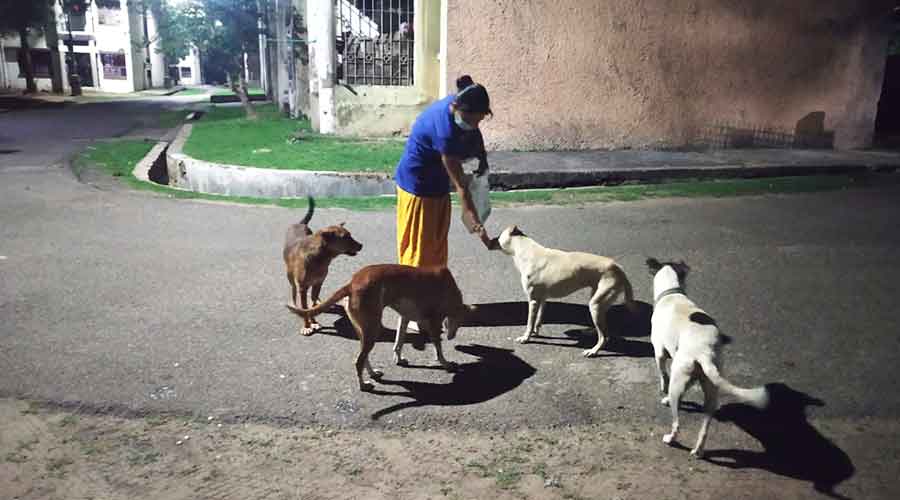 A JRPRF member feeds strays in Jamshedpur earlier this week.
The Telegraph Pic
---
Jamshedpur
|
Published 20.05.21, 06:58 PM
|
---
The members of Jamshedpur Red Paws Rescue Foundation, a city-based NGO,  have come up with a noble gesture to feed stray dogs at a time when they are bearing the brunt of the state-wide lockdown.
The canines are going hungry since steel city restaurants and fast food stalls have downed shutters because of the restrictions. Hotels are operating with take-away and online delivery systems only.  
The strays used to get leftovers when the restaurants and fast food stalls were open.
Foundation members have taken the onus of feeding the strays in their respective localities, including Sonari, Bistupur, Station Road, Kadma, Mango, Dimna Road, Sidhgora, Jugsalai and Northern Town.
"The strays have been going through difficult times due to the lockdown. We thought of feeding them since we felt it is our responsibility. Our members are taking care of the same," said JRPRF founder Aniz Patel.
According to him, the feeding exercise is held from 5 pm to 10 pm every day. "Despite our efforts, we have not covered the whole city. We would try to spread our wings by going to untouched localities by involving the public. We appeal to the people to feed the strays in their respective localities. We think it is everybody's duty to feed the strays at a difficult time," Patel added.
The members feed home cooked food to the strays. Some even stock bread and biscuits for the hapless animals.
"We are sure most citizens of Jamshedpur are generous enough to take care of the strays but it would be wise if all make a contribution towards this cause. The strays have nowhere to go," one of the foundation members said.
Kishore Oza, a resident of Bhuiyandih who feeds strays at Northern Town and Bistupur, said he feels very happy and satisfied in doing the same. "I have been feeding strays and also taking care of their veterinary needs for years. It's a very satisfying experience to feed the strays," he added.
The Foundation is active throughout the year. Besides conducting anti-rabies vaccination drives, the NGO also arranges sacks to keep the strays warm in winter. The foundation had also put reflective collars on strays to prevent them from falling victim to road mishaps at night.