Steel City flouts noise norms on Diwali night
Sakchi worst violator, says state pollution board report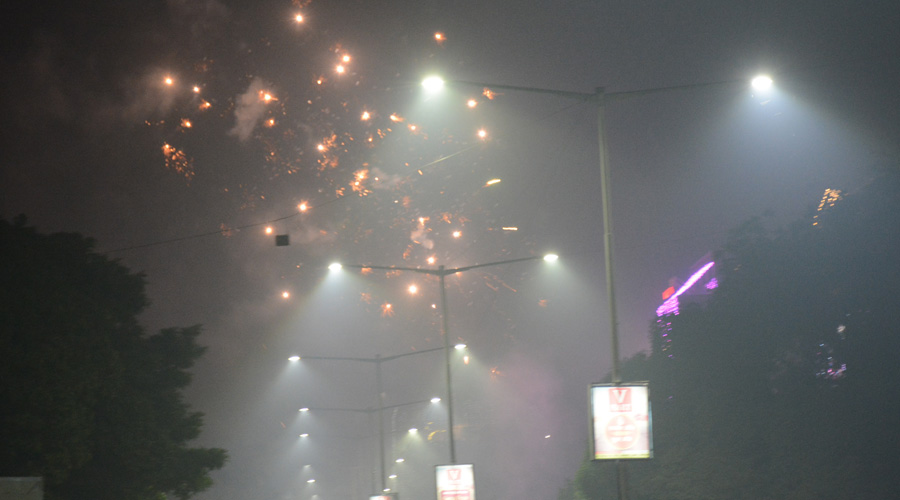 The night sky lit up by fireworks on Diwali night (November 14) at Bistupur in Jamshedpur.
Pic by Bhola Prasad
---
Jamshedpur
|
Published 19.11.20, 04:19 PM
|
---
Diwali celebrations in the steel city crossed permissible noise levels this year in violation of norms, according to a report of the Jharkhand State Pollution Control Board (JSPCB) that had set a two-hour window for bursting crackers.
If the Central Pollution Control Board (CPCB) limits noise levels to 65 decibel during day and 55 decibel during the night in commercial areas, Jamshedpur recorded levels above these limits during the 8 pm to 10 pm window and also after 10 pm as per the report of the Adityapur-based regional office of JSPCB which compiled data before Diwali (November 9) and on Diwali (November 14).
The report was released by the regional office of state pollution control board on Thursday.
The commercial hub of Sakchi was the noisiest. Sakchi roundabout registered 93.8 decibel between 8 pm and 10 pm on Diwali night, 96.6 decibel after 10 pm and 73.5 decibel between 11 pm and midnight. The readings were better than last year, when it recorded over 100 decibel.
The findings of the survey revealed that on November 9, Sakchi roundabout had recorded 67.9 decibel between 8 pm and 10 pm and 91.6 decibel between 9 pm and 10 pm. Between 11 pm and midnight, it recorded 78.9 decibel.
At another commercial centre, Bistupur (near Regal Ground), the decibel level recorded during 8 pm to 10 pm was 87.5, which was less than the 89 decibel recorded during Diwali in 2019. The area logged 85 decibel between 10 pm and 11 pm and 75.4 decibel between 11 pm and midnight.
The silence zone near the new civil court at Bhuiyandih recorded 76.3 decibel during the window period, much less than last year's 84 decibel. It registered 74 decibel between 10 pm and 11 pm and 62.2 decibel between 11 pm and midnight, indicating that crackers were burst after the window period.
The survey carried out prior to Diwali on November 9 found 62.4 decibel between 10 pm and 11 pm and 74.6 decibel between 8 pm and 9 pm. Between 11 pm and midnight the new civil court area recorded 51.8 decibel.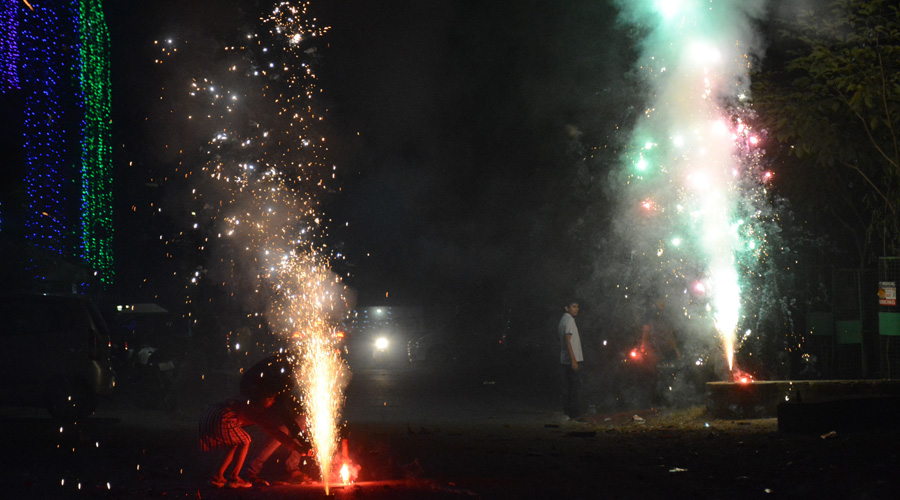 The residential area of Indira Chowk at Adityapur recorded 94.5 decibel during the window period against 93 decibel last year, both readings way above permissible limits of 55 decibel during day and 45 decibel at night. The area clocked 85.4 decibel after 10 pm till 11 pm and around 65 decibel between 11 pm and midnight.
"We collected decibel data from Sakchi and Bistupur as they are commercial areas, from new civil court in Bhuiyandih as it is a silence zone and from Indira Chowk (in Adityapur) as it is a residential area," said JSPCB's regional officer Suresh Paswan.
He admitted that the residents of steel city and neighbouring Adityapur had flouted directives of JSPCB.
"We have sent the findings of the survey to our headquarters for necessary follow-up action," said Paswan, adding that noise pollution was less this year compared to last year but more than the permissible level for silent, commercial and residential zones.
Sources said bursting of crackers this time mainly took place in lanes and bylanes instead of main thoroughfares because of the restrictions.
The regional office has also collected data related to ambient air quality on Diwali. 
"We have got a directive from our headquarters to continue collecting ambient air quality data post Diwali till November 21. The report on air quality would be released after November 21, " said Paswan.