Jharkhand State Food Commission questions non-payment of cooking cost of midday meals
The government was giving each child in primary section 100-gram rice and for the upper primary section 150-gram rice each day till September 2020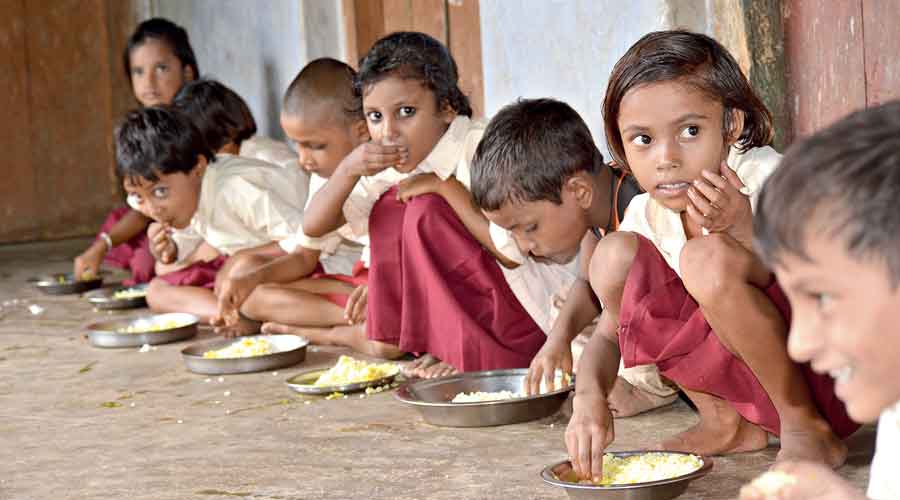 Children having midday meal at a state-owned school in Dhanbad in 2019.
Shabbir Hussain
---
Jamshedpur
|
Published 10.11.21, 03:01 AM
|
---
The Jharkhand State Food Commission has questioned the non-payment of cooking cost of midday meals to primary and upper primary students of government schools for over a year in a state plagued with malnutrition problem.
The commission's member secretary, Sanjay Kumar, has directed the school education and literacy department secretary Rajesh Kumar Sharma to reply within 15 days why the cooking cost of midday meals has not been distributed to beneficiaries since September 2020.
The letter has also asked the secretary to inform what departmental action has been initiated against those responsible for stopping the distribution of cooking costs of mid-day meals.
The letter, copies of which have also been marked to the state chief secretary (Sukhdev Singh), principal secretary to the chief minister (Rajeev Arun Ekka) and personal secretary to the state education minister has also sought the latest information on the status of distribution of cooking cost and cost of eggs and fruits for children in government schools since September 2020.
During the Covid-induced lockdown and closure of schools, the state government was directed to send the cooking costs of mid-day meals to the account of the children in the form of direct benefit transfer from the bank.
However, it has been allegedly discontinued in Jharkhand since September 2020.
The commission took notice after complaints were made by right to food campaign activists about the severe malnutrition levels among children in rural areas because of non-payment of cooking cost for mid-day meals.
According to the National Family Health Survey-4 (2015-16) data for Jharkhand, every second under-5 child in the state is stunted (45 per cent) and underweight (47%), and every third under-5 child is affected by wasting (29% Nearly 70% of children between 6 and 59 months are anaemic.
"Jharkhand is among top five Indian states with malnourished — including stunted, wasted and underweight — children according to National Family Health Survey (NFHS-4), 2015-16. Almost half (45.3%) of Jharkhand's children below the age of five are stunted, compared to the national average of 38.4%. Again, almost half (47.8%) of Jharkhand's children are underweight, placing Jharkhand behind only Bihar and Madhya Pradesh in child malnutrition levels as per NFHS-4. The infant mortality rate in Jharkhand is 44 deaths per 1,000 live births and the under-five mortality rate is 54 deaths per 1,000 live births, compared to national averages of 41 and 50, respectively. Stopping of mid-day meals cooking cost has proved catastrophic for poor children during the Covid induced lockdown," said Asarfi Nand Prasad, a Ranchi-based Right To Food activist.
Significantly, the government was giving each child in the primary section (between Classes 1 and 5) 100-gram rice and for the upper primary section (class 6 and 8) 150-gram rice each day till September 2020. In addition, the government used to provide Rs 4.48 per child in the primary section and Rs 6.67 per child in upper primary as cooking cost for the prices of pulses, salt, vegetables, condiments and edible oils to prepare cooked meals daily. However, it was stopped in September last year.
"It is a violation of section 5 of the National Food Security Act-2013. There is the provision of food security allowance under Mid-Day Meal regulations 9 (1)," added a member of the state food commission.