State digest: Passenger train plying between Gomoh and Chopan derails near Gomoh Railway station
Elsewhere in Jharkhand: Seven-month old male cub of a sloth bear successfully transported to Bhagwan Birsa Biological park; railway smart medical card issued to retired employees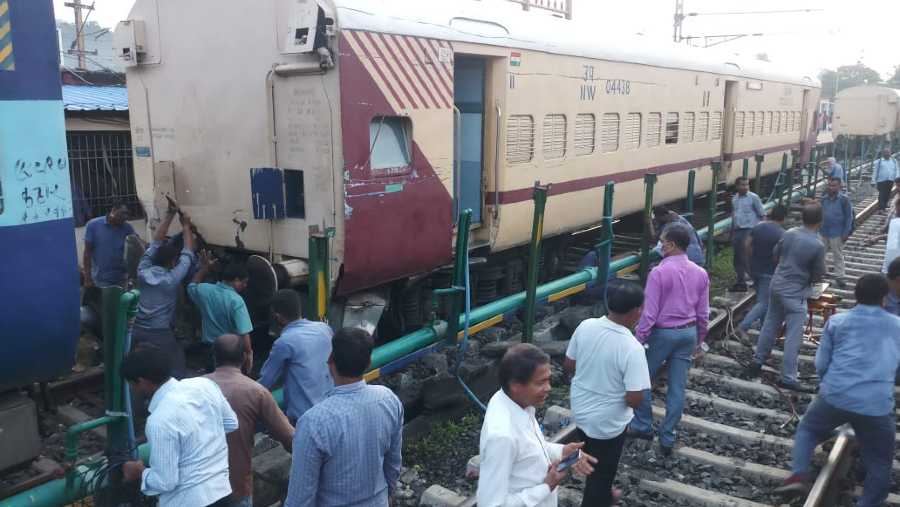 ---
Published 02.09.21, 06:36 PM
|
---
Dhanbad: Gomoh Chopan Passenger train plying between Gomoh and Chopan (53343) was derailed near Netaji Subhash Chandra Bose Gomoh Railway station of Dhanbad division around 2.15 am today.
However, the train movement, remained unaffected due to the incident as the incident took place a little away from the main line.
No passenger of the affected train sustained any injury due to derailment as only one bogey of train was affected in the incident, which took place before the onset of the journey, however, 100 sleepers were damaged and the water supply pipeline of platform number 4/5 of the station was ruptured.
The incident took place near the office of Chalak Niyantra Kaksha of Gomoh Railway station while the train was being brought from Yard of the station to platform number 4.
Senior railway officers led by BC Mandal, Chief Yard Master and others including Rana Chankraborty and S Pal-inspector of works besides Shailendra Kumar, Permanent Way Inspector, rushed to site immediately after getting information about the incident. They supervised the rescue work during which the affected bogey was detached from train, before sending of the train to Chopan.
PK Mishra, Public Relation Officer of Dhanbad Division said, "As the incident took place quite away from the railway main line so the movement of other trains remained completely unaffected due to incident."
Praduman Choubey
Sloth bear cub transported to Ranchi's Bhagwan Birsa Biological park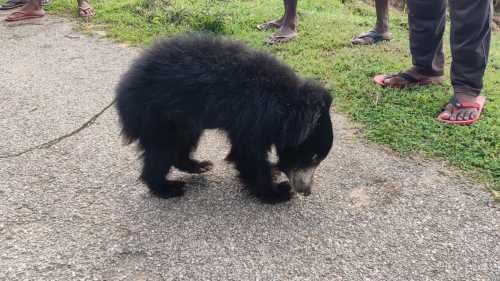 Daltonganj: A 7-month-old make cub of a sloth bear was successfully transported to Ormanjhi- based Bhagwan Birsa Biological park in Ranchi from Gumla district today.
DFO Gumla Srikant Verma told TT Online today that the cub was doing fine despite some minor scratches it suffered near one of his eyes.
He said, "The cub was found alone at Bharno block's Asro village, two days ago."
The cub appeared to have got separated from his mother opined Verma. According to him the cub is learning to lead a life without his mother.
"Bharno and Sisai are two locations where sloth bears have a presence," said the DFO Gumla.
Renowned wild life campaigner Raza Kazmi said, "The villagers were the first to spot the cub and took all care of it."
He said the cub looked haggard and confused and this could be due to his separation. It has been put on a diet of fruits and milk, which he is relishing.
Our Correspondent
Railway Smart Medical Card (UMID) issued for retired employees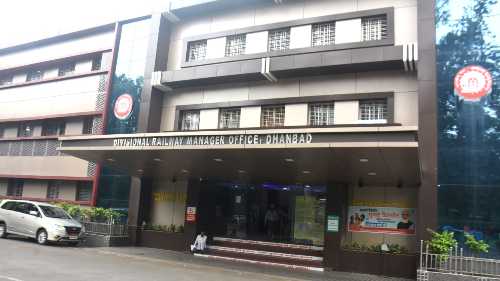 Dhanbad: Dhanbad Division of East Central Railway will be organizing camps to provide smart medical cards (UMID Card) to retired employees and family of pensioners, who have not registered for the same. These camps will be hosted at different railway stations which falls under its jurisdiction, beginning with camps at Dhanbad and Chandrapura Railway stations tomorrow.
The series of camps are being organized by the personnel department with the aim of covering up the registration as well as uploading of documents of leftover retired railway employees'/family pensioners who have yet not registered/uploaded their documents for the Unique Medical Identification (UMID) card will conclude with the Hazaribagh Railway station camp, which will be organised on September 16.
The employees or family pensioners are needed to bring required documents during the camp including photograph of pensioners and all the dependents, pension payment order (revised under 7th pay commission), death certificate of pensioner (in case of family pension), old medical card or Retired Employees Liberalized Health Scheme (RELHS) card, Aadhar Card of all eligible family members, latest pension slip (issued by concerned bank where pension is drawn) and Mobile number for OTP.
While the camp of September 3 at Dhanbad Railway station will be held at Suvidha Kendra, camp at Chandrapura Railway station will be organized on the same day at Station Superintendent's office of Chandrapura.
The UMID registration camp at Gomoh is scheduled to be held at the Traction Rolling Stock shed of Gomoh Railway Station on September 6, while the camp at Barkakana will be held at the office of Station Superintendent (SS) of Barkakana on September 7.
In Patratu the smart medical card camp will be held at the office of the Chief Yard Master on September 8 while the camp at Parasnath Railway Station will be held at the office of station master on Parasnath on September 9. The camp at Tankupa station situated in Icchoi area of Bihar will be held in the office it's station master on September 10.
The UMID registration camp for the remaining railway employees and family pensioners will be held at the officer of Station Superintendent of Daltonganj station on September 13 while the camp at Koderma Railway station will be held at its station superintendent office of Koderma on September 14. The camp at Barwadih Railway station will be held at its station superintendent's on September 15 while the concluding day camp at Hazaribagh railway station will be held at its station superintendent office on September 16.
PK Mishra, Public Relation Officer of Dhanbad Division of East Central Railway said, "The concerned welfare inspectors of the area, besides a personal officer and another officer will be present at each of camp during which all issues pertaining to the registration for UMID Card will be resolved on spot."
Praduman Choubey