State cabinet approves Jharkhand Good Samaritan Policy
It will not only protect helpful citizens from police harassment but also reward them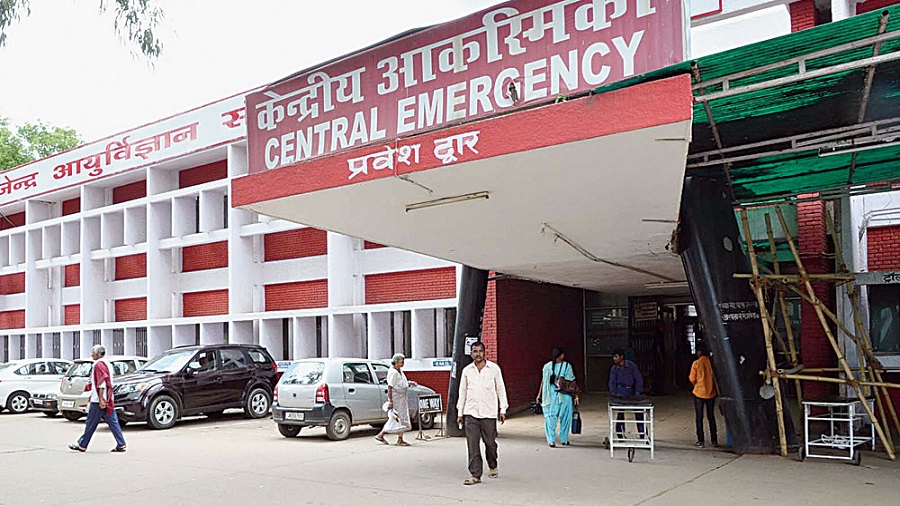 Rajendra Institute of Medical Sciences, Ranchi
Telegraph Picture
---
Ranchi
|
Published 05.02.21, 01:15 AM
|
---
People who are apprehensive about taking road accident victims to hospital for fear of police harassment in Jharkhand need not be hesitant anymore.
The state cabinet in its meeting on Wednesday evening approved the Jharkhand Good Samaritan Policy that will not only protect helpful citizens from police harassment but will also reward them.
Since hospitalisation of road accident victims within the golden hour (the first hour after an accident takes place) helps initiate effective treatment and save their lives, the cabinet approved the policy expecting people would now come forward without any fear to help such victims.
According to the police, the police would not force such do-gooders to reveal their identity if they are not willing to disclose it or detain them for interrogation.
Not only that, such good Samaritans will also be rewarded, the policy said.
If two persons hospitalise any road accident victim, they will get Rs 2,000 as incentive, the policy said. A amount of Rs 5,000 would be given if more than two persons help in the hospitalisation so that the amount could be equally distributed among them, it added.
Even the hospital will not detain such persons when they admit any road accident victim for treatment, the policy said.
In case the police need to contact such persons in the course of enquiry or name them as witnesses under special circumstances, they should be called a minimum number of times only and the police must also deposit Rs 1,000 in their bank account every time they are called, the policy added.
Such a policy was being adopted for saving the precious lives of youths, who are mostly the victims of road accidents, said a release issued by the chief minister's secretariat.
In Jharkhand, over 5,000 road accidents take place every year in which more than 3,000 lives, mostly of the youths, are lost, it said. There were less road accidents during the lockdown in 2020, it added.
Even then, 3,366 road accidents, involving 2,294 deaths, were reported till October 2020, the release said.
Old-age pension
Among other decisions, the state cabinet also resolved to cover needy persons above 60 years under the Mukhyamantri Rajya Pension Yojana so that they can get Rs 1,000 every month under the scheme. 
There were about 5.13 lakh such persons in the state who were not getting any pension, according to another release issued by the chief minister's secretariat. Around 3.65 lakh of them would be brought under the pension scheme immediately, it added.
The number of such pensioners that stood at 3.65 lakh at present would be doubled for providing old-age pension to 7.30 lakh people, it said.
Those who are left out would also be brought under the scheme gradually, it added.