State BJP rates Hemant govt 'zero' on scale of 10
Opposition leaders boycott anniversary bash, list failures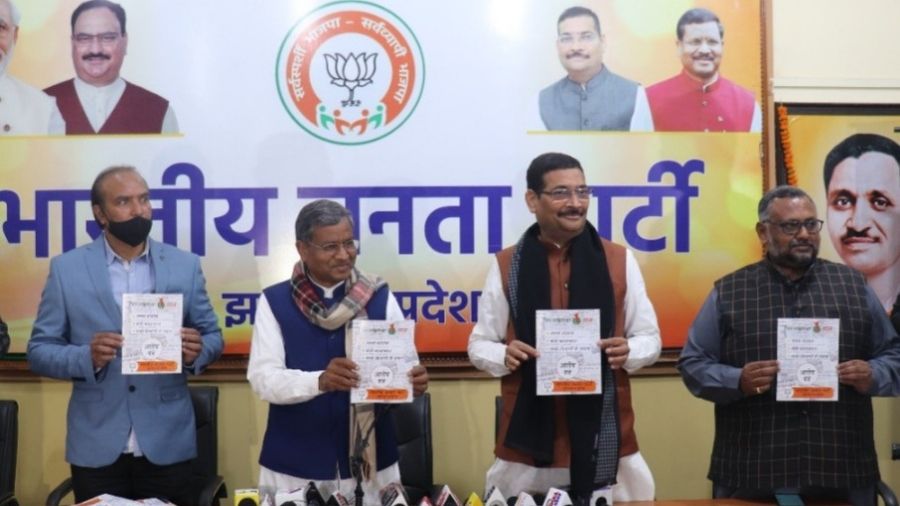 ---
|
Ranchi
|
Published 29.12.20, 08:53 PM
---
MPs and MLAs of the Opposition BJP and its allies boycotted the government's official function in Ranchi, and those that were held in the districts, to mark its first year in office on Tuesday, releasing a report to list the alleged "failures" of the Hemant Soren-led coalition.
In a 28-page report card on the Hemant Soren government's one year in office, the BJP gave it "zero out of 10" even as chief minister Hemant Soren presided over a mammoth gathering at Morabadi Ground and announced a series of new projects to mark the day.
Talking to reporters at its party office, state BJP president Deepak Prakash and BJP leader of the legislature party Babulal Marandi said: "On the scale of 10, we give a big zero to this government on the basis of its work in one year."
The saffron camp accused the government of duping farmers in the name of paddy procurement and blocking the Centre's coal block auctions which caused losses to the state exchequer. It also criticised the government for failing to provide jobs or employment allowances as promised during last year's Assembly elections.
Marandi reiterated how Naxalite activities and crimes were taking place unabated ever since the Hemant government took charge. "Crime against women is the biggest achievement of this government. Over 1,500 females including minors were subjected to different forms of crime. Development works came to a standstill while corruption at the ground level has peaked," he alleged.
Prakash said, "While the government is always crying about a funds crunch, it feels no shame in splurging on lavish celebrations. This exposes the government's lies. The money should have been spent on the welfare of the poor, many of whom are out of jobs due to the pandemic related crisis."
AJSU-P, a constituent of the NDA in Jharkhand, also attacked the Hemant government and accused it of non-performance, It observed the day as "vishwasghat diwas" across the state. In a statement, AJSU-P chief and Silli MLA Sudesh Mahto said, "the government betrayed youths, farmers and women. All that it did in one year was to blame others and Covid-19."