Starry-eyed 64-year-old celebrates Radio Listeners' Day
Chinmoy Mahto has 200 branded 'talk boxes' and transistors in his home museum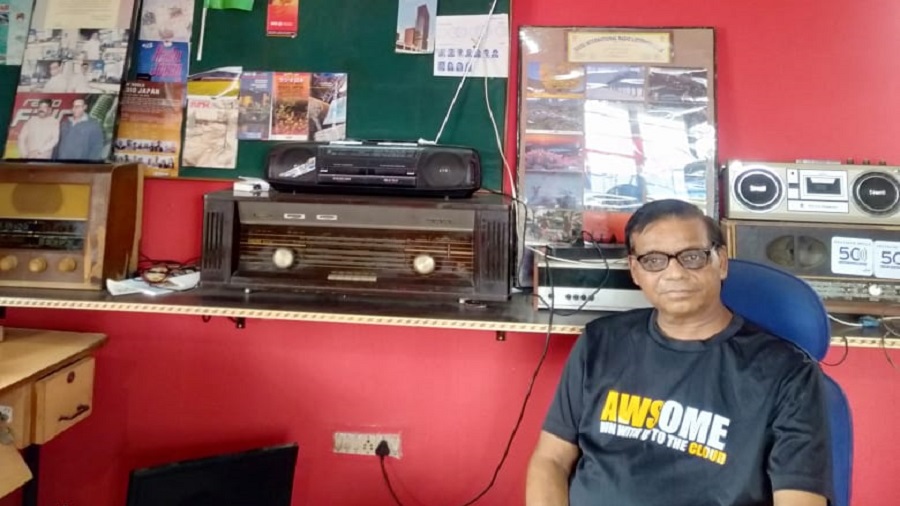 Chinmoy Mahto with his collection of radios in Jamshedpur on Thursday
Bhola Prasad
---
Jamshedpur
|
Published 20.08.20, 08:14 PM
|
---
64-year-old Chinmoy Mahto celebrated Radio Listeners' Day on Thursday by tuning in to morning bhajans and discourses.
Mahto, an advocate who runs a driving school, wakes and sleeps with radios and transistors.
Guide International Radio Listening Club (GIRLC) helmed by Mahto organises an exhibition of radios near his Uliyan, Kadma home but the event turned out to be a non-starter this time owing to the Covid pandemic.
The Jamshedpur Radio Shrota Sangh also followed suit due to the same reason.
Radio Listeners' Day is celebrated to commemorate commencement of broadcasting in India on August 20, 1921. The occasion was started by the Chhatisgarh Radio Shrota Sangh in 2006.
The bespectacled Mahto is so passionate that he has built a museum of radios at his home.
He has a collection of about 200 radios and transistors of various brands, including HMV, Phillips, Siemens, Kaide, Elta and even the little-known Naiwa.  
A modest man, Mahto said he feels sad about the waning interest for radio listening.
"But I cannot live without radios. They are my life and I am fully devoted to them. I am happy that GIRLC has over 100 members now. I started it in 1974 with just four of my friends," he recalled.  
Mahto starts listening to the radio from 5 am every day, tuning into religious songs on any radio from his collection that he fancies.
"I regularly listen to programmes in Bengali, Hindi, English and Urdu that are aired by Radio Japan. It still feels like magic," the elderly man remarked, adding that programmes by Voice of America, Voice of Germany and BBC have since discontinued.  
One has to catch the frequency of foreign airwaves.
That takes time and effort. "But I usually manage to catch the frequency."
According to him, he never scraps radios and transistors, even if they do not work.
"I respect my radios as I would my family members. It took me six months to get a 1956 make HMV transistor repaired. I searched for almost every radio mechanic in town till I located one in Sonari," Mahto, who often scouts city markets in search of old radios and transistors, recalled.
Mahto added he developed a fascination for radios when he was still in school.
"There was no TV then. After that followed the internet and smartphones. But I cannot dream of living without radios. I've won a lot of radio quizzes over the years. I remember getting an invite from the German Consulate in Calcutta in 1995 after winning a quiz on Radio Germany. I got a lot of respect," he said.
Mahto said that the FM wave – Big FM, Red FM, Dhamal, Mantra, AIR FM Rainbow – made a lot of youths turn back to the radio in Jharkhand.
"But they usually listen to the radio on their phones or in their cars. If you have an old transistor or radio at home, please give it to me even if it is junk. You can dial me on 9234342138," said Mahto appealed.