Star of South Africa tour pads up for 'test'
After under-19 world cup, Sushant has exams to face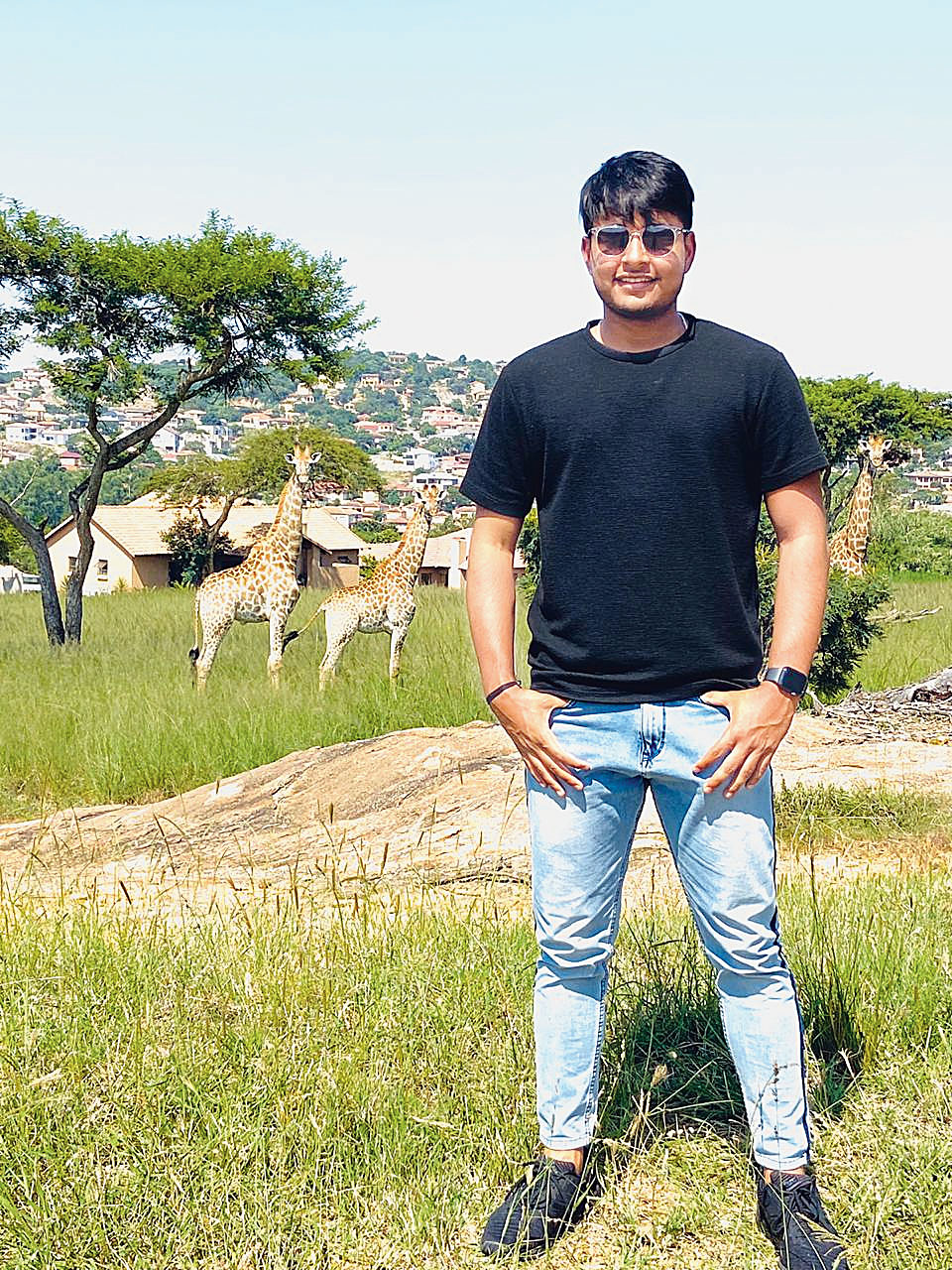 Sushant Mishra at Kruger National Park in South Africa earlier this month.
Telegraph picture
---
Jamshedpur
|
Published 14.02.20, 08:30 PM
|
---
Just back from the ICC Under-19 World Cup 2020 in South Africa, left-arm seamer Sushant Mishra is now padding up for another big battle — the Class XII board exams.
Mishra is back in his Ranchi home and he is brimming with wonderful memories of the trip to South Africa.
But for the loss in the final against Bangladesh, the 19-year-old is satisfied with his and his team's performance.
More because India steamrolled arch rivals Pakistan in the semis, and because fans appreciated Mishra's sportsmanship towards Haider Ali after the Pakistani batsman was hit by his delivery.
"I think we played as a cohesive unit but had to suffer defeat against Bangladesh in the final," Sushant said over phone from Ranchi on Friday.
"We played some very good cricket during the tour and also enjoyed our leisure time. I learnt how important it is to play as a unit with team spirit. We also learnt how to bounce back. The trip was a learning curve for me."
Mishra is now concentrating on his studies since he will be sitting for the board exams starting February 24.
"Well, now I need to focus on my studies. I need to devote more time to studies. Cricket would take a backseat till my board exams conclude on March 24," Sushant said.
The cricketer who idolises Team India spearhead Jasprit Bumrah secured 80 per cent in the CBSE Class X board exams from SR DAV, Pundag, and is confident of surpassing it in the Class XII board exams.
Sushant and his India mates spent their off days shopping and strolling on the streets of Johannesburg.
"We visited Nelson Mandela Square in Johannesburg and spent time shopping, mostly clothes and shoes. We also went to Kruger National Park, Mahatma Gandhi's house in Durban as well as Pitermaritzburg railway station. It was a wonderful tour to say the least."
After his exams, he said, he will be working on perfecting his inswingers.
"I have learnt a lot by working under India U-19 mentors and would like to add more perfection to my inswingers once the exam ends. I am very eager to hit the nets," Sushant said.
Father Samir said Sushant was served paneer for dinner when he returned home on Wednesday evening.
"His mother did not prepare Sushant's favourite chilli chicken since he was mostly on a non-vegetarian diet in South Africa. So she thought of preparing his next favourite, paneer, for him," he added.
Mother Mamta said their son gifted them wristwatches and went to bed after dinner.
"I will cook chicken on Sunday. I am eager to see my son have his favourite dish," she added.
Sushant was among the bunch of medium-pacers who attended a camp conducted by Australian great Glenn McGrath at the JSCA International Stadium last year.
McGrath found no problem with Sushant's action but he did ask him to work hard and increase pace.