Speeding van rams into electric pole in Hazaribagh, shutting off power supply
STATE DIGEST: Electric crematorium to be revived in Hazaribagh; woman, son run over by train in Palamau in apparent suicide; arms, ammunition seized; support for grassroots enterprises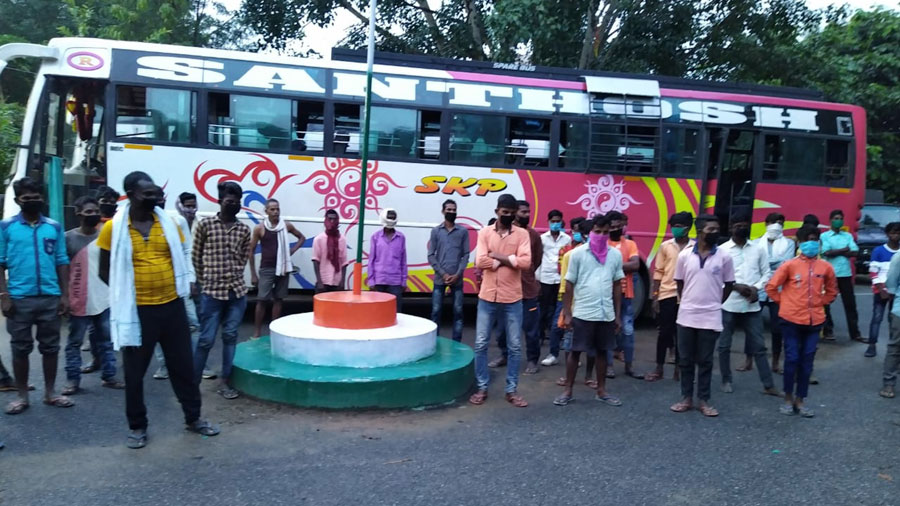 ---
Published 13.08.20, 12:47 AM
|
---
A speeding van hit a pole-mounted transformer in Hazaribagh on Wednesday evening, shutting down power supply to nearby areas.
The accident took place at Bargada Chowk on Hazaribagh-Katkamsandi road, 17km from the town,
Witnesses said the driver lost control of the vehicle, resulting in the mishap. The driver, whom the police suspect could have been drunk, managed to flee from the spot.
Katkamsandi police said the driver would be traced soon on the basis of the registration number of the van.
A coal-laden vehicle hit seven cattle at Budhna Ghati on the busy Hazaribagh-Barkagaon road, killing five on the spot and resulting in a traffic snarl. The villagers have demanded Rs 35,000 for each animal killed and asked for measures to prevent speeding.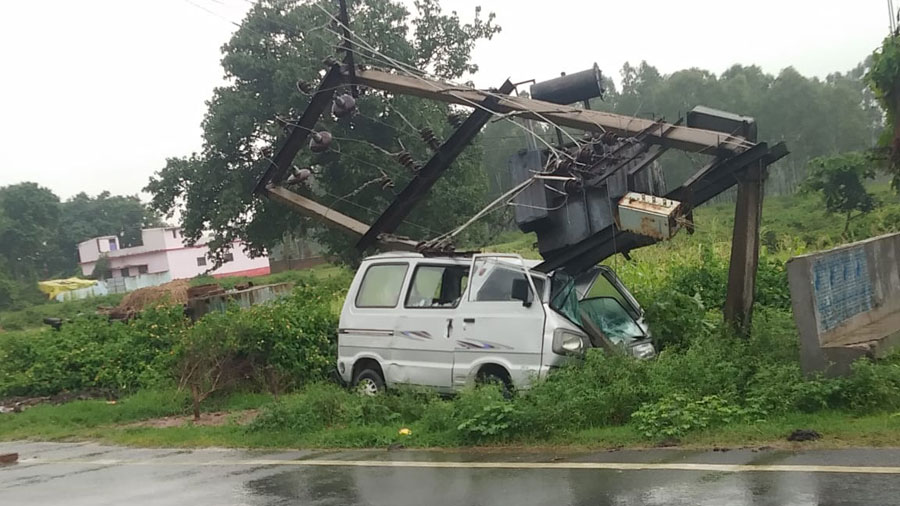 Woman, son run over by train in Palamau
A 25-year-old woman and her son were killed when a goods train ran over them in Palamau on Wednesday in what appeared to be a suicide. Her two other children, who had also been brought to the tracks, survived.
Bishrampur subdivisional police officer Surjit Kumar said Priyanka Devi of Sabouna village had taken her three children — all in the age group of 18 months to five years — to the tracks between 8am and 9am on Wednesday and began waiting for a train.
While Priyanka and her five-year-old son sat on the tracks, her daughter and other son lay on the sleepers. The goods train that killed the woman and her son was on its way from Daltonganj.
The survivors were taken to Palamu Medical College from where they were referred to Ranchi's Rajendra Institute of Medical Sciences.
Priyanka's husband works at a chemical factory in Rehla. She was upset over daily quarrels at home, police said.
Arms, ammunition seized
A combined team of three assault units of Jharkhand Jaguar and Palamau police early on Wednesday seized a huge cache of arms and ammunition from cadres of Tirteeay Sammelan Prastuti Committee (TSPC), a splinter group of Maoists, after an exchange of fire on the border of the district and Chatra.
Palamau superintendent of police Ajay Linda said the combined team found one regular Insas rifle, one 9mm CMG, one Springfield American rifle, one handgun, seven magazines, 334 rounds of fire, eight cell phones, one solar plate, two pouches, 10 bags, three pairs of shoes, two Aadhar cards and one notebook.
The TSPC contingent involved in the exchange of fire was led by zonal commander Shashikant, alias Aarif. He and other rebels were on their way to extract levy from some contractors.
Linda said the operation was carried out after a tip-off of a meeting of TSPC cadres.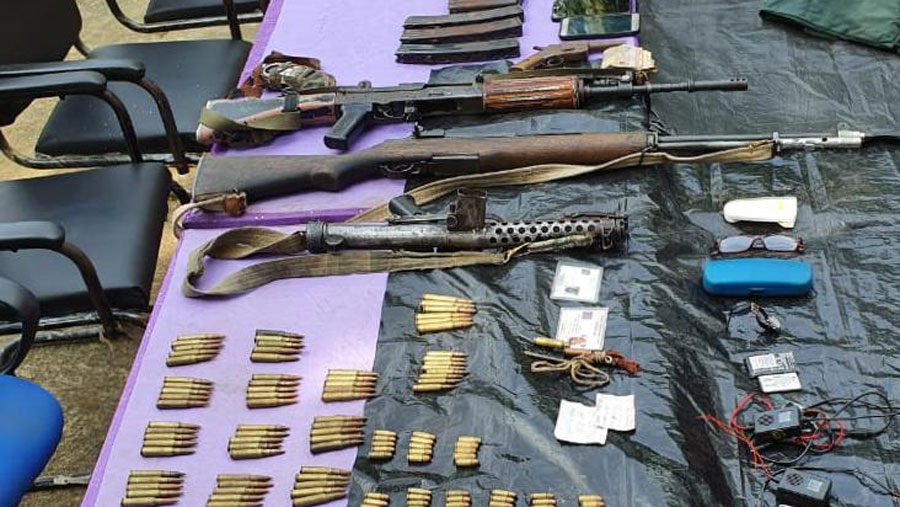 Dhanbad deputy commissioner recommends action against doctors, nurses
Dhanbad deputy commissioner Uma Shankar Singh on Wednesday wrote to the chairman and managing director of BCCL, P.M. Prasad, recommending action against two doctors and five nurses of the dedicated Covid-19 hospital at Jagjivan Nagar and dedicated Covid-19 health centre at the company's regional hospital in Bhuli over alleged dereliction of duty.
Singh in his letter also called for explanation from BCCL chief medical superintendent A.K. Gupta for mismanagement at both facilities.
Singh pointed out that Dr Vineeta Verma, Dr Tuhina Alok and nurses Vimla Kumari, Sumita Dutta, Asha Ahmad, Bindu Kumari and Indu Kumari remained either absent from duty or arrived late, severely affecting the treatment of patients. He demanded disciplinary action against them, including salary deductions.
"If the doctors and nurses fail to mend their ways, severe action would be taken against them as per the Sections 51 and 60 of Disaster Management Act, 2005," said Singh.
Electric crematorium in Hazaribagh to be revived
An electric crematorium in Hazaribagh's Khirgaon will be revived by the municipal corporation, which wants to run it on LPG.
The crematorium, inaugurated by former Union minister Yashwant Sinha in 2017 and constructed at a cost of Rs 1.81 crore, was lying unused. The new municipal commissioner, Madhavi Mishra, took the initiative to revive the crematorium and contacted an agency which suggested it be run on LPG.
The facility had developed a snag soon after being inaugurated. Despite this, the electricity department had sent a bill of Rs 10 lakh to local authorities.
The need to revive the crematorium was felt due to the pandemic with local residents clamouring for the safe disposal of dead bodies.
At the next board meeting of the municipal corporation, the fund allocation for the conversion of the crematorium into a LPG-run facility will be discussed, officials said.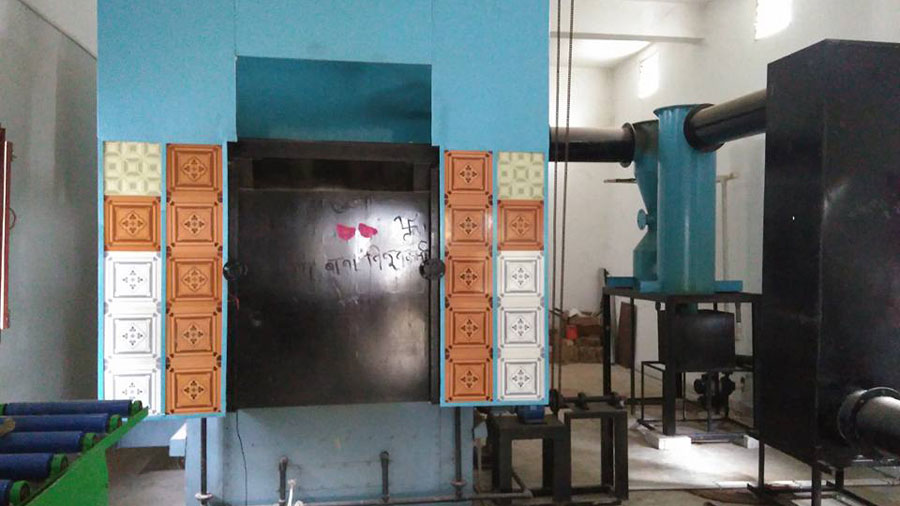 Man attempts suicide over family dispute
A resident of Dhanbad's Brindawan Colony under the Saraidhela police station tried to commit suicide by consuming muscle relaxants.
His family members admitted him to Patliputra Medical College and Hospital after informing the police. He is being treated at the hospital's critical care unit.
The police have found a suicide note at his home in which he claimed that his wife had an extramarital relation, leading to regular quarrels.
Saraidhela police, led by officer in charge A. Murmu, has launched an investigation into the case.
Truck catches fire on Ranchi-Patna highway
A truck carrying pipes to Barhi caught fire on the busy Ranchi-Patna highway near Vinay Line Hotel in Hazaribagh wildlife sanctuary area in Ichak, around 17km from the town.
The incident took place at 7 in the evening on Wednesday.
The driver of the vehicle managed to jump out of the vehicle. Traffic on the highway was impacted.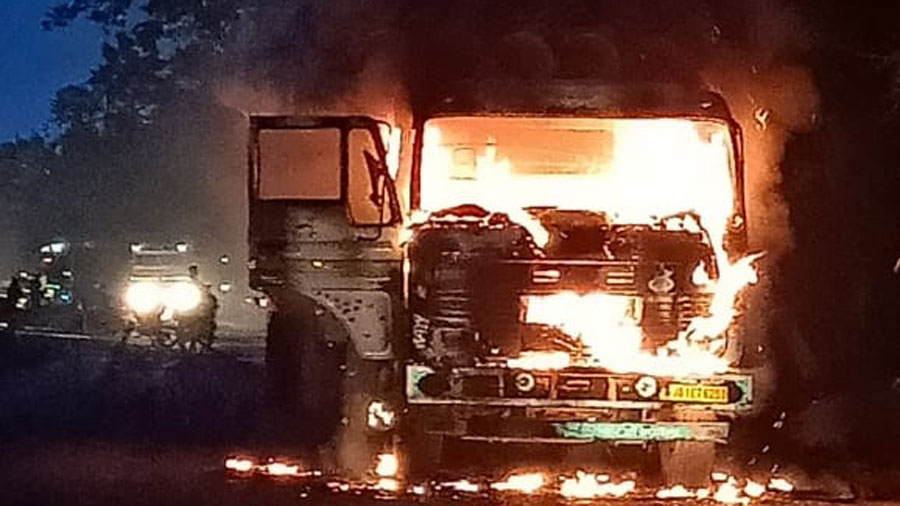 Grassroots-level enterprises
The Livelihood and Entrepreneurship Promotion Society (LESPS) will help set up 200 grassroots enterprises at the panchayat level in Bokaro. The president of the society, Sangram Singh, said they intend to help unemployed youth in villages to become self-employed by setting up grassroots-level industries. The society's first project is going to be launched at Gopalpur panchayat under Chas block on August, 16. "The migrant workers who had arrived from other states during the lockdown will be grassroots entrepreneurs, starting from muri (puffed grain) production to other small profitable ventures. Instead of starting big ventures, our focus is to engage unemployed migrant workers in small projects so that they can start earning their livelihood soon," said Singh.
Webinar on pandemic's impact on business
An experiential learning programme through a webinar was organised by Pentecostal Assembly School, Bokaro, for commerce students on "The impact of Covid-19 on business and trade". Four guests were invited. They shared valuable insights with the students on how businesses are impacted due to the pandemic. The regional manager of State Bank of India, Hazaribagh, Ranjita Sharan Singh, highlighted the functioning of the banking sector during the pandemic. She also made the students aware about the policies and norms initiated to overcome the situation.