Special powerlifter receives part of pending cash award
STATE DIGEST: Girl dies of snakebite in Hazaribagh, DC inspects Covid hospital, pregnant woman hangs self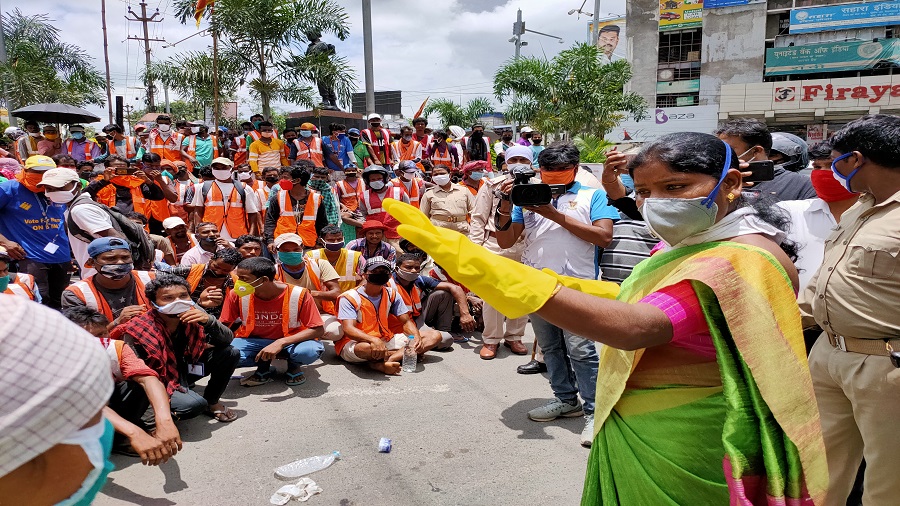 Ranchi mayor Asha Lakra (right, in green saree) addressing sanitation workers of Ranchi Municipal Corporation (RMC), who assembled at Albert Ekka Chowk on Friday demanding a continuance of their monthly incentive of Rs 2000. RMC had promised to pay the workers when they agreed to work during the lockdown, but stopped the payment in June on grounds of being cash-starved, and awaiting government funds.
Manob Chowdhury
---
Published 17.07.20, 10:02 PM
|
---
Special athlete Neha Rajak received a part of her cash award from the union sports ministry on Friday.
The union sports ministry credited a sum of Rs 1 lakh to the bank account of 19-year-old special powerlifter Neha Rajak, who is supposed to receive Rs 4 lakhs for bagging 4 bronze medals in the Special Olympics World Summer Games held in Abu Dhabi last year.
Special Olympics Jharkhand (SOJ) assistant area director Satbir Singh Sahota told The Telegraph Online that they were expecting the full cash award sent to the Sonari resident
"We have written to Special Olympics Bharat (SOB) as to why only Rs 1 lakh has been given to the intellectually impaired athlete. We are awaiting a reply," he added.
According to Sahota, the sports ministry must have decided to release money for each medal won by and by.
"The actual reason will be known after we receive a reply from the SOB," Sahota added.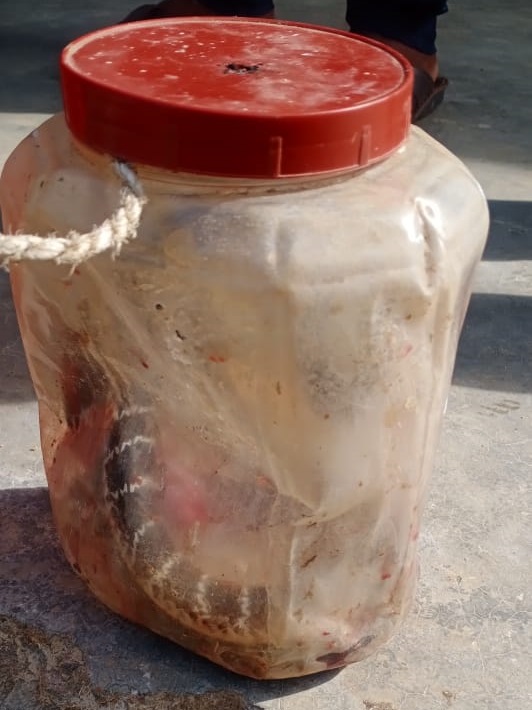 Girl dies of snakebite in Hazaribagh
A 17-year-old girl died due to snakebite on early Friday morning at her home in Kud village in Katkamsandi block, Hazaribagh
Priyanka Kumari's father Doman Saw said she was sleeping in her room when a poisonous snake bit her stomach, following which the teenager started crying, complaining of uneasiness.
Villages identified the snake as poisonous common krait, following which it was killed and put in a container.
A local sorcerer was called in who claimed to have recovered the girl.
Kishori Rana, local representative of Hazaribagh Sadar and MLA Manish Jaiswal were informed, following which she was sent to the community health centre of Katkamsandi.
As the teenager was in a critical condition, doctors referred her to Hazaribagh Medical College and Hospital (HMCH), but she died on the way.
Villagers termed the incident unfortunate, adding that every monsoon, snakes sneak into houses and bite many, resulting in deaths in and around the district.
Forest department officials said they always ask residents to remain cautious during this period of the year, as there is an increase in snakebite cases. 
Pregnant woman hangs self
A pregnant woman today committed suicide at her house in the Putki area of Dhanbad, hanging herself from the ceiling fan on Friday morning.
Santosh Verma, husband of the deceased Manisha Kumari, said that his wife went to the bedroom after breakfast to take a nap while he was working in the drawing room.
When he tried to open the bedroom door after some time he found it locked, and peeped in to find her hanging from the ceiling fan.
Local police sent the dead body for post-mortem at PMCH.
Verma further told police and he had regular altercations with her wife ever since their marriage a year ago, and she wanted to shift to another house of theirs, also situated in Dhanbad,
DC inspects Covid hospital
Dhanbad deputy commissioner, Uma Shankar Singh today inspected the Tata Central Hospital, Jamadoba, where a Covid treatment center is proposed, and took stock of the facilities of the hospital.
He earlier held a meeting with Dhanbad Municipal Corporation (DMC) officials and instructed them to carry out vulnerability mapping for Covid-19 in all 55 wards spread over five circles including, Jharia, Dhanbad, Sindri Katras and Chhatatand and carry out sanitization of such areas, on a regular basis.
He also instructed the municipal commissioner, Chandramohan Kashyap to ensure the availability of all equipment including PPE kits, gloves, facemasks and face shields, safety jackets, and hand spray machines, along with chemicals like sodium hypochlorite.
Youth commits suicide
The body a 27-year-old youth Ravi Kumar Singh, a former employee of a private contractor, carrying out coal excavation on behalf of BCCL, was found at his Kevda Basti home on Friday morning.
The incident came to light when the family found his room locked from inside till late morning and didn't get any response despite calling him, following which they peed in to find him hanging from the ceiling fan.
The body was sent for post-mortem at the PMCH.
Family members said he was retrenched along with 35 other workers during March this year by his employer and used to remain upset and might have killed himself, unable to cope with the frustration.