South Eastern Railway transports 200 tonnes of liquid medical oxygen to Bangladesh
It is the first time that any railway zone of the country has sent LMO through Oxygen Express outside India to meet the need for Covid-19 patients: PRO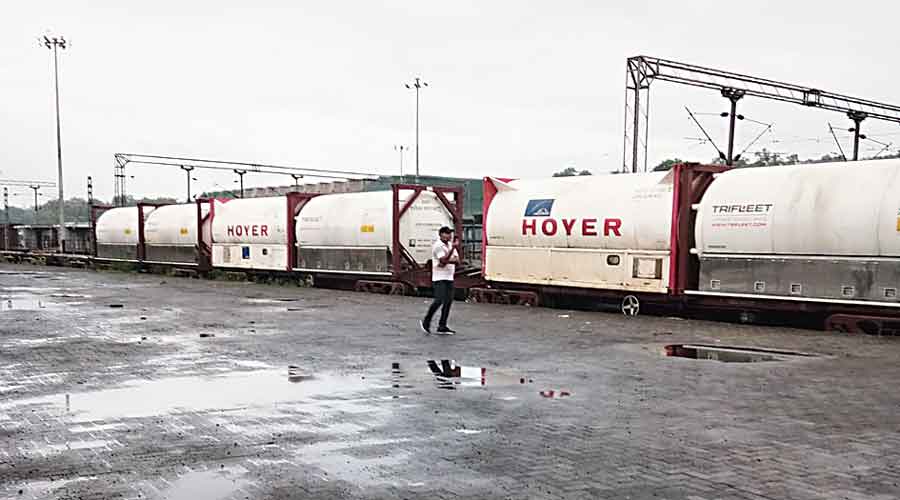 ---
Jamshedpur
|
Published 25.07.21, 12:40 AM
|
---
South Eastern Railway on Saturday became the first among the 18 zones of Indian Railways to transport liquid medical oxygen outside the country.
A total of 200 tonnes of liquid medical oxygen (LMO) stored in 10 cryogenic containers was sent from the Jamshedpur plant of Linde India Limited (a leading manufacturer of industrial and medical gases) to Benapole in Bangladesh through the Oxygen Express, which started from Tatanagar station.
"It is the first time that any railway zone of the country has sent LMO through Oxygen Express outside India to meet the need for Covid-19 patients. The Oxygen Express left from Tatanagar station, which caters to Jamshedpur in Jharkhand, at around 10.15am carrying 200 tonnes of LMO," said Geeta Sarkar, chief public relations officer, South Eastern Railway.
She said the Oxygen Express service started from April 24 this year.
The cryogenic containers can each carry up to 20 tonnes of liquid oxygen. Manufacturers prepare liquid oxygen with 99.5 per cent purity, which is then stored in large tankers and transported to distributors in cryogenic tankers at a specified temperature. It's then converted back into gas and filled into cylinders by distributors. These cylinders are then dispatched to hospitals. These containers can also act as interim storage in remote areas which are facing oxygen scarcity.
Sarkar further said that since April, South Eastern Railway has transported around 19,000 tonnes of liquid medical oxygen to 12 states and Union Territories — Uttar Pradesh, Madhya Pradesh, Andhra Pradesh, Karnataka, Assam, Haryana, Telangana, Tamil Nadu, Uttarakhand, Kerala, Punjab and Delhi. These Oxygen Express trains originated from Tatanagar, Rourkela and Bokaro Steel City stations under the South Eastern Railway.
"The Oxygen Express train will be reaching Benapole in Bangladesh in nearly 24 hours and will go through Adra, Asansol and Sealdah divisions before being handed over to Bangladesh," said a senior official of the Chakradharpur division of South Eastern Railway, under which Tatanagar falls.
A statement from the railways said: "Oxygen Express trains were announced in April and began operations on the 24th of that month, as hospitals from across the country reported an acute shortage of liquid medical oxygen amid the devastating second wave of the coronavirus pandemic. According to official figures, a total of 480 such trains have supplied more than 35,000 tonnes of LMO to various states, till now."
Ranchi arrests
A special branch team of Jharkhand police arrested three men from a hotel in Ranchi on Saturday on a complaint filed by a Congress MLA alleging that they were trying to destabilise the Hemant Soren-led UPA government.
The complaint was lodged against Abhishek Dubey from Palamau and Amit Singh and Niwaran Prasad Mahato from Bokaro for allegedly luring ruling party MLAs with cash.