Slowdown will hurt Jharkhand: Chidambaram
Senior Congress leader P. Chidambaram said the Narendra Modi government had ruined the country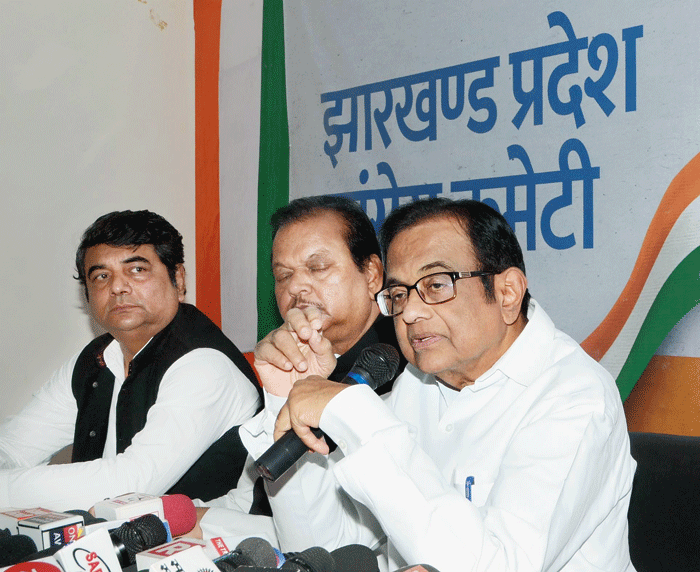 Former finance minister P Chidambaram addresses the news meet at Congress Bhavan in Ranchi on Friday
Picture by Prashant Mitra
---
Ranchi
|
Published 06.12.19, 06:34 PM
|
---
The slowdown of the Indian economy will hurt Jharkhand because "another incompetent" person is heading the state government, senior Congress leader P. Chidambaram said here on Friday.
He said the Narendra Modi government had ruined the country.
"Indian economy is in a deep trouble. In February this year the growth rate was 7.4 per cent as per the RBI which slipped to 5 per cent and even less in less than 10 months. This economic fallout will adversely affect poor states like Jharkhand because another incompetent is heading the government in Jharkhand," he said.
He said that the growth rate of Jharkhand is 2 per cent below the national average and the per capita income of the state is the third lowest in the country.
"The Prime Minister always talks about the double engine government in Jharkhand. Double engine is good if both engines pull in the same direction which is not the case in Jharkhand. In 2014-15 Jharkhand was burdened with Rs 43,000 crore debt which is Rs 85,000 crore now; 44 per cent of the industries have stopped production as per the data of Centre for Monitoring Indian Economy," the former Union finance minister said.
He pointed out how a few months ago the Federation of Jharkhand Chamber of Commerce & Industries had put up billboards across Ranchi about the poor situation of trade, commerce and industry.
"The unit of Tata Motors remained closed for few days and so did other sectors like coal and steel in Jharkhand. That shows how pathetic is the condition. Jharkhand is the fourth state in terms of higher unemployment," he said.
Chidambaram, who was released on bail on Thursday in an alleged corruption case, said in Jharkhand the Congress would form the government along with its alliance partners the JMM and the RJD.
"In Haryana the BJP was expecting 50 seats where we dented them. In Maharashtra we denied them power, and finally we will defeat the BJP in Jharkhand," he said.
He called the Raghubar Das government the epitome of misrule.
"This government doesn't know even if 20,000 people have died due to starvation. We had brought right of food and were giving 35 kg (of rice) per family which the Das government reduced to 5 kg. The Raghubar Das government has become synonymous with backwardness and incompetence," said Chidambaram.