Slew of sops on Hemant govt anniversary
Topping the list is the announcement of a universal pension scheme for the elderly, widowed and disabled, irrespective of their financial, family or caste status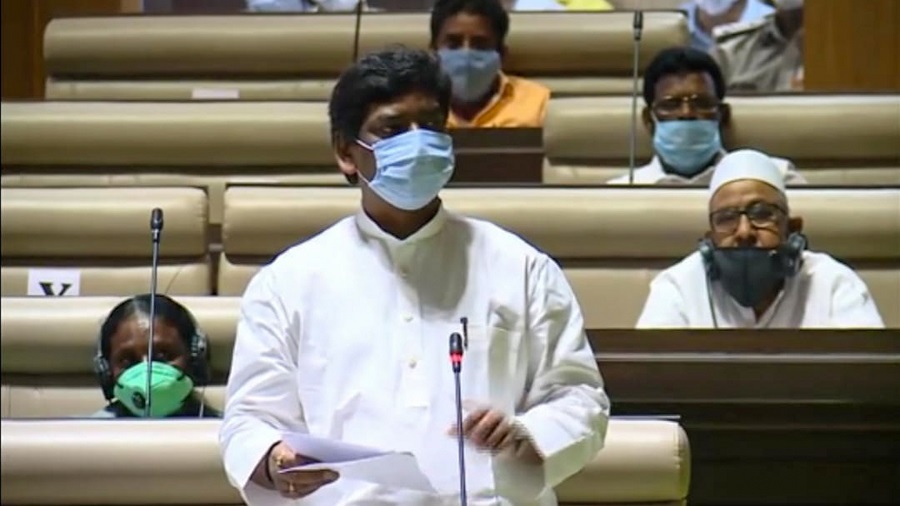 ---
---
A slew of schemes and policies would be launched on December 29 to mark one year of the JMM-led UPA government in Jharkhand under the leadership of Hemant Soren.
According to a senior official in the chief minister's office in Ranchi, the list was finalised on Monday after a series of review meetings of various departments held in the past week.
"During the review of the respective departments done by the chief minister in the last one week, the departments were asked to submit a list of ready projects/schemes which can be inaugurated/launched on December 29 and also about new projects that could be announced at a programme to be held at Morabadi in Ranchi. The list was drawn up on Monday with the consent of the chief minister and approval of the chief secretary (Sukhdev Singh)," said a close aide of the chief minister on the condition of anonymity.
Topping the list is the announcement of a universal pension scheme for the elderly, widowed and disabled, irrespective of their financial, family or caste status.
"Jharkhand would be first in the country to have such a universal pension scheme for the elderly, widowed and disabled. As of now, in other states, pensions are provided to elderly, widowed and physically challenged only if they are below the poverty line (BPL) or belong to SC (Scheduled Caste)/ST (Scheduled Tribe). There will be a mechanism wherein beneficiaries, if they are not getting any other pension either from the state or the central government, will be entitled to get pension. Monitoring would be done at the district level to avoid duplicity among beneficiaries with the existing central government scheme," said a source in the state social welfare department.
Hemant would also launch a Jaipal Singh Munda overseas scholarship scheme for post-graduate studies and a statewide campaign on service delivery of caste, residential, birth marriage and income certificates. He will also launch a Sidho Kanhu Agriculture and Forest Produce Cooperative Society aiming to increase income of farmers and tribals selling forest products and a special 1,000 days nutrition mission initiative to track and curb malnutrition and anaemia amongst mothers and children and track nutrition/health outcomes and launch a transformation of the ITI programme.
Hemant would also oversee the signing of an agreement between All India Football Federation (AIFF) and the state government on football development in Jharkhand and launch a special tourism and brand campaign of the state government named Jharkhand@20.
The function would also see unveiling of the Jharkhand Tourism Policy 2020, Jharkhand Corporate Social Responsibility Policy 2020 and launching of all approved clusters under the Scheme of Fund for Regeneration of Traditional Industries (Sfurti).
Hemant would also provide direct employment certificates to descendants of those who gave up their life in the separate statehood struggle and also release a special year book projecting the work done by the government in the last one year, especially focussing on Covid-19 management.
Talks are on for the announcement of a loan waiver scheme for farmers by Hemant.
"The review meeting with all departments is continuing and we will present a report card of the work done by our government and also announce several sops for all sections of society on December 29," said Hemant.