Sinhas' shots: It's the economy, stupid, & khamosh!
After Jharkhand results, former BJP leaders tear into 'hubris' of saffron party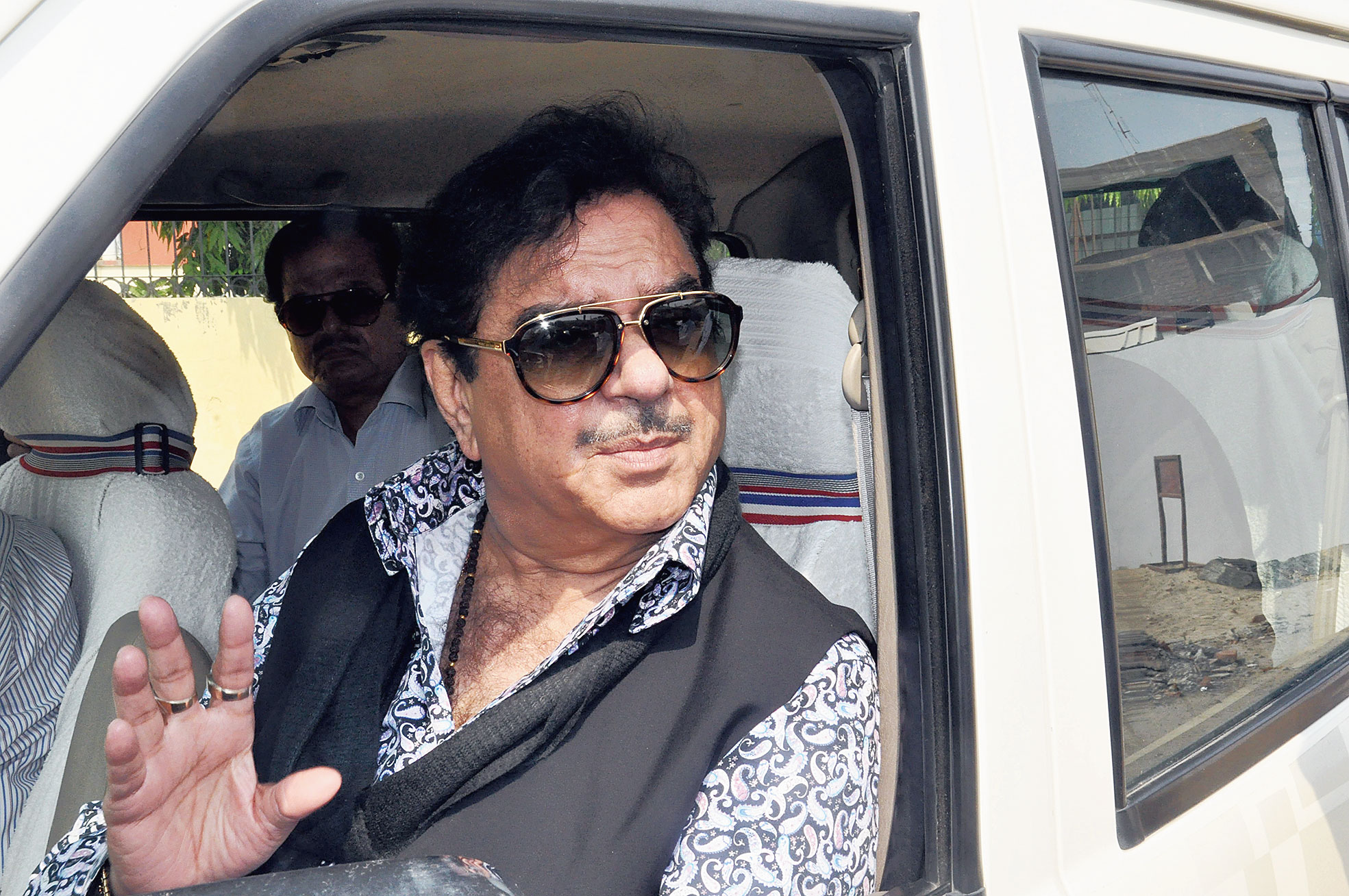 Shatrughan Sinha
Telegraph file picture
---
Ranchi
|
Published 24.12.19, 06:40 PM
|
---
Two former BJP stalwarts, Yashwant Sinha and Shatrughan Sinha, tore into the saffron party on Tuesday — a day after the Raghubar Das-led BJP suffered a humiliating defeat at the hustings.
"Hubris does not pay in politics. The BJP these days, unfortunately, is full of hubris which is exhibited not only by the Prime Minister and the Union home minister but also the outgoing chief minister of Jharkhand," Yashwant, who had quit the BJP in 2018 and has also retired from active politics, told The Telegraph while commenting on the outcome of the Jharkhand assembly elections.
Sinha has never minced his words in criticising the current leadership of the BJP even though his son Jayant Sinha, sitting BJP MP from Hazaribagh, was a minister in the first Narendra Modi government.
Pointing out the second major reason for the BJP's debacle in Jharkhand, Yashwant said: "It's the economy, stupid."
He claimed that the BJP leadership didn't understand the suffering and pain of people at the grassroots level and had to pay the price for it in the elections.
He also had some suggestions for the new government under the leadership of Hemant Soren.
"So much is to be done and the new government should work sincerely and hard for the welfare of the people. The quality of life of people needs to be improved," Yashwant said. Actor-turned-politician Shatrughan Sinha, who quit the BJP before the 2019 general elections and joined the Congress fired off a series of tweets on Tuesday to express his views on the Jharkhand election results. And he started with the one-word dialogue that made him famous as an actor.
"Khamosh! Jharkhand BJP...TATA- BYE-BYE! 1man show & 2men army- your game seems to be over- as expected! Next - Delhi, Bihar, Bengal & many more places! Congrats to all leaders. Our brother, former Union Cabinet Minister, seasoned politician, pride of Jharkhand #SubodhKantSahay energetic, young leader, with courage & conviction #RPNSingh, all workers, supporters & well wishers," tweeted Shatrughan, who campaigned for Congress candidates in the Jharkhand elections.
He also congratulated Saryu Roy, who trounced Raghubar Das from Jamshedpur East: "Special Kudos to #SaryuRoy with an attitude of gratitude. He was not only a great challenger but a winner too, that too against former CM,Jharkhand #RaghubarDas"
Shotgun, as Shatrughan is known, then trained his sights on the top leadership of the BJP: "Sir, the writing on the wall is a reality now, which seemed very obvious."
It was followed by another which said: "Sir, after your not so good & desirable show in Haryana, it was touch & go in Maharashtra, where the rug was pulled from under your feet, with the strength of the combined opposition. And of course, under the dynamic leadership of the 'real' Chanakya of India #SharadPawar & the most worthy son of the most worthy father #UdhhavThackeray & now Jharkhand ki bari with a clear cut majority despite EVMs & inspite of all your tricks of the trade, Dhan Shakti & false propaganda & has also gone against #CAB,#CAA & #NRC turned anarchy."
Another tweet saying: "…God Bless & heartiest Congratulations to the great & brave victory of the man of the match, man of integrity, honesty, credibility #SaryuRoy. I'm told that on the instruction/arrogance of 1man show & 2 men army, he 0was denied a ticket but he fought against all odds as an independent candidate, defeating the ex CM, Jharkhand #RaghubarDas with a record win. Long Live JMM, #HemantSoren, whose dynamic leadership we are looking forward to. Long Live our #Congress for the great show, strength & support...."
He concluded his tirade with a parting shot at the BJP leadership: "Last but not the least congrats to you too Sir - despite your intentions & inspite of all the tantrums you still managed to stay afloat with 20+ seats - with/without #EVMs - God knows! Jai Jharkhand! Jai Hind!"