Shravani Mela cancellation leaves Deoghar, Dumka crestfallen
Temple towns to take Rs 400-cr hit, says Santhal Pargana chamber of commerce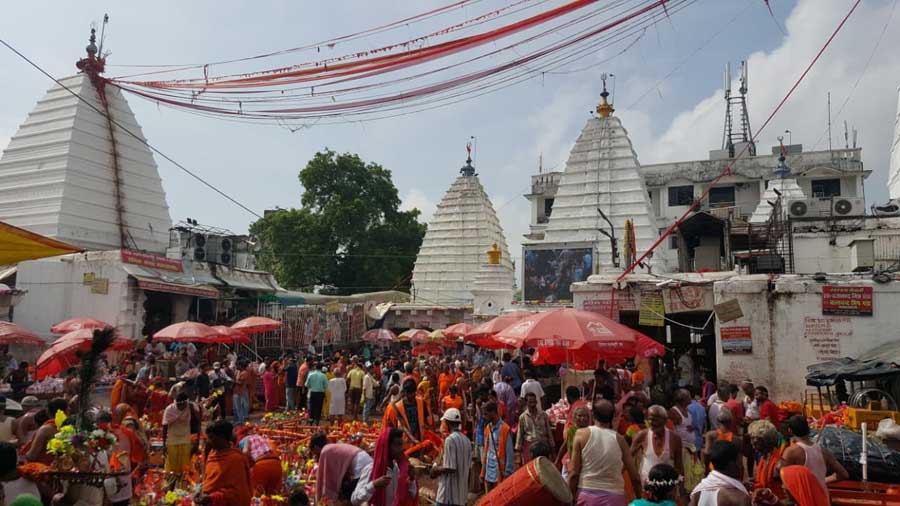 ---
|
Ranchi
|
Published 03.07.20, 10:47 PM
---
Deoghar, home to the Baba Baidyanath Dham, is staring at a loss of around Rs 400 crore because of the cancellation of the annual Shravani Mela, the region's business chamber estimates.
President of Santhal Pargana Chamber of Commerce and Industries (SPCCI) Gopal Krishna Sharma said the financial losses would have a cascading effect on the temple town whose economy is largely dependent on the earnings during the annual fair that sees thousands of devotees congregate in Deoghar and Dumka from all corners of the country.
"We are eyeing losses to the tune of Rs 300 crore-Rs 400 crore. If the lockdown period since March is accounted for, the figures will be much higher," said Sharma, adding that most traders and households of Deoghar and nearby districts depended a lot on the annual fair.
This year, Shravani Mela was scheduled to begin from July 6. But on Friday, Jharkhand High Court agreed with the state government's position of not holding the fair on account of the Covid-19 pandemic while hearing a plea against its cancellation filed by BJP's MP from Godda Nishikant Dubey.
One of the biggest religious congregations of eastern India, the month-long carnival is the single largest revenue generator for the region, especially Deoghar and Dumka, which is home to the Baba Basukinath temple.
Sharma estimated that around 40 lakh devotees usually come to the district during the fair, which meant about 1.50 lakh people per day. "On an average, one will need to spend Rs 4,000-Rs 5,000 per head for puja, food and lodging, transport etc. Directly or indirectly, over a lakh people get employment in a month alone," he said.
Chamber treasurer Piyush Jaiswal, who deals IT peripherals and cameras, would suffer a loss of about Rs 50 lakh. "During the fair, sales cameras and mobiles soar. Also, we get lots of contracts for live video recording and photography, and installation of CCTV cameras. All this has gone this time," he said.
Subodh Singh, a tent house owner in Deoghar town, said last year he had bagged orders worth about Rs 30 lakh for putting up hangers and resting places for devotees at several places. "But this year, earnings during the marriage season first got washed out. Now it is the fair," he said.
President of Jharkhand Bus Owners Association Arun Budhiya said the lockdown, coupled with the cancellation of the annual fair, had led to a massive setback for the local travel and transport sector. "With more than 10,000 buses off the road since March, we are incurring a loss of Rs 45,000 per month per bus. During Shravani Mela, the demand for buses to Deoghar and Dumka used to rise manifold," he told the media recently.
On Wednesday, a delegation of Deoghar priests met chief minster Hemant Soren in Ranchi to plead for financial assistance to survive. The chief minister had assured them that he would explore ways of helping them tide over the crisis.