Showcause notice to Dhanbad jail superintendent
District court seeks reply on transfer of Sanjeev Singh to Dumka jail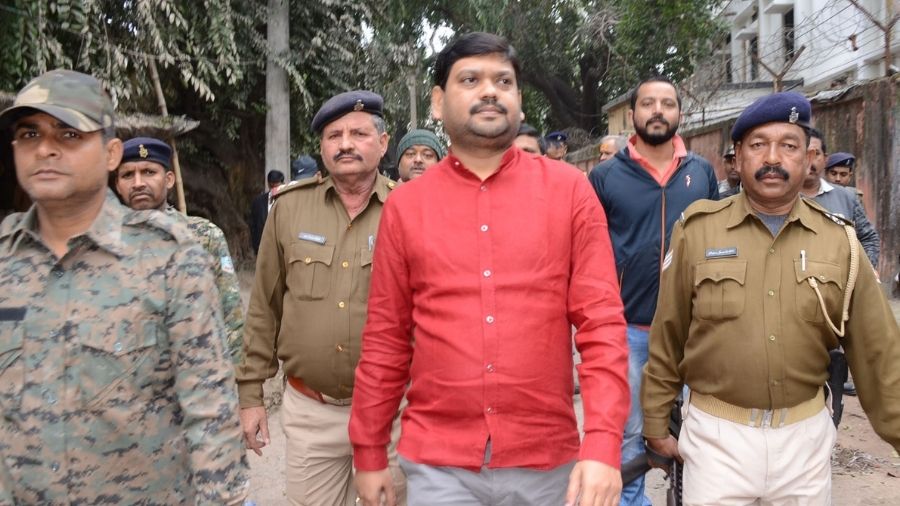 ---
|
Dhanbad
|
Published 23.02.21, 04:31 PM
---
A district court served a showcause notice to the superintendent of Dhanbad divisional jail Ajay Kumar on Tuesday in response to petitions against BJP MLA Sanjeev Singh's transfer to Dumka Central Jail alleging political meddling and that the accused's right to defend himself would be compromised if he was housed in a distant prison.
The court of Additional District and Session Judge-IV of Dhanbad Ravi Ranjan served the notice while hearing the petition filed by Sanjvee Singh's lawyer, Md Javed, regarding Sunday's (February 21) jail transfer. The judge also asked the Jail Superintendent to submit his reply positively on February 25.
Md Javed told The Telegraph online that in all, three cases based on different petitions were heard by the judge on Tuesday. Of these, hearings were completed in the case calling for cross examining eye witnesses of the Niraj Singh murder case, namely, Eklavya Singh and injured Aditya Raj.
"The second hearing was on a petition challenging the transfer Sanjeev Singh to Dumka Central Jail from Dhanbad Divisional Jail. The court fixed the next date of hearing on February 25" said Javed.
"The third case was related to a demand of showcause to Superintendent of Dhanbad Divisional Jail Ajay Kumar. The court served a show cause seeking a reply on February 25," he added..
Javed in his petition seeking to transfer Sanjeev Singh back to Dhanbad from Dumka, pointed out that the transfer of an undertrial to a distant prison may adversely affect his right to defend himself and isolate him from his friends and relatives.
Family members and supporters of Sanjeev, including his wife Ragini Singh, alleged the shifting was a result of "political reasons" at the behest of Congress MLA of Jharia and her sister in law Purnima Singh.
Immediately after Sanjeev was shifted to Dumka jail on February 21, Ragini addressed the Press at Singh Mansion, the palatial residence of Sanjeev, along with senior BJP leaders of the district unit to allege that the transfer has was carried out to deprive him of the opportunity to consult his lawyer at a time when his trial was at a crucial stage.