Should schools reopen now, state wants to know from parents
Jharkhand Education Project Council uploads detailed questionnaire to gauge public opinion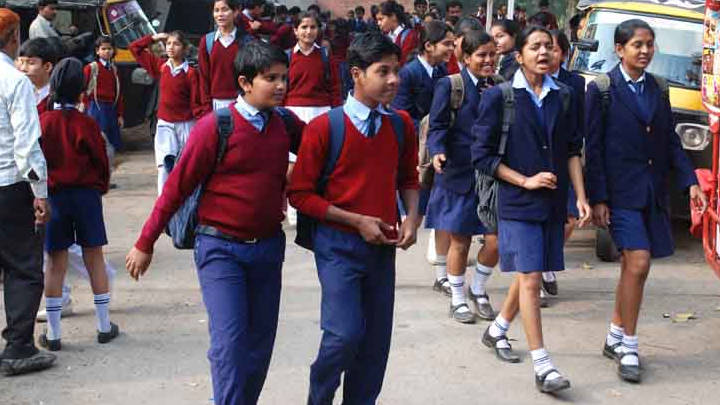 Children come out of a school in Jharkhand.
Telegraph file picture
---
Ranchi
|
Published 24.07.20, 11:19 PM
|
---
Jharkhand Education Project Council (JEPC) has initiated an online drive to seeking  the opinion of parents on reopening  schools which have been closed since the end of March when a nationwide lockdown was imposed to curb the spread of the coronavirus.
The state education department's move comes a week after the ministry of human resources department (MHRD) on July 17 sought suggestions from all the states and parents across the country on their preferred month—August, September or October — for schools to reopen.  
On Saturday, JEPC floated feedback forms bearing a set of questionnaires on http://jepc.jharkhand.gov.in and http://schooleducation.jharkhand.gov.in asking everyone to give feedback latest by July 30. One can also access the forms directly on http://forms.gle/B3QhvVatQqG38Qj4A.
The questions in the feedback forms include basic details,  i.e., name, phone number, district, among others, of the respondent (parent). This apart, one also has to provide details about their ward, such as the class he/she is in, name of the school and its category, preferred mode of transportation, what is the likely period that they are comfortable with for reopening of school, teaching hours in the school, mode of teaching preferred (online, alternative, daily or combination of all), precautions that the school should take before reopening, choice for midday meal after reopening (dry, cooked, DBT cash) among others.
JEPC director Shailesh Kumar Chaurasia said  he has also sent letters to all district education officers and district programme coordinators, directing them to circulate the questionnaire among the stakeholders to evince responses within the timeframe. He said, "The state will workout further plans depending on the feedback and will also apprise the same to the MHRD."
Parents have welcomed the idea of providing feedback. Rakesh Sharma, a Lalpur resident, whose children study in Delhi Public School, said, "I shall wait for a few days before giving feedback but as on date going by the daily surge in Covid-19 cases, I am not ready to send my kids to schools at least for another month."
Another parent, Sudhir Sinha of Morhabadi, added, "The nationwide lockdown is set to end on July 31 and post unlocking of everything, I suspect, Covid-19 cases will go out of hand. In such a situation, it is a very difficult for us as parents to take a call. At the end of the day, students are also losing out on  studies as the online mode is still to be widely accepted. I would prefer alternate day of schooling."
Ajay Rai, president of Jharkhand Abhibhavak Sangh, said that school/colleges are one of the biggest crowd magnets, and, therefore, the question of opening them  need careful deliberations. "Buses need to be decongested. So do classrooms to ensure social distancing. This apart, mandatory use of masks, regular sanitisation of the premises have  to be ensured by the school. There are several things that both parents and schools must have to consider before deciding on reopening," he said.