Several flights cancelled as passenger traffic drops amid Covid fears
Number of people coming to Ranchi reduced to half, departures drop to one-third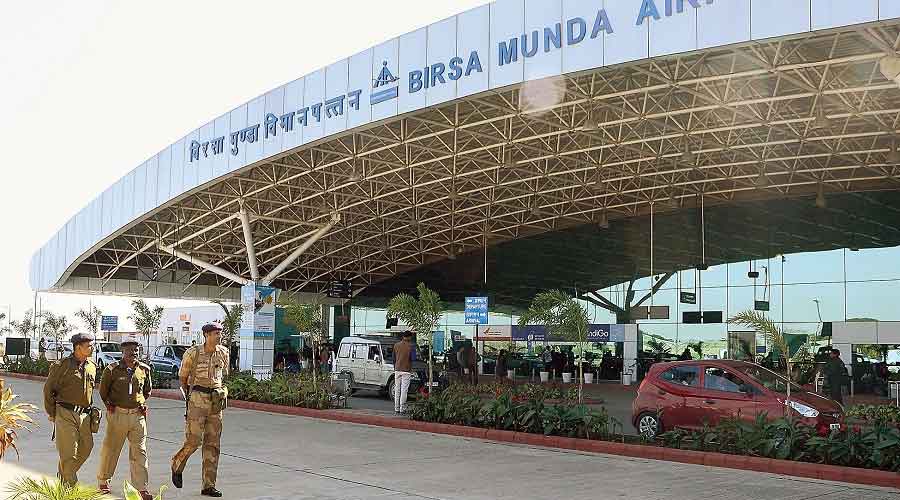 Birsa Munda Airport in Ranchi.
Telegraph Picture
---
Ranchi
|
Published 04.05.21, 04:09 PM
|
---
Passenger footfall at the Birsa Munda Airport in Ranchi has dropped drastically amid Covid fears leading to the cancellation of several flights, especially to Mumbai, Delhi and Bangalore in the past one week, airport officials said on Tuesday.
While the number of passengers arriving in Ranchi has almost halved, those leaving town have dropped to one-third of the usual numbers.
Airport Director Vinod Sharma said that on average only 700 passengers were boarding flights from Ranchi daily now against the usual 
2,000 when the second wave of Covid-19 was yet to hit Jharkhand. The arrival of passengers has also been affected, causing a drop of 50 per cent in the number of passengers that landed at Birsa Munda Airport in the past one week, he added.
"Around 1,400 passengers are arriving here every day on an average. Usually, more than 2,500 passengers arrived in Ranchi every day before the enforcement of partial lockdown in Jharkhand and other states," Sharma said.
At least seven of the 20 flights scheduled to take off from Ranchi on Monday were cancelled, said airport authorities. Most of the cancelled flights, officials said, were scheduled for New Delhi, Mumbai and Bangalore – three cities that have witnessed a significant spike in Covid cases lately.
However, the airport director clarified that airline companies were changing the itinerary of passengers to ensure that passengers who need to travel to other cities do not face problems due to the cancellations. Most airlines, he said, were plying at least one flight to a particular destination on a day and requesting passengers to board that flight instead of the one they were supposed to board.
"For instance, if Indigo has three flights to Delhi and has to cancel flights due to lack of passengers, it is requesting the passengers of all the three flights to board the same flight to the destination. This way, they were ensuring maximum possible occupancy of seats in a flight and also ferrying passengers to the city they need to reach," Sharma said.
Daytime flights to and from the Ranchi airport remained suspended from March 28 to April 27 due to carpeting work on the airstrip. Airport authorities were planning to start new flights to tier-two cities after the work was complete. But the sudden crisis due to the Covid-19 situation has forced the airlines to keep their plans on hold, for now, sources said.
At present, at least 20 flights connect Ranchi to New Delhi, Bangalore, Chennai, Kolkata, Mumbai, Ahmedabad and Hyderabad. The Birsa Munda Airport, which bagged the top position in the Customer Satisfaction Index (CSI) last year, has a 75-meter basic strip, which is the minimum length required for any airport.