Seven take oath as ministers
One more berth can still be filled up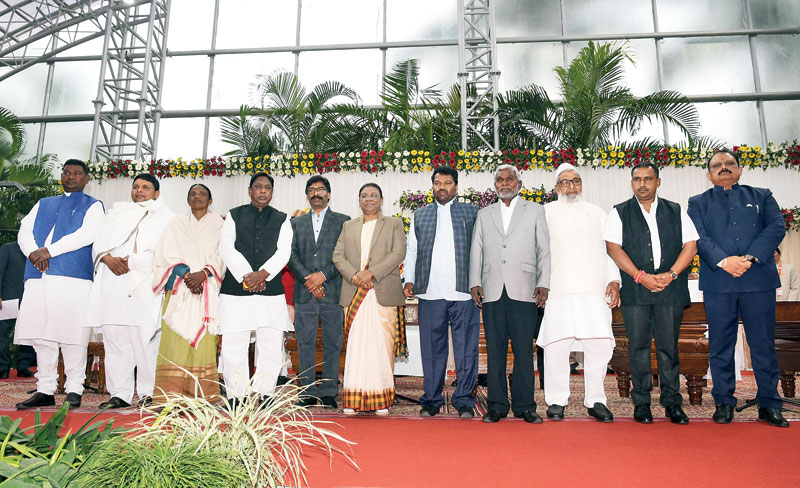 (From left) Satyanand Bhokta, Badal Patralekh, Joba Manjhi, Alamgir Alam, Hemant Soren, governor Droupadi Murmu, Jagannath Mahto, Champai Soren, Haji Hussain Ansari, Banna Gupta and Mithilesh Kumar Thakur at Raj Bhavan in Ranchi on Tuesday.
Picture by Prashant Mitra
---
Ranchi
|
Published 28.01.20, 06:36 PM
|
---
Chief minister Hemant Soren expanded his cabinet on Tuesday with seven MLAs, including a woman, inducted as ministers and taking the total number to 11.
The five JMM MLAs who took oath on Tuesday are Champai Soren (Seraikela), Haji Hussain Ansari (Madhupur), Jagannath Mahto (Dumri), Joba Manjhi (Manoharpur) and Mithilesh Kumar Thakur (Garhwa).
Congress MLAs who became ministers are Banna Gupta (Jamshedpur-West) and Badal Patralekh (Jarmundi). They joined their party colleagues Rameshwar Oraon (Lohardaga) and Alamgir Alam (Pakur), who had taken oath on December 29 with Hemant (Barhait) and the lone RJD minister Satyanand Bhokta (Chatra).
Santhal Pargana has four ministers — Hemant, Alam, Ansari and Patralekh — and three are from the Kolhan division — Manjhi, Champai Soren and Gupta. Oraon represents South Chhotanagpur, Thakur the Palamau division. Mahto and Bhokta belong to North Chhotanagpur division.
The cabinet has five tribal faces, including Hemant. Two are Muslims. Badal and Thakur are Brahmins while Gupta and Mahto belong to the Vaishya and Kurmi castes respectively.
Cong claim
The Jharkhand state cabinet can have up to 12 members. A senior Congress leader told The Telegraph that they believed the vacant berth would be filled from the Congress quota in the coming month.
"However, the JMM is also claiming this berth," the Congress leader said.
Among Congress MLAs, Deepika Pandey Singh was said to have a strong claim to a cabinet berth. Close to the former national president of the party Rahul Gandhi, she had strong backing and is known as a firebrand leader with a proven track record to mobilise party cadres. But the party preferred Badal, a second-time MLA, for his loyalty, said a senior Congress leader.
"He was a Congress MLA in the last Assembly when the BJP formed the government along with the Ajsu Party. In order to increase its strength in the Assembly, the BJP tried to split both the JVM and the Congress. The BJP had to abort the plan of splitting the Congress when Badal not only firmly denied the offer (from the BJP) but even informed the party high command. Besides, he is a second-time MLA," explained the senior Congress leader.