Seven-feet long python rescued near poultry farm near NH-33
The reptile that probably entered the city to catch a prey was released into the Dalma wildlife sanctuary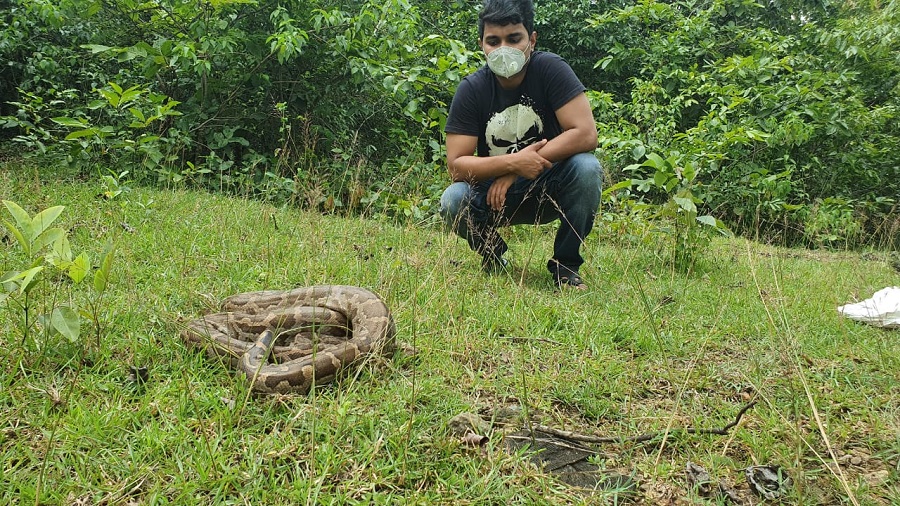 ---
---
A seven-feet long Indian rock python was rescued from a poultry farm close to Sahara Sun City, a residential complex at Baliguma along NH-33, about 5 Kms away from Mango in steel city this morning.
The news about snake sighting spread in the locality since dawn, even as the residents started to panic.
A local boy Amit Mahto, who first spotted the python moving towards a poultry farm, informed the Jharkhand Animal Welfare Society (JAWS). They sent two members to the spot, who captured the snake in half an hour.
After catching the snake, the members of JAWS informed the matter to Abhishek Kumar, divisional forest officer (DFO), Dhalbhum.
On the directions of the DFO, members of JAWS took the snake to Tata Steel Zoological Park (TSZP) where veterinary doctor Manik Palit administered first-aid to the reptile, as it had sustained some injuries.
After treatment the python was handed over to JAWS. The zoo also handed them over a cobra caught from the zoo campus.
"The seven-foot Indian rock python that was spotted near the poultry farm might have gone there to catch its prey. After treatment, the python and the cobra caught from the zoo were released into the Dalma wildlife sanctuary," DFO Kumar told The Telegraph Online.
Deputy secretary of JAWS, Utkarsh Kashyap said, "Earlier people used to kill such snakes. But now people are aware that there are organisations that work for animals and that it is important to save such reptiles for maintaining the ecological balance."
JAWS has been working for the welfare of animals since 1995. During the lockdown, the members of the society went around various localities of the steel city, feeding stray animals for three months from April to June.